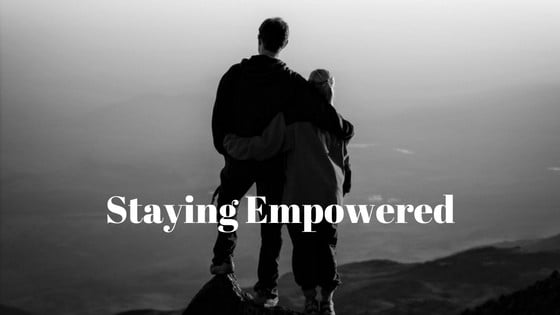 Note:  Infidelity is a traumatizing event that often makes the betrayed feel powerless and unable to cope or take action. Often though, a victim mentality becomes the coping mechanism used to survive fear, pain, and to recover basic psychological needs such as safety, love, affection, and self-esteem.
This week Sarah P. has crafted a very helpful article that should motivate many of you to reflect on how you are thinking and acting to the betrayal. Then, hopefully realize that you indeed possess the power within to confidently move forward with your life in the direction of your choosing with your self-esteem and dignity intact.
Linda & Doug
---
The holidays are tricky because something about them can bring out the best and the worst in people. For some, it can heighten feelings of togetherness and for others it can heighten feelings of loneliness, even when in the company of loved ones.
When an affair has occurred, sometimes the feeling of loneliness can creep in without a betrayed spouse even realizing it's there. Loneliness while surrounded by loved ones is somewhat generated by an individual's internal script or self-talk.
Once the proverbial script is flipped around, there can be understanding and perhaps deeper intimacy due to newfound understanding. In this post I will be exploring the impact of thought and how thought can be one's best friend or one's worst enemy.
For this post, I have decided to do something different. I would like for everyone to watch this TED talk by affair expert Esther Perel before we get started. Esther discusses the results of conversations about infidelity that she has had with people from different cultures and continents. As you will discover, there is a common thread in all affairs that transcends culture or conditioning.  The perspective Esther provides is a valuable one and it is a slightly different perspective than what you generally hear from Americans.
I think Esther provides betrayed spouses with hope because she discusses the root causes of affairs. Esther stated that affairs are often triggered by loss, either internally or externally. Affairs are not triggered by something the betrayed spouse did or did not do. They are often a wayward spouse's reaction to uncomfortable events or perceptions in his or her life. Affairs are not based on reality, but on fantasy and the ability for the wayward spouse to see himself or herself in a new light. (Selfish, as we know, and she also reconfirms the fantasy element.) Affairs are not based on the other person being better in some way than the betrayed spouse. They are based on whatever the wayward spouse has going on inside of himself or herself and because of this can often coexist with the wayward spouse's continued love for the betrayed spouse.
This may not sound that hopeful, but it is hopeful considering that affairs have little to do with the wayward spouse's feelings for the betrayed spouse (even if the wayward spouse claims that he or she feels a temporary loss of love due to the affair fog.)
But, the most important part of Esther Perel's message is that an affair does not necessarily spell the end of a marriage. Esther discussed the idea that every couple has the opportunity to create a new marriage that is more understanding and closer than ever.
What did you think of Esther's message?
Creating Who You Are
I believe that at the core of creating a new marriage, you must first recreate who you are. Redefining your marriage ultimately requires an act of co-creation, but you, the betrayed spouse, must be an active part of it. Oftentimes, as a betrayed spouse, you must take the lead in co-creating this new marriage and modeling the type of behavior that you want to see in your spouse. The author of the classic text, the Tao Te Ching, Lao Tzu once said:
When I let go of what I am, I become what I might be. When I let go of what I have, I receive what I need."
At the core of it all, is the letting go of the old-self and any destructive coping patterns that no longer serve you. But, how do you let go of the old self?
You must identify unhealthy coping mechanisms or dynamics. There are many unhealthy coping mechanisms that we learned in childhood. Other unhealthy mechanisms have been learned due to experiences out in the world. These mechanisms could be a result of how we were parented or they could be a result of other formative moments that occurred as a child.
There is a very important reason that both parties need to let go of the old self and create something new. It all comes down to a reason that Esther Perel considers the most important part of her view on affairs. Esther says:
Very often we don't go elsewhere because we are looking for another person. We go elsewhere because we are looking for another self. It isn't so much that we want to leave the person we are with as we want to leave the person we have become… It's not about sex, it's about desire, about attention, about reconnecting with parts of oneself you lost or you never knew existed. It's about longing and loss." (1)
I believe this is the best explanation of what causes a wayward spouse to stray. I also believe that within American culture this is compounded by the culture of finding self-definition externally.
Most advertisements contain messages that seem to say something to the effect of: if you want to be wealthy, you must first drive this car; or, if you want to be beautiful, you must first wear this brand of designer clothing. The message is that being wealthy and beautiful are both concepts that begin externally, not internally. I would contend that wealth and beauty are concepts that first must begin within before an individual can truly experience them.
For example, do you know people who are financially secure but who always feel poor? I sure do. Do you know people who possess natural beauty but who always chase the version of beauty the media presents? I know those people too. A financially secure person could have all the money in the world and still feel poor because financial security starts from within. A beautiful or handsome person could appear to be stunning to the outside world but still feel ugly on the inside because beauty begins from within.  Everything must first begin from within.
Does this concept make you angry? Does it seem incorrect? If so, ask yourself why. On the other hand, does it resonate with you? If so, expand upon that.
This concept holds the key to why wayward spouses stray from their marriages. They have not learned to find something within and instead seek everything without. Finding satisfaction solely outside oneself is the path of sorrow.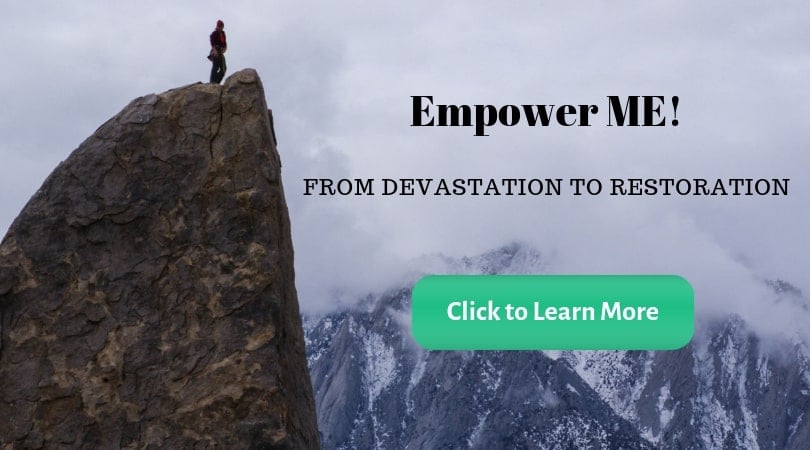 The Enemy Within
Why do people persist in a dissatisfying relationship, unwilling either to work toward solutions or end it and move on? It's because they know changing will lead to the unknown, and most people believe that the unknown will be much more painful than what they're already experiencing."  – Anthony Robbins
Many of us do not realize that we live with 'an enemy within' that prevents us from ever having the lives of our dreams. Many people wrongly believe that when they do not get the things that they want, the marriages they want, and that they are victims of some circumstance. Often, these are the thoughts that seed the beginnings of infidelity.
Unfortunately, the innocent spouse who has always been happy in the marriage is thrown for a loop on and after D-day. The infectious self-doubt or feelings of being wronged transfer like a flea to the betrayed spouse. Now, these feelings are not the fault of the betrayed spouse; they are the ones who get to inherit these bad feelings as a result of the actions of a wayward spouse.
Thus when an affair occurs, two of the common beliefs that betrayed spouses allow themselves to be held hostage to are: the belief that they can never feel good again and the belief that they can never trust again.
Of course, these may not be the beliefs that hold you hostage—any set of negative beliefs can hold someone hostage and these beliefs can occur in any domain of life. The two examples I provide are common ones but these may not be the beliefs that bind you personally.
When people believe self-defeating things, they can unconsciously set up  internal roadblocks that prevent them for trusting again or feeling good again. Not only do these thought-roadblocks prevent success in what they desire, these thought roadblocks send out an intention that can have the power to make it so. When we send out these intentions, whether they are conscious or not, we tend to experience things that reinforce negative beliefs.
Soon we unconsciously create situations that reinforce these ideas we hold about ourselves or our relationships. When we live through these reinforcing experiences, our perception of ourselves and our relationship is also reinforced negatively. Now, we have even more proof that we will never be able to trust again or feel good again. This is how a self-fulfilling prophecy is created. People have the ability to create experiences through their thoughts.
If you have read any of Dr. Wayne Dyer's books, these ideas will be familiar to you. If you have not read them, then these ideas probably sound strange and unrealistic. One of Dr. Dyer's most famous ideas is: "The state of your life is nothing more than a reflection of the state of your mind." 
That is a bold assertion indeed and can sound very cold-hearted unless you look deeper. It sounds cold-hearted because it implies that whatever is in our lives is our creation. But, does it really say that?
I do not believe that Dr. Dyer meant it literally. That is, I do not believe that he would have told a victim of a hit and run driver that they created the accident through their thoughts. I do not believe that betrayed spouses created the affair. Instead, I believe that Dr. Dyer meant that whenever something happens to us, we then get to choose how we move forward. We can create our lives through our state of mind. We can wallow in despair and spiral into depression, or we can be courageous and take courageous steps. Either state of mind will create a life that looks very different. You do not have to go far to make the change since the change must only occur within your thinking.
I have several friends who believe themselves to be victims of things that are outside of their control. They believe these uncontrollable factors in their lives are the things that conspire to keep them from reaching their goals or heart's desire. But, in reality, the only thing that keeps them stuck is their belief that these uncontrollable factors actually have the power to keep them stuck. They give power to an entity outside themselves that in reality has no power, unless it is given power.  The bottom line is, you must realize that you are already possess the power to change circumstances. You already have all that you need.
A Practical Example
I wanted to provide a practical example of how this all works. I will start by using fear as an example. A researcher named Matthew Adler noted, "the effects of fear are harmful to health, no less than the physical harm from some toxic agent or pollutant." Though most of us consider that most threats are found externally, the truth of the matter is, just as many threats to our health and wellbeing can be found internally. 
For example, one of the ways worry and anxiety influences the health of our body occurs on the biochemical level. When we are overwhelmed with fear or anxiety, our body releases cortisol. This hormone damages both our endocrine systems as well as our organ systems if it is not kept under control. While cortisol is helpful if we are mobilizing ourselves to quickly get away from a real physical threat, it is not useful when we are simply mired in daily worry. Yet, our body does not know the difference between a tiger that is chasing us or garden-variety anxiety. Here is a thorough explanation about the recent findings about the mind/body connection:
"Thanks to new imaging technologies, research scientists have now been able to demonstrate how thoughts and emotions cause distinct neuron-firing patterns within various parts of the brain. They can also observe how these patterns coincide with chemical releases and reactions throughout the body. The science behind all this is fascinating, and the conclusions are staggering. It turns out that biochemical reactions to mental and emotional stimuli – your everyday thoughts and feelings – occur not just in the brain but also, often simultaneously, in virtually every system of your body. We also now know that the brain and nerves, and the immune, endocrine and digestive systems (historically treated as totally distinct areas of medical specialty) are in fact capable of releasing and receiving many of the same peptides. Thus, all these systems are inextricably linked in a sort of secondary, chemically based nervous system, one that is intimately connected with (but not exclusively controlled by) the electrically based central nervous system with which most people are more familiar. Such understandings are radically changing perceptions of just how intimately connected our bodily systems are, how they should be medically treated, and how responsive they can be to mental and emotional stimuli." (2)
Affairs can also create an abundance of cortisol in the body because of the stress they cause. This stress does unseen damage that can build up over a period of years. This is not your fault—I am simply exposing something that can occur under stress so that you are aware of it and can make changes internally. How does this work?
Let's say you have an emotionally charged experience or memory. That experience activates the brain's limbic system, where it gets filtered and associated with other information and catalyzes a chain-reaction release of ligands (peptides, hormones, etc.). In cases of bodily sensation or touch, the body's neuronal circuits can also be directly activated, with a peptide reaction proceeding from the body's surface to the spine and then traveling to the brain and becoming part of conscious awareness. So we know that our experience, physical or emotional, releases peptides. Peptides fan out toward hundreds or thousands of receptor cells.
In her book Molecules of Emotion: The Science Behind Body-Mind Medicine,celebrated molecular biologist and psychoneuroimmunologist Candace Pert, Ph.D., notes that while explanations of the way ligands and receptors unite typically employ the image of a key fitting into a lock, "a more dynamic description of this process might be two voices – ligand and receptor – striking the same note and producing a vibration that rings a doorbell to open the doorway to the cell."
What happens next, she says, "is quite amazing." The receptor, having received a message, transmits it from the surface of the cell deep into the cell's interior, where the message can change the state of the cell dramatically. A chain reaction of biochemical events is initiated as tiny machines roar into action and, directed by the message of the ligand, begin any number of activities – manufacturing new proteins, making decisions about cell division, opening or closing ion channels, adding or subtracting energetic chemical groups such as the phosphates – to name just a few.
In short, the life of the cell, what it is up to at any moment, is determined by which receptors are on its surface, and whether those receptors are occupied by ligands or not. On a more global scale, these minute physiological phenomena at the cellular level can translate to large changes in behavior, physical activity, even mood. This is serious business. How much of a particular peptide you have in your system and whether or not it is filling the receptors on various cells can impact everything from how efficiently your metabolism runs, to how you digest your lunch, to whether or not you are vulnerable to a cold or virus." (2)
And Now a Personal Example
Allow me to provide a highly personal example of the mind-body connection. Up until my early 30's, I never had any physical problems. Suddenly, after my first child was born, I developed a mysterious illness. When I had flare-ups of this illness, I would always end up in the emergency room with severe vomiting, excruciating stomach pain, and mini-seizures. All kinds of tests were run: endoscopies, colonoscopies, blood work, chest x-rays, and MRI's. Nothing was found.
One night, I went to a different ER and the on-call physician happened to be an expert in a rare genetic condition. He ordered some specialized (non-standard) tests to see if I had it. Unfortunately, the tests showed that I had this rare disease that no other doctor had thought of until then.
The disease that the doctor found can stay latent in the body for years. But, if someone with the latent disease has an extremely stressful experience or has a strong hormonal shift (or both), the disease can activate.  The doctor told me that the disease had activated due to the shift of hormones during pregnancy and also because of some stressful life events.
This particular disease can be deadly if a flare-up is able to advance since the disease attacks the central nervous system. I now have a treatment protocol to prevent flare-ups and different medications that can be given to stop flare-ups in the emergency room. But, the only way to prevent flare-ups is to manage stress. I have to constantly monitor stress levels and take care of my body.
The only good part about this situation is the fact that it forces me to take care of myself and be aware of my mental state. Once upon a time, I was not an assertive person and never spoke up for myself. Now, if a situation is too stressful, I must speak up for myself. Now, I ask for what I need in order to stay healthy. I am aware of stressful triggers and talk things through rather than keep them inside.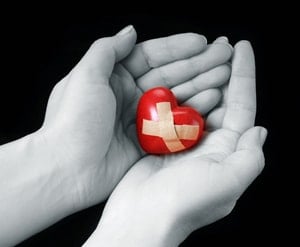 Broken Heart Syndrome
Aside from my condition, there are other stress conditions that have the potential to harm everyone. To bring the point home about how completely emotions affect our body, I would like to discuss a phenomenon that the Japanese discovered termed Takotsubo cardiomyopathy. In the United States, this is known as broken heart syndrome.
Broken heart syndrome is a temporary heart condition brought on by stress such as the loss of a loved one to death or because of the heartbreak of an affair. People with broken heart syndrome experience the same symptoms as people having a heart attack. These broken heart syndrome symptoms are often caused by the heart's physical reaction to a surge of stress hormones such as cortisol. In broken heart syndrome, a part of your heart temporarily enlarges and doesn't pump well, and forceful contractions are caused within the heart.
In fact, the symptoms of broken heart syndrome exactly mimic those of a heart attack since they include shortness of breath, chest pain, irregular heartbeat, and extreme bodily weakness. Sometimes, broken heart syndrome mimics a heart attack so closely that it actually induces a heart attack in an otherwise physically healthy person. That is scary and demonstrates how the mind is directly linked to the body.
I would like to tell you a true story about this phenomenon. Through an acquaintance, I have witnessed the mystery of this syndrome. 
One day a friend who works in the emergency room recounted something that she felt was rather mysterious. She mentioned that an otherwise healthy patient in his late 20's, came into the emergency room with all the symptoms of a heart attack. After different treatments, his symptoms did not subside. Though this physician's shift had ended for the day, she remained worried even after she returned home.  She could not let go of her own worry and so that is when she called me to see if this could be psychosomatic.
Out loud, my acquaintance listed off all the tests that had been run and all the things that had been done for this patient. Then, almost absentmindedly, she started recounting how she felt sorry for the fellow. This particular patient was in the middle of a traumatizing divorce because his wife had left him after he discovered his wife's affair with another man. The man had recounted over and over that he was extremely fearful of the future and did not know how to go on without his wife. He was both broken hearted and had been flooded with a debilitating anxiety.
Before I could event filter my own thoughts, I said, "He has a broken heart and I believe he has broken heart syndrome." My acquaintance had not heard of it, but, nonetheless, it piqued her interest.  She looked it up in her medical library as I recounted all that I knew of this syndrome. She found it in her reference library and promptly called her colleagues treating this patient to ask them to evaluate for this syndrome. 
Surprisingly, her colleagues, who knew of the syndrome, had also overlooked it as a cause. They had erroneously assumed that this syndrome was more myth than medicine. But, after they did further evaluations, they found that this man was indeed suffering from broken heart syndrome. But, even more than that, the syndrome had been directly induced by the man's tremendous fear of his pending divorce and life without his wife.
But, it didn't end there for the patient; things got worse. The patient had an actual heart attack and had to be revived. After he was treated for the heart attack, the physicians in the emergency room immediately sent the patient to a skilled on-call therapist. Sending a patient to a therapist might sound counterintuitive, but this patient's experience and tests had demonstrated his heart attack was broken heart syndrome gone too far. Miraculously, the doctor found out that the patient recovered under the care of a therapist and his broken heart syndrome and heart attacks did not return.
Does it still sound too strange? Consider this remark on the Power of Positivity blog:
"The most prolific electromagnetic forces in the human body occur in and around the heart. Using spectral analysis, researchers discovered encoded emotional information embedded in the electromagnetic field surrounding the heart. When emotions shift, this encoded information changes. As a result, scientists continue to study the ramifications of such a profound discovery – including how this powerful force is felt and interpreted by those around us; specifically, how emotions such as compassion, empathy, love and understanding can be used to make positive changes in us and others." (3)
To sum it up, fear and overwhelming anxiety, fearful thoughts, stressful thoughts, are truly "toxic" toward our body, our mind, and even to our spiritual wellbeing. Toxic fear and anxiety hinders spiritual growth and acts as an emotional paralytic. While some might be tempted to find the act of worrying or going over the same things repeatedly a soothing experience, think again. Constant negative thoughts never soothe, they only destroy your peace of mind and a healthy body. Negativity alters relationships because it causes us to act is ways that are not authentic. But, most of all, thoughts can largely create our reality. You are what you eat and you are what you think.
Staying in the Moment
The greatest loss of time is delay and expectation, which depend upon the future. We let go the present, which we have in our power, and look forward to that which depends upon chance, and so relinquish a certainty for an uncertainty." – Seneca
So how does one get rid of negative thoughts or obsession over an affair? One way to do it is to live in the now.
Psychologists have found that most people are either oriented toward the past or oriented toward the future. Neither of these orientations is healthy because they rob us of the present. The present and our actions in the present actually lay the foundation for the future.
People who live in the past are trapped in an endless loop, replaying the same events over and over again, and getting no resolution. The fact is, replaying events from the past cannot and will not change these events. Being past-oriented robs us of the good that is present and destroys joy.
People who live for the future sometimes cannot appreciate the good that is here in the now. They do not realize that actions in the now are the mechanism that creates the future. 
How does this apply to infidelity?
When you are a betrayed spouse, finding ways to stay in the now is even more important.
Staying in the now is one way to stop the incessant din of hurt that an affair has caused. Often, betrayed spouses are mired in negative thoughts and this is not by any fault of their own. There is a time for negative thoughts, but it is not helpful if they take over your life and impact the day-to-day. Here is why: if you are constantly forced to dwell on hurtful or negative thoughts, you are victimized twice; once by the infidelity and once by the ongoing emotional negativity that infidelity creates.
One of the solutions is to stay in the now and to create positive situations in the now. This can be done by picking up a new skill, reading piece of fiction that intrigues you, volunteering, going out with friends of the same gender, exercising, and thought monitoring.
Some people actually put rubber bands around their wrist and snap it each time negativity creeps in. It serves to cultivate awareness of negativity and to provide negative reinforcement each time you think a negative thought. Personally, I don't like the rubber band technique, but many find it helpful.
Instead, I like the approach of cognitive behavioral therapy self-talk when negativity creeps in. In CBT, the negative thoughts are reversed and then replaced with a more helpful thought. For example, "I am a victim of infidelity" becomes "I am not a victim of infidelity. I am empowered and cannot be victimized unless I give my consent. I do not consent to being a victim. No one can dictate my emotional wellbeing except for me."
If you think about it, each of us is only as victimized as we consent to being victimized. While it is necessary to go through the five stages of grief after an affair, it is also necessary to realize that you cannot be a victim unless you choose to be in that space within your mind. People can hurt us emotionally, but we hurt ourselves more when we constantly dwell on the betrayal. The weakness of a wayward spouse does not need to dictate your emotional wellbeing.
In fact, when infidelity occurs, I believe that the marriage contract you once had is null and void from an emotional standpoint. If you used to be the type that allowed your spouse to dictate your beliefs or demean you, it is within your power to refuse to consent to such treatment. You no longer owe the wayward spouse anything. In fact, it you owe anyone anything, it is yourself. You owe yourself unconditional self-regard and empowerment. You do not have to engage in the game of the wayward spouse at all. You can simply ignore his or her chaos and set boundaries as to what you will and will not accept.
A New Relationship
Now I wanted to circle back around to Esther Perel and talk about her solution to an affair. She recommends a solution that is controversial, but I think that she has a very good point and indeed a workable solution. It really involves reframing and co-creating a new relationship. She says:
"Most people today, for the sheer length we live together, have two or three marriages in their adult life, and some of us do it with the same person. For me, this is my fourth marriage with my husband and we have completely reorganized the structure of the relationship, the flavor, the complementarity. It became clear that we could either go into crisis mode and end it or go into crisis mode and renew. And that is one of the most hopeful sentences a betrayed partner can hear when they come into my office the day after they find out and they are in a state of utter shock and collapse: I say, your first marriage may be over, and in fact I believe that affairs are often a powerful alarm system for a structure that needs change. And then people say: But did it have to happen like that? And I say: I have rarely seen anything as powerful lead to a regenerative experience. This is a controversial idea, but betrayal is sometimes a regenerative act. It's a way of saying no to a rotten system in need of change." (1)
Now, let me qualify the points that I agree with and the points I may not agree with so much. I am, after all, an American and so I have slightly different views. Firstly, I agree that Esther is correct in re-framing the whole concept of marriage. The most powerful idea she has is the idea that a first marriage may be dead, but a second marriage can be created anew. This is a wonderful thing because it allows people to eventually put the first marriage behind them and create the second marriage on their terms with the very same person. This concept literally allows someone to enter into a new marriage without having to get a divorce and remarry someone else to do so. I love this concept because it is truly a game changer.
Now, I take issue with the idea that betrayal is a regenerative act and a symptom of a rotten system. I believe that infidelity can eventually lead to a stronger marriage, but infidelity is not a regenerative act and it is not the thing that leads to a stronger marriage. Two people working together, communicating, looking into their own personal motives, and a genuine remorse for errors, and an honest change in behavior regenerate marriage. This very same regeneration could take place without an affair. This is why I do not believe betrayal is a regenerative act.
I believe that saying betrayal is a regenerative act takes the burden off the wayward spouse and almost suggests to a betrayed spouse that he or she must see the affair as a positive thing. An affair will never be a positive thing for a marriage, but a couple can come back from the brink of splitting up and create something new. A couple can genuinely thrive after adultery, but this is not because of the affair. It is because both parties in the couple are willing to change and work on a marriage. Once again, it is all about the couple and their communication, not the affair.
I do not believe we should ever give infidelity credit for something good. It can perhaps serve as a catalyst, but it is an unnecessary one.
I like what Eleanor Roosevelt once said about difficult times: "It is only through labor and painful effort, by grim energy and resolute courage, that we move on to better things." In other words, we must be the change when difficult situations come into our lives.
I believe that Eleanor knew exactly what she was talking about as well. After all, this lovely woman was married to a very famous adulterer who also happened to be a U.S. president. Likewise, it is sometimes only through the painful labor of a couple that a marriage can be improved. But, adultery does not have to be the catalyst for such change.
The most important takeaway from Esther is that we can enter into a new marriage without having to divorce the wayward spouse. This begins with the empowerment of the betrayed spouse and his or her refusal to accept the way things were. The way things were could have allowed a wayward spouse to cheat more easily or take the relationship for granted. The old marriage is over and the betrayed spouse can begin by redefining himself or herself and personal boundaries. A betrayed spouse no longer has to accept anything at all from a wayward spouse. All of the cards have been laid on the table and it's a new game. The betrayed spouse must put his or her wellbeing and psychological health above all else.
In every situation, you must ask yourself what you can do about the situation that empowers you. There are many empowering things you can do that do not depend upon the wayward spouse. You can decide what you want out of life and go for it. You don't need permission to have your needs met or to take up precious oxygen on this earth. No, you have a right to stand in your own space and have your needs fully met.
Alternatively, you do not have to meet the needs of the person who betrayed you. Start defining your new marriage on your terms and see if your spouse is willing to come along. If not, keep doing what you need to do for you. You are the master of your own destiny. There is no law that says you must tolerate the bad behavior from others. No one will respect you unless you teach them how to treat you. The ultimate paradox here is that you are only stuck if you choose to be stuck. Someone can only keep you stuck if you allow them to.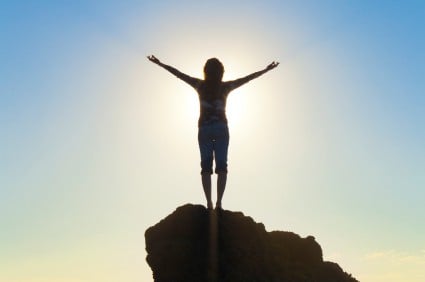 Affirmations for Refocusing and Staying Empowered
I like affirmations, however, affirmations need to be specific and have a goal in mind that redirects thinking toward something positive or helpful. I am not a fan of general affirmations such as, "I am okay."  While that affirmation can serve its purpose, it is very general and does convey a lot of power. A good affirmation is empowering and redirects thought toward ideas that are truthful, empowering, helpful, or positive in someway.
A better version of that affirmation could look like: "I am OK at this moment and always. I have all that I need inside of me and I can never let myself down."
If you are a Christian, Catholic, or Jew, then the affirmation could turn into: "I am OK because God is always with me, was always with me, and will always be with me. God loves me infinitely and unconditionally. God knows even the number of hairs on my head, will always be there, and God will never let me down. God gives me all of the strength and the love that I need, now and always." Any affirmation can be altered to include God if you believe in the one God like I do.
I have written a list of brand-new affirmations that I sincerely hope you will read often. I invite you to take it a step further and to say these affirmations aloud to yourself. Our brains are wired in such a way that repetition is required to develop new thought patterns and habits. If these affirmations do not sound like your inner voice as of yet, I invite you to say them out loud many times until you feel them. Of course, if any of these affirmations do not suit your needs or fit your situation, there is no need to use them. It is simply a suggested list that I have put together for you. All of these affirmations are written for anyone to use. If you believe in the one God, then I invite you to pray with these. As always, my advice is only a suggestion and never something that you should do just because I suggested it.  (If you'd like to download and print off a PDF version of this list, click here)
Affirmations
I always have a choice.
I can always say no to people or situations that do not align with my life's highest good and purpose.
I can positively shape my personal experiences by seeking out the things that I need and by letting go of the people or ideas that no longer serve me.
I do not have to stay in a marriage for economic reasons or for children. I stay in a marriage because I wish to stay there.
I can say no and walk away from situations that cause me emotional pain or turmoil.
I do not have to do anything that I do not wish to do.
I do not have to do something because someone tells me I should do it.
If my wayward spouse is still having an affair, I do not owe my wayward spouse anything. I will not allow my wayward spouse to use me emotionally or physically because I am a valuable person who deserves respectful and faithful relationships.
I choose not to use codependent thinking or codependent reasons to stay in a relationship that no longer serves me.
I choose not to lie to myself or others by making excuses for an emotionally abusive or adulterous spouse.
If I choose to stay in a dysfunctional marriage where I am being harmed in some way, I choose not to present myself as the victim of the situation. Staying is my choice.
If I choose to stay in a harmful situation, then I still have the right to draw boundaries with a harmful spouse and stand up for my own dignity.
There is always a solution to every situation and I am never stuck. However there may be times when none of the available solutions are ones that I consider viable.
I choose to hold my wayward spouse accountable to his or her actions and choices.
I will not make excuses for my wayward spouse's behavior, although I will continue to seek insight into why they have made the choices that they have made.
I refuse to listen to any reasoning that would cause me to shoulder the blame for my spouse's affair. (For example, my age, my bodyweight, my physical appearance, my hobbies, my availability or not, and anything else along these lines cannot me used against me as a reason for my spouse's affair.)
I choose not to enable my spouse's current affair.
I choose to let go of self blame, I choose to let go of low self-esteem, and I choose to assert my individual rights in my marriage.
I choose to take steps to protect myself financially, emotionally, and physically.
I choose to take a walk, do mild exercise, or commune in nature each day.
I choose to take downtime for myself and engage in self-care activities.
I choose to outlive negative labels that have been created by myself or others.
I realize that I am inherently worthy of being cherished, being loved, experiencing loyalty, and experiencing emotional safety in my marriage and in other close relationships.
I acknowledge that sometimes I can make mistakes and make choices based on the wrong reasons. Sometimes I may make fear-based or anxiety-based choices, but I realize that I can always turn away from a bad choice and get on a path that serves my needs in positive ways.
I will be aware of the times when my wayward spouse or other family members are trying to draw me into a needless fight. I choose to quietly walk away from these situations.
I will not engage my spouse with demeaning words, yelling, or game playing. I will find other ways to make myself heard that are not based on negative or low-energy dynamics.
I will be aware of gaslighting and I will call it out and then walk away. I will no longer be fooled by a gaslighting spouse.
I will behave in ways that quietly command respect and refuse to engage in situations that harm me.
I will develop a space where I can go for solitary quiet time when things are going poorly.
I refuse to allow others to dishonor me with their words or their actions.
I choose to honor myself by setting boundaries around situations where my spouse or others dishonor me by their actions.
I am worthy of love, understanding, patience, fidelity, and respect.
In Summary
In summary, no matter where you are in your marriage and life, no matter what the external circumstances, you always have to power to choose your thoughts and your actions. Everyone is at a different point in the recovery process and so take the bits and pieces provided in the article that are helpful to you. There is hope because an affair does not have to spell the end of your marriage and an affair can serve as a beginning into a new marriage.
When rebuilding your marriage, it is always a good idea to weed out communication patterns and dynamics that never served the marriage. All marriages have certain dynamics that could be better, regardless of an affair. This is turn can help you do your part in creating a new marriage. You can take action, even if your spouse is still stuck. Use infidelity to throw out the bad and bring in what you want, instead of throwing out a spouse. It may take time, even a couple of years, but it is worth a try.
Many couples can recover, still, never lose sight that it is a two-way street and the wayward spouse is required to do his or her part. There always need to be a timeline and you must never fall under the perception that you are trapped in a situation without options. There are always options and freedom often comes first in thinking.
Sometimes it is difficult to choose empowering thoughts because the outward situation is so full of despair. Ultimately, if you do not develop new ways of thinking and behaving, this negativity will take root.
You did not deserve to be betrayed, you did not cause the betrayal, and yet the betrayal can take over your life. Certainly, this is not fair and would not happen in a fair-minded and moral world. But, we do not live in a just or a moral world and ultimately we have to suffer the consequences of the selfishness of others. As difficult as it is, there are still tools to move forward. But, the tools are in thinking and in action.
I would never claim that the work is easy. Growth is never easy and growth is always a process. Still, a thousand small steps will ultimately help you get farther than standing still and staying mired in thinking and action that no longer serves you. There is no wrong way to grow or move forward as long as the growth is in a direction that makes you a stronger and more grounded person. The goal is always to end up in a better place and you can define what a better place looks like.
Finally, knowing that thoughts can create our reality and knowing that thoughts are powerful is vital knowledge. Even though you did not cause an affair, it is to your benefit to start thinking and behaving in different ways. At the core, the battle is in thinking and in action.
I do not ever claim to have all of the answers, but I do believe this is a beginning. We can only control ourselves and therefore need to get a handle on ourselves, our thinking, and our boundaries. To some extent, we train people how to treat us based on what we will or will not accept.
Of course, when dealing with a narcissist or other personality disorder, these people will automatically treat you and everyone poorly no matter the boundaries. Thus, it is best to keep strong boundaries and assert your individual rights, no matter who you are dealing with. Do not get caught up in the 'disease to please' when it comes to a wayward spouse.
Do you have any affirmations or revelations that were a game changer for you? What wisdom do you have to share with others? But, most importantly, what insights or changes have you made this week?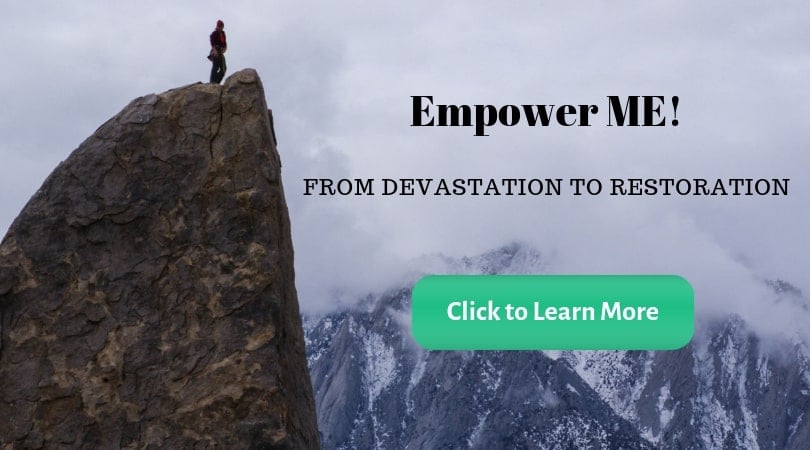 Sources
Rosin, Hanna. Why We Cheat. From http://www.slate.com/articles/double_x/doublex/2014/03/esther_perel_on_affairs_spouses_in_happy_marriages_cheat_and_americans_don.html
Gerasimo, Pilar. Emotional Biochemistry. From https://experiencelife.com/article/emotional-biochemistry/
Power of Positivity. Eight Studies that Show How Consciousness Creates Reality. https://www.powerofpositivity.com/8-studies-show-consciousness-affects-reality/