It's been awhile since we've posted an article of a personal nature.  An article where we more or less step away from the infidelity talk, and simply bring you up to speed about stuff that's going on in our lives.  So that's what we're going to do!
Where the Heck is Linda?
As you make have noticed, Linda isn't around the blog very much anymore. Unfortunately, that wasn't entirely her desired decision.  Yes, she decided to step away from the day-to-day stuff, though she still mentors quite frequently.  But really her lack of presence is more due to her job and her parents.
As you may know, Linda teaches first grade.  And for a wonderfully talented teacher of 35 years, the profession has changed dramatically.  And for her, it's been for the worse.
No longer can she teach "freestyle" like she has been accustomed to for so many years. Now, the curriculum and the methods to teach that curriculum are pretty much dictated by the district board of education.  It's all about passing tests and getting – and keeping –  as much government funding as possible.  Creativity in the classroom for a teacher (at least for her district) seems out of reach, and has been replaced with endless meetings, paper work and seemingly worthless student testing.
Consequently, she has lost her zeal for the job, yet she works longer and harder than she ever has. 
Luckily, retirement is right around the corner.  But thanks to 5 years spent teaching in a parochial school (which does not count towards state retirement) she probably has 2-3 more years before it becomes a reality.  Until then, the countdown to freedom continues!
The Real Stress Inducer
Now, what is really stressing her out is the state of affairs with her parents.  Her father is 86 and has dementia pretty bad.  Some days he remembers Linda.  Some days he thinks she's there to steal stuff.  Every day he is confused and has virtually no short-term memory.  You can sit down with him and in the span of 10-minutes, he will ask you the same questions 10 times. 
Linda's mother is 84 and has become a total narcissistic, semi-hoarder, who seems to delight in making Linda's life as hellish as possible. (This has tormented Linda as she feels this has really been a life-long situation with her mother.)
Nothing Linda does is enough for her.  She has pretty much stopped cooking and cleaning and she resists any effort on our parts to help – yet complains about it.  Her house is a cluttered mess and she refuses to throw much of anything away.  Linda can clean their kitchen in the morning and it's completely trashed again by the end of the day. 
She also has the maddening habit of turning the problems that Linda's dad is having around so that it becomes all about her. 
As an example, the other day Linda's dad was not feeling well and didn't want to eat or do much of anything other than sit in his chair.   Linda's mom calls and rambles on how she thinks he's slowly dying and could Linda please call the doctor to ask if some new medication might be causing the issue.  Linda said she of course would but then asked why she couldn't.  Her mother answered that she couldn't because she was running late for her hair appointment. WTF?!!
Now, if your spouse was sick and supposedly dying, would you not cancel the rest of your life for at least that day – especially a stupid hair appointment?  Of course you would.  Being the narcissist that she is, Linda's mother doesn't see things that way.  Eventually, we determined that this little story was just a ploy to get Linda to go over to their house to watch her dad while her mom got her hair done and could go shopping.
This is just a slight example of the sort of shit Linda puts up with on a daily basis.  And it's wearing on her badly.  Not only from a mental standpoint but physically as well. 
Her parents won't accept any outside help and her brother isn't chipping in at all, that's for sure. In fact, Linda's mom thinks that it is not his job to help – it should be the daughter's responsibility for parental caretaking.
Oh, and Linda's brother feels the solution to the whole problem is to put them in an assisted living facility. 
Alrighty then.  That was easy.  Why didn't we think of that? 
(I could go on and on about the things that happen and that come out of my MIL's mouth, but I don't want to bore you.)
And that leads me to a brief brother-in-law update!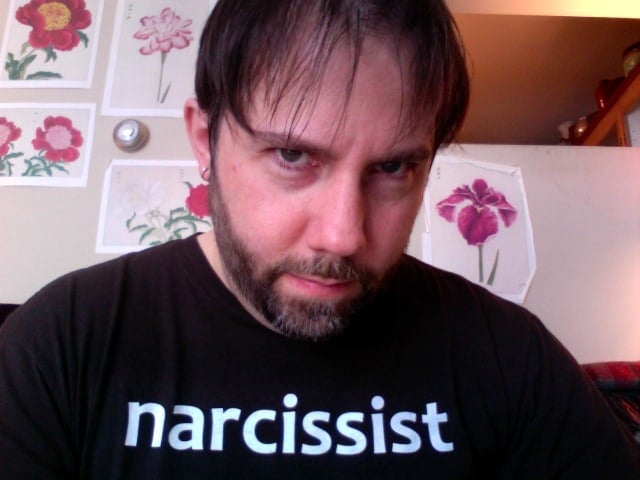 What's Up with the Golden Child?
(For you newer readers, Linda's brother had an affair and wound up marrying his affair partner.)
Linda's brother retired back in January after being a corporate big shot for 3 decades.  During his company retirement party, he spoke about how it was time to slow down and among other things, spend more time with family – especially his aging parents.
Since that speech in January, he's been down to see his aging parents exactly 3 times.  Easter, Mother's Day (both being family get togethers held at our house) and one other time when he set up a new bed for them.  That's it!  To say this rubs Linda the wrong way is the understatement of the year.
Anyways, the last time I addressed my BIL and his wife, I stated that we were starting to see cracks in their marital armor.  Well, a couple of reliable sources who hang out with them (my sister and her husband, believe it or not) have told us that they argue quite frequently.  Usually they are alcohol induced rages about stupid stuff, and often result in the wife leaving in a huff to stay at their lake condo, which is a couple of hours away.  She'll often stay there for a couple of weeks at a time.  Not exactly the actions of star-struck lovers, is it?
On the few occasions that we have seen them this year, she'll say something stupid and he'll make fun of her or contradict her in front of everybody.  Yet they constantly post pictures of themselves on Facebook with wine glass in hand, stating how grand life is and how much in love they are. (Gag!)
A few weekends ago, Linda and I spent the entire weekend in 90-degree heat working on opening her parent's pool, putting down mulch, trimming their huge bushes, repairing some missing shingles, cutting their grass, etc. Meanwhile, her brother posted on FB that the weekend up at the lake was just "ideal for boating."  Linda joked that she was going to comment that it was an ideal weekend to perform slave labor at their parent's house.  ( I sense a twinge of resentment!) 
OK enough about the negative stuff with her parents and brother.
Thankfully, my family hasn't been a source of stress and strife – yet.
What About Us?
Outside of the stresses of everyday life with her parents and work, Linda and I continue to get along great.  Our marriage is as strong as ever.  We truly are best friends and spend most of our free time together doing stuff we want to do.  Though that time has been squeezed shorter by a considerable amount lately due to the amount of time and effort we spend at her folks.  The long and short of it is that we are great! And I almost forgot…Our 33 year wedding anniversary is this Friday!
We're heading to Vermont for a little RV vacation in early July and have lots of other trips we want to take when time and circumstances permit.
Some other good stuff on the homefront…
We are pleased to announce that our son is getting married next June to a lovely girl.  They've been together for about 4 years now and are made for one another.  He just wrapped up his first year (year one of three) of graduate school to become a school psychologist.   
One of our twin daughters moved to Cleveland for her first job after graduating from college in December.  She's a chemical engineer and is doing quite well. However, she's a little obsessed with budgeting and making money and needs to loosen up a bit!
Our other daughter works as a therapist for young children who are not able to function in a regular classroom setting for various reasons.  She's trying to save some money and works only about 10 minutes from our house – so she's living with us.  (Goodbye empty nest!)
We suspect that we may have two additional weddings in the near future as both girls have been with their boyfriends for quite some time.  I joke that since they were born at the same time, I hope they get married at the same time so we don't' have to pay for 2 weddings!  I'm sure that won't happen.  I just wish they'd stop watching "Say Yes to the Dress."  That show scares me!
What About the Blog?
This past December marked the 8-year anniversary of starting this site.  This is post number 1092, and we just recently surpassed the 40,000 comment mark. 
Obviously, we've backed off the blogging over the last couple of years but that slack has been picked up with the help of the excellent writing and passion of Sarah P. (Thank you Sarah!)
Most of our time these days is taken up with answering emails and mentoring people from both sides of the affair, and creating content for the Affair Recovery Movement and other resources.  In fact, we're working on a resource about the female unfaithful spouse/other woman, and another resource on empowerment and self-care.
One of the aspects of affair recovery we want to shift more focus on now is indeed the self-care aspect.  Its importance cannot be overstated.  As I mentioned, Linda, myself and Sarah P. are working on a program that will address this important element of recovery and healing.  We hope to have it out late summer or early fall.  
Additionally, we'll be changing some things on the blog from a design and layout standpoint.  We want to add a self-help category along with more content on that topic.  And since our blog theme is no longer supported by its creator, we feel that we need to change it so that there are no security issues or other bugs that we won't be able to fix.  So, the look of the blog portion of the site may change considerably here in the not too distant future.
So, don't be alarmed if one day the blog looks entirely different one minute and back to it's old self the next.  That's me testing things out!
Well, I think I've rambled on for long enough.  Please feel free to share anything new that's going on in your life.  We'd love to hear some success stories and/or anything that is important to you.
Thank you all so much for being part of this community!