A woman apparently felt her affair was hidden safely in her phone, but another person witnessed the infidelity and decided to do something about it.
We came across a story that has recently gone viral and wanted to run it past you guys to get your opinions and perhaps spark some conversation.
Here's the story…
At a recent Detroit Lions football game on Thanksgiving Day, an obviously-pregnant woman was sitting with someone who appeared to be her boyfriend/husband. A man seated behind them noticed that the woman was texting some other guy named "Jason" during much of the game.
Every time her significant other turned to her, she either hid or shut off her phone in order to shield her alleged infidelity.
This is according to a guy named "Lye", who noticed that the woman was texting things to "Jason" such as, "I wish I were with you instead" and "I will see you as soon as I'm done with him."
Needless to say, "Lye," who some are calling a Good Samaritan, decided that he just had to do something about it.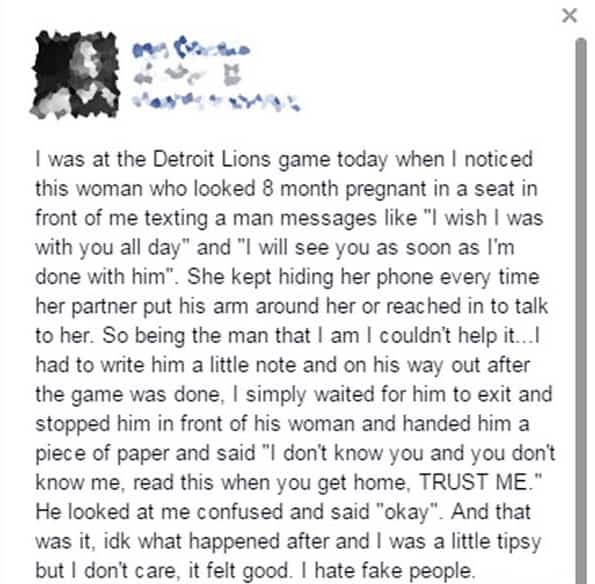 In order to allow the woman as much common courtesy as humanly possible, he wrote a note and took a picture of it. He then approached the unknowing man as he was leaving the stadium and told him to open it as soon as he got home.
The note started by saying, "Hey bro, I don't know you and you don't know me. When you get home check your girl's phone." He then went on to detail how the man's pregnant significant other had "been texting 'Jason' saying she wishes she was with him all day!"
Here's a picture that depicts the scene, along with the note…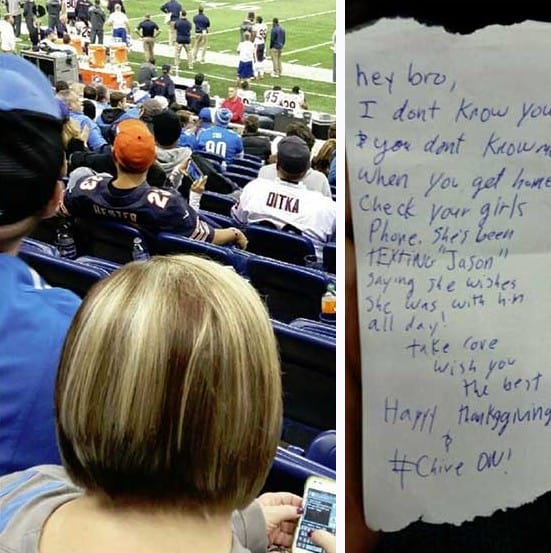 Then he posted it all on Facebook for the world to see.
He later decided to make a follow up entry on MadWorldNews.com that somewhat explained his reasoning…
Just to clear up a few things since people seem to want to know. The main reason I even decided to pay attention to this "lady" was because she had said something that irritated me and everyone else around us. The guy behind her said "wow for the price they charge for fries here that's pretty small, they barely give you anything" and she replied out loud "it's okay, I'm use to small things " right in front of her man and the rest of us. Everyone was shocked and embarrassed for her man including the guy who made the comment about her fries. That's what really ticked me off, also that's how she brought the attention to herself. That is the main reason I believe I went out of my way to do what i did, it just irritated me and I felt bad for this guy (mind you I was a little tipsy, I had been tailgating since 9am ;).
Apparently Lye has been experiencing some serious social media criticism for butting in; some saying that he may have placed the woman in danger if her boyfriend is abusive. That said, there are just as many – if not more – who are saying he did the right thing.
So, what do you think – did this man do the right thing or was it none of his business? Let us know in the comment section below.