Well, it's finally here.  Our beautiful 18-year-old daughters are graduating from high school tomorrow.  Two hours after the commencement is over, we will be hosting a party at our home for family and friends.
Linda is the ultimate party planner and goes well beyond normal expectations each time we host one.  (The thought of her planning two weddings in the future is already scaring me! )  So, we have been preparing somewhat for the last few weeks but we kicked it into overdrive during the Memorial Day weekend.  We've painted, cleaned, repaired, created, and purchased stuff to the point of near exhaustion.  Time is in short supply and the pressure is on!
Therefore, we're going to run a guest article today by Rick Reynolds about how our behaviors can put us at high risk for an affair.  On Monday we will probably either have another guest post or rerun one of our posts from the past.
Needless to say, once this whole graduation thing is over we will require a vacation (or at least a few days of R&R).  On the plus side, we won't have to do any work around the house for many months to come!
---
Grooming Behaviors: Building a Safe Environment
 by Rick Reynolds, LCSW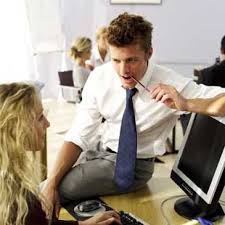 Years ago John, a client, entered my office requesting help for his dilemma: "Women are always coming on to me" he began "and my wife is really upset about it". "What can I do?" Puzzled, I asked him to give me examples since I didn't seem to be having the same problem and I assured him I was better looking than him. "Well, one woman came into my office today, kicked off her shoes, came behind my desk and began to give me a back rub." "Really" I replied, give me another example. "Well at the little league game on Saturday, I was sitting in the stands bending over and I guess my underwear was showing and this woman come up and gave me a wedgie." "Incredible" I responded, "I've been to a lot of little league games and I've never had that happen." "By any chance did you happen to know any of these women?"
I've always been amazed at how naïve people tend to be when it comes to the birds and the bees. It's as if they have no clue as to how things get started. Of course, John knew these women, but his blindness to his own behaviors continually put him at high risk for an affair. Upon further investigation, I discovered his secret; he was the master of complements. John, it seemed, had a photographic memory. Each day he would go around the office and complement the women on their dress. If they wore a new set of clothes, he noticed. If they changed anything about their hair, he made a comment. If they had a new set of ear rings, he took note. Even if they changed the color of their nail polish, he'd point it out. I suspect that for most of these women there had never been a man so attentive, especially their husbands. For that reason, John had a constant stream of women coming by his office checking to see if he would notice what was new.
Grooming behaviors are those behaviors we use to cause someone to be drawn to us. For men, that behavior is what I call "pimping tenderness." It is a man's way of pushing a woman's buttons and drawing her attention his direction. All a man has to do is feign interest, to pay attention, pay complements, and the game is on. For women grooming behaviors may involve dress, or flirting. "What's wrong with flirting?" some will ask. And for a single person, there is nothing wrong with the dance of courtship, but the committed man or woman is playing with fire. Even if in the beginning of a playful exchange there is honestly no interest in the other person, the emotions generated by an encounter may well lead to rouge desires that threaten to destroy the lives of many.
Couples recovering from betrayal need a culture of safety in order for healing and re-engagement to begin. Creating that environment requires effort on the parts of both spouses. Examine how you interact with other people. You may be totally unaware of your high risk grooming behaviors. If you are unsure of whether you do any of these behaviors, then ask your mate, I'm sure he or she will gladly point out any behaviors that he or she perceive as risky.
Most of us tend to get defensive if our mates share what they see as our risky behaviors. That's because we tend to judge ourselves by our intentions, but others judge us by our actions. While we may not have bad intentions as we interact with others, it doesn't change the fact that on any given day the attention given with which another responds, if we find them attractive, may catch us by surprise and stir a rouge desire threatening to disrupt our life and those around us. At the very least, our risky behaviors will leave our mate feeling unsafe and uncared for. As one wife once told her husband after he had gawked at another woman, "I wish you would save some of those looks for me."
Be willing to refuse to exercise some of your freedom for the sake of the relationship and out of respect for those around you. You may feel your mate needs to get over it and that this is just how you are and he/she needs to accept it, but maybe we need to grow in our capacity to love and learn to care about the feelings we may be creating in our mate and the emotions we may be inadvertently awakening in others. Just because it's "the way you've always done things" or "the way you've always been," doesn't make it a safe and loving act. Continuing your behavior, even if your motives are innocent, can do more harm than your realize. Learn to protect your relationship.
For more on what the cheater should and shouldn't do after an affair, check out our newest book, Healing from an Affair: A cheaters guide for helping your spouse heal from your affair.
[wlsp_signup]
LINESPACE