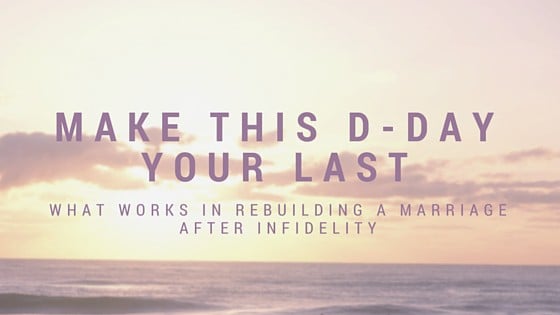 Making this D-Day your last has three key components or considerations. Making this D-Day your last requires activity and honest assessment on your part. I will first discuss the elements that help in rebuilding a marriage after infidelity.
If those don't work, you can still stay if you choose to. However, there are times when it would be wise to leave and I will address those as well.
Since we cannot control others, we can only do our best to literally do our best. The rest is up to the wayward spouse. But sometimes the wayward is so damaged that it is not wise to stay with him or her.
Finally, as many of you have found out from experience, there is no real full-proof plan to affair proof a marriage if one party is dead-set on committing infidelity.
Still, there are always things you can do to lessen the chance of infidelity occurring again in people who are more or less "normal."
There have been studies done in the past examining specifically what can be done to optimize your chances of rebuilding a marriage with the wayward spouse by enacting specific behaviors that help deter infidelity.
In a study in 1988, different mate guarding behaviors were analyzed according to which ones were most effective in deterring infidelity. Jeremy Nicholson from Psychology today notes:
"In the study, Buss focused on perceptions of the effectiveness of each mate guarding behavior. From participants' rankings, the researcher found that some behaviors were more effective in preventing infidelity than others. Tactics such as emphasizing love and caring, enhancing physical appearance, resource displays (for men), and sexual inducement (for women) appeared to be most effective techniques to keep a mate faithful. In contrast, techniques that were violent, negative, or directly controlling tended to be less effective. Thus, partners were able to keep their mate from cheating primarily by positive inducement – motivating them with various rewards to stay faithful." (1)
Yet, in another study, the researchers wanted to examine the spiritual dimension of marriage. They wanted to gauge whether or not prayer for one's spouse could serve as a deterrent for infidelity as well as strengthen the marriage. What is interesting is that they discovered the large role that prayer plays in preventing infidelity.
Several studies were conducted in 2010 that specifically focused on the role that prayer plays in romantic relationships and their findings are quite convincing. Nicholson describes how the studies were performed as well as their outcomes: "In the first study, the authors looked at correlations among a partner's prayer behavior, relationship satisfaction, and extra-dyadic romantic behavior (cheating). They found that individuals who prayed more, specifically for the well-being of their romantic partner, appeared less likely to cheat. Furthermore, prayer was an even better predictor of fidelity than the individual's level of satisfaction in the relationship. Thus, even when the relationship was unfulfilling, those who prayed were still less likely to cheat." (2)
Another study by Fincham in 2010 sought to examine whether or not asking for prayer from one's partner could reduce cheating behaviors. Results from the study were extremely encouraging and the group that prayed had much better outcomes in terms of reducing thoughts and behaviors associated with infidelity than the participants in other groups in the study. "Through subsequent analysis, the authors found that a feeling of sacredness mediated this effect. In other words, prayer for a partner helped an individual feel that their relationship was more sacred, special, and spiritual. That feeling then reduced their motivation to cheat." (2)
I encourage you to read the entire article on Psychology Today and you can find the links in the sources section at the end of the article.
This is great news for anyone who believes in the power of prayer. But, what about those who don't subscribe to a religion but still have an equally valuable and meaningful spiritual life?
There are other ways to create a feeling of sacredness such as meditating together on a positive thought, lighting candles together and asking for protection for your spouse's well-being, having a weekly gratitude session where you each tell each other about the other's unique qualities for which you are grateful, or even looking at natural beauty (such as a sunset) together in silence while holding hands.

Rebuilding a Marriage: Positive Things You Can Do In the Wake of an Affair

Even though infidelity can hardly be described as a positive experience, (more like an experience where you would rather shave your tongue daily at 3am and 3pm than go through an affair at the hands of a wayward spouse), there are positive things you can do in the wake of the affair. These suggestions are not for the weak at heart.
Discuss attraction to others.  I actually know of one couple that put this into practice as a preventive concept. They were the parents of a friend. This couple was enlightened enough to know that just because a wedding ring goes on does not mean attraction to others will end. (Some people have very little problem with seeing a handsome or beautiful person after the ring goes on while others have a crazy-difficult problem when they see an attractive person walk by or at work in their office setting.)
My friend's parents knew this and it was the husband in the relationship who had more of a problem with this than the wife. So, they agreed that if either one developed a deep attraction for another and felt they were vulnerable to an affair, they would talk about it.
Low and behold the husband of the couple became crazy-attracted to someone at work after he and his wife had been married 25 years. (What's up with that 25+ year mark?!) Anyhow, thankfully, he did tell his wife and never acted on it.
My friend said it was very hard on his parent's relationship for a little while, but ultimately they developed a new level of trust because the husband in the couple did NOT act on it. The only problem with this suggestion is if a wayward spouse has a low self-esteem in the first place. He or she may not talk to his partner about external attractions and fall into the arms of the other person. As everyone on this site knows from experience, no plan is full-proof.
Be open about triggers.  Triggers include triggers for you (the innocent spouse) and for the wayward spouse. As an innocent spouse, your triggers could be anything, so common sense dictates that you figure out what they are and you do your best to avoid them.
For example, is there a chance the other person could be at a Christmas party for work? Then, skip the Christmas party along with your wayward spouse. Seeing the other person would be a trigger for both of you.
Triggers for the wayward spouse can be defined as anything that might weaken him or her enough to go back to the other person. It is best to change departments if the wayward spouse and other person work at the same place, block all phone numbers from the other person, take a different route home, no longer eat at restaurants where the wayward spouse took the other person, throw out gifts from the other person, delete all emails, photos, and texts from the other person.
Once again, both spouses need to be active participants in identifying and avoiding triggers. If the wayward spouse half-heartedly enacts these behaviors or does not enact them at all, then there will be a BIG problem.
Create a vision for your marriage and your future.  Creating a marriage vision is kind of like creating a bucket list, only the marriage vision includes things you wish to do as a couple both in the now and in the future. Items can be taken from your buckets lists but must be activities you can do together.
A marriage vision could also include things like weekly date nights, practical things that can be done to improve your marriage such as more snuggling, more home cooking, more alone time (if you need that.)
Rediscover a good sex life.   Allow me to preface this section with the idea that sex and affairs are two different things. Affairs are generally not about sex, even if they include it. Also, a lack of sex does not excuse an affair. As always, an affair is a choice that a wayward spouse makes and the wayward spouse cannot have an excuse for his or her affair. There are no excuses.
Sex is a type of communication that is unique to marriage. Marital sex is a sacred bond and when that bond has been breached, it makes a sexual relationship extremely tricky. A sexual relationship needs to be re-established in its own time and rebuilt along with the marriage. Sex involves trust and when trust has been breached it colors everything in life, especially sexuality. Don't allow a wayward spouse to rush you into a sexual relationship and start from scratch if you wish.
Having said that, having a good sex life is absolutely essential to a good marriage. Having a good sex life also has a broad definition. It can range from including kissing and snuggling to trying new things together. Having a good sex life is all about nurturing touch and physical communication. It does not have to involve penetration and can be as simple as having positive, physical communication.
A good sex life is also defined by one's stage in life and one's desires. A couple in their 60's will likely have different needs as opposed to a couple in their 20's. This, this relationship needs to be re-negotiated with age, stage in life, and other influences.
Cultivate a particular kind of sexuality that is specific to your marriage and remember that compromise is key. It is wise for the partner with the lower libido to try to compromise with the partner with a higher libido. (But, if you don't compromise, this does not excuse a partner having an affair.)
Sex is ultimately about sharing, communication, nurturing touch, and loving one another. I strongly encourage you to cultivate a new sex life on your terms, when you are ready.
Make time for meaningful conversation.  This one is self-explanatory. Really get to know each other and allow the wayward spouse to talk while cultivating an air of acceptance. Try to be as non-judgmental as possible and try to get to the bottom of irritability.
You can even have meaningful conversation about the affair because you can get to the bottom of what makes your spouse tick. Of course, this first involves your spouse having to have enough insight about his/her own behavior as well as enough courage to let you in. Try to achieve a type of zen-master vibe during important conversations.
For men, the best thing they can do for their wives is to listen carefully and ask open-ended questions without trying to fix anything. Us women mostly need someone to hear us and we like to feel heard. Therefore, saying "uh huh" from behind your laptop and not making contact with your wife won't cut it. It's time to really listen to her, complaints and all.
Take a marriage seminar in a non-denominational setting.  I love marriage seminars. There are many ones to take that are religious in nature, both for Christians and Jews. But, there are also great marriage seminars without a religious agenda.
I remember listening to a story where a man thought he could hide his affairs indefinitely. He and his wife ended up taking a marriage seminar and that was the beginning of the man's repentance as well as the beginning of their "real" marriage. One cannot have a real marriage while maintaining an affair. In Matthew 6:24 the Bible instructs us not to serve two masters:
No one can serve two masters, for either he
will hate the one and love the other; or else
he will be devoted to one and despise the
other. You can't serve both God and Mammon.
Even though this verse is talking about the one God versus false Gods, it can apply to everything we do in life. Is what we do in life for the glory of God (or goodness, morality, and justice) or is it for engaging in things that are of this world? The answer is plain: in your daily activities, do everything with the intention of glorifying God. Follow the Golden Rule: Do unto others as you would have them do unto you.
Every major world religion or philosophy has some form of the Golden Rule.
As the Jewish scholar and teacher Hillel instructed: "That which is hateful to you, do not do unto your neighbor."
Buddhism says: "Hurt not others with that which pains yourself." (Udanavarga 5:18)
Hinduism says: "One should always treat others as they themselves wish to be treated."
Confucianism says: "What you do not want done to yourself, do not do to others"
If you are not religious or do not follow any particular philosophy, it's plain and simple: do everything that is moral and upright, but most of all, don't do hugely bad things like commit adultery.
There was a reason that in ancient Judaism adultery was punishable by death. Adultery is the murder of love, the murder of the sacredness of marriage, an assault on the innocent spouse, an egregious breach of trust, and the thieving of something that was not another's to steal. 
Think about it—if everyone did only what he or she wanted and never took others into consideration, we would have a world worse than the world we have today. So many people in this world don't care how large acts of betrayal, such as infidelity, impact others.
Dealing with Triggers
Triggers are not fun, but they must be dealt with because try as you might, you cannot avoid all of them. A couple of articles ago, I mentioned Rick Reynold's view on triggers. He believes that it is important for the wayward spouse to see the betrayed spouse in full meltdown after the betrayed spouse has been triggered.  The reason he says this is important is because it forces the wayward spouse to really experience the harm he/she has done.
He believes this is helpful for the wayward spouse because it forces him/her back into reality, it pulls the wayward spouse out of denial, and it forces him/her to be present with the harm he/she has caused. Rick really believes this is an essential part of the healing process. Thus he recommends that when a betrayed spouse is triggered, the betrayed spouse needs to show the wayward spouse the full, dirty, awful mess that he/she has caused.
So, don't be afraid to become aware of triggers and remind yourself that events from the past cannot hurt you. Often triggers affect our frame of mind but remind yourself that the only power they have over you is the power that you give them.  Encourage your thoughts to be directed toward the present moment and cultivate a presence in the now.
But the most important thing that you can do with triggers is to realize that the strong emotions you might feel do not define you, your spouse's affair does not and did not define you, and you define your life by defining your thoughts.
Thoughts define your reality, so welcome an inner voice that says gentle things to you and uplifts you. We cannot change the past but we can change how we think about it as well as what conclusions we make or don't make based on past events. 
Thus we are asked to reframe the past and to use triggers to remind ourselves that the past does not define us, hold sway over us, or harm us. Since we cannot change anything about the past, it is more helpful to change our mindset about events in the past. Reframing does not mean forgetting, since you cannot forget these things; reframing does not mean trusting, since trust needs to be rebuilt; reframing does not mean letting it go and then walking happily on your merry way. Reframing simply means that you get a kind of perspective that allows you to be empowered despite what occurred, rather than allowing the past to control you.

Is It Time To Move On?
Maybe you have tried all of the above. There are three types of wayward spouses that will probably not be good candidates for life-long spouses:
Wayward spouses with narcissistic personality disorder
Those with borderline personality disorder
Those who are emotionally, physically or sexually abusive
Often, narcissists and borderlines are emotionally abusive by nature. Some of them can also be physically or sexually abusive, but there are also people who have anger disorders such as intermittent explosive disorder that cause them to act out rage when they are triggered.
Narcissism and Affairs
There is an interesting study that was done intended to uncover whether or not there was a correlation between sexual narcissism and infidelity. James McNulty of Florida State University and Laura Widman of Duke school of medicine conducted the study. They did indeed find a correlation. Here is a summary of their findings as told by Susan Krauss Whitborne, PhD, for Psychology Today:
"Using a sample of 123 newlyweds, McNulty and Widman requested that participants complete a set of questionnaires to measure narcissism and its relationship to infidelity, marital satisfaction, and sexual satisfaction. Facets of sexual narcissism, in addition to expressing grandiose thoughts about your sexual proficiency, include sexual entitlement (feeling that you deserve to have the kind of sex you want), lacking sexual empathy (failing to know what your partner wants), and being sexually exploitative (using people to satisfy your needs). As they expected, the research team found that those high in sexual narcissism were indeed more likely to be involved in an extramarital affair. These findings held even when controlling for general narcissism, satisfaction with the marriage and with sex in the marriage, and partner's scores on each of these measures." (3)
How does this apply to you? In the study it appears that the study controlled for general narcissism versus sexual narcissism and marital sexual satisfaction. Sexual narcissism is a sub-set of general narcissism and it appears that one can be a narcissist without being a sexual narcissist.
So what is a sexual narcissist? A sexual narcissist is someone who extends general narcissism and takes it to its extreme form in terms of the narcissist's sexuality. A sexual narcissist feels entitled to removing all boundaries around his or her sexual morality and doing whatever he feels he needs to do for his own pleasure.
He or she is willing to inflict extreme harm on his or her partner and engage in mind-games such as gaslighting. So, we all know that relationships with narcissists are notoriously difficult, whether one is with a general narcissist or sexual narcissist. But, the main difference is that a study proved that sexual narcissists are prone to infidelity.
Borderlines and Affairs
While there has not been a major study that connects Borderline Personality Disorder with infidelity, the issue that I see is that there is little chance in working it out with them after they have had an affair.
Someone who has BPD is notorious for having bad relationships. Add to that the fact that they have an impulse disorder as well and they have difficulty making a connection between their actions and consequences.
BPD is more common in women (and narcissism is more common in men) but both genders can have either disorder or both. Personality disorders occur across a spectrum and an individual can have features that overlap with one or more disorders. "People with BPD often have an intense need to feel loved and accepted, along with a lot of ups and downs in their relationships. And, when they are feeling abandoned or rejected, they may engage in impulsive or risky behaviors. This means that they might do things without considering the consequences of their actions, just to "feel better" in the short term. Certainly, infidelity could fall into this category." (4)
From my perspective, I think it would be very easy for individuals with Borderline Personality Disorder to engage in an affair. They often deal with chronic loneliness, even if married and in a loving relationship. They struggle with unhealthy feelings of abandonment and often feel empty inside.
Since they are easily upset, are extremely impulsive, and have labile emotions, it would be easy for them to have an affair. People who struggle with BPD have difficulty getting their needs met even when in what others would consider to be the perfect relationship. They attract and crave drama because it is a distraction from their emptiness. No one is ever able to fill the void for people with BPD, even the most saintly of people.
As you can imagine, after an affair has occurred, working it out will be a struggle. They must have insight and they must seek therapy. Otherwise, the pattern of seeking affairs could develop.
General Abusers Versus Intermittent Explosive Disorder 
Before I get into this, I wanted to bring up the concept of infidelity as a form of abuse. There are some who see a correlation between infidelity and abuse. For example, Cathy Meyer from YourTango says this about it:
"Unfaithful husbands are often insensitive to the pain they inflict, just as are other abusers.  In many instances, betrayal through infidelity can be very close to what we term domestic violence. Unfaithful husbands, especially if your husband has passive aggressive tendencies, are often insensitive to the pain they inflict, just as are perpetrators of physical and psychological violence. Often a wife is as vulnerable and dependent as the victim of repeated beatings. The behavior patterns of ongoing infidelity often parallel the well-documented stages in the cycle of domestic abuse. Infidelity and domestic abuse can both become an ongoing aspect of marriage. There is a recurring cycle in which the abusive or cheating husband is repentant and the marital relationship functions well. Then there is another episode of abuse or infidelity. The wife suffers from low self-esteem, a sense of worthlessness, a lack of control over her life, a dependency on her husband, and a distorted sense of reality in which she believes that what happens is her fault. Women who stay for significant periods of time with partners who are unfaithful, often display the same psychological and social symptoms exhibited by victims of systematic abuse." (5)
Meyer actually makes some very good points, and seen in that light, infidelity does meet the criteria for a form of emotional abuse. But, the author is referring to people who have recurring episodes of infidelity. I believe that this is an important distinction to make since not all affairs would, in my opinion, necessarily qualify as emotional abuse.
But, that doesn't mean I don't see a strong correlation. I believe that more affairs than not do qualify as a form of emotional abuse, even when a mate strays only once. The reason for this is because often the wayward spouse will become emotionally abusive to the innocent spouse during the affair.
In his mind he has to build her up as the bad guy in order to assuage his guilt. He can often become critical of his spouse and have a short fuse around her. In doing this, he convinces himself that there is a reason he cheats. He makes himself out to be the victim of his wife when she is actually the victim of him. This also applies to women to who on their husbands—they often become emotionally abusive toward their husbands in these situations.
But, to confuse it even more, there are many known abusers that also have affairs and when they do, I think that a person needs to leave the situation. Someone who is abusive and unfaithful is a really bad combination and there is no reason to rebuild anything. It is best to get out. This is your exit point as a spouse and I would recommend that you use it.
So, some forms of infidelity can be abusive and some abusers are unfaithful. When infidelity is emotionally abusive but there is no physical or sexual abuse present, then I think in theory you could be successful in rebuilding a marriage. But the caveat is that the wayward spouse must see a therapist and must demonstrate a permanent change of heart. Even if he/she doesn't do that, you could stay with the wayward spouse, but why short change yourself?
For the physical and sexual abuser* who is unfaithful, there is no going back. That is the hard, cold truth. There is no reason to continue a relationship with someone who is physically and sexually abusive in the first place. But, add to that the idea that there is infidelity and now you have all the reasons in the world to leave. The situation could get very volatile for you because abusive people have very skewed mindsets.
A Sad But True Story…
Now, I am going to jump in to a very sobering true story that occurred and the reason I am telling you this story is that I need to underscore the point that it is never safe to stay with an abusive spouse.
When the abusive spouse finds an affair partner, things can get really dangerous even deadly, for the betrayed spouse. I am telling you this story because there are no making excuses for abusers, staying, and hoping it will get better. It will never get better and the sooner you realize this, the better.
Note: if you have a weak stomach or if you are easily upset by violence this story is NOT for you.
Several years ago, John and Andy had an intact family and their parents made a lot of money. Their father, who was significantly older than his very attractive wife, had been emotionally and physically abusive to his wife and to John and Andy.  John reported that his father would regularly have blow-ups at the dinner table and call his wife (John's mom) a bitch and call John a son-of-a-bitch. Then it would often progress to hitting and worse.
Neither John nor his mom knew the triggers that set off John's father. Just existing seemed to set off John's dad and his anger never matched the reality at hand. It did not matter if the family walked on eggshells; John's dad was extremely abusive no matter what was happening, even if what was happening was good.
John's dad was a bald overweight man about 15 years older than John's mom. John's mom was very classy and beautiful woman of Italian heritage and she dressed impeccably. John's mom was a good woman and loyal to the family, but John's dad was constantly paranoid and he imagined things about his wife that were not happening and his paranoia was partially responsible for his rants.
One day John called in the morning and was choking tears back and trying to get the words out to explain what happened. John had left to stay in another city to study for the summer. He explained what happened while not at home:
While he was away, John's mom and dad got into a huge fight and neither John nor his brother were there to serve as a buffer. It turned out that his father was having an affair and even though he was having an affair, he decided to take things out of his wife.  Let's just say abusers are never rational.
After John's mother found out about the affair, this was the final straw for her. That morning, unbeknownst to John, his mom had packed her suitcase and decided to leave John's father for good. She was in the process of packing when John's dad came home from work. He had figured out that his wife might try to leave and so he came to intercept her.
John's dad was so furious that his "possession," John's mom, was leaving him. So what do you think happened next? Do you think she got a black eye like she had on many other occasions? No, she did not. Do you think he called her a slew of demeaning names and threatened her? No he did not. Instead, the penalty for leaving John's dad was her life.
John's father removed his designer belt and strangled John's mom to death with it. Then, John's dad called John to explain he had killed his wife since she was trying to leave. John's dad told John that his mother was a "bad wife" and deserved what she got.
So, I cannot stress to readers enough that if there has been physical abuse and then there is an affair, you need to be concerned for your own safety. There is no working it out and when you do leave, you need to have several friends by your side and perhaps even the police.
Abusers are not rational and even though John's mom's only crime was to leave her abuser; she got the death penalty for her crime. She was an absolutely lovely woman and as I write this, my heart races and an absolutely sick feeling takes over my stomach. This happened many years ago, but thinking about it causes a visceral reaction to this day. So, I cannot stress enough that if you are in an abusive marriage, there is no working it out.
Intermittent Explosive Disorder
Now I wanted specifically to discuss Intermittent Explosive Disorder (IED). The Mayo Clinic staff provides an excellent and thorough definition of this disorder:
"Intermittent explosive disorder involves repeated, sudden episodes of impulsive, aggressive, violent behavior or angry verbal outbursts in which you react grossly out of proportion to the situation. Road rage, domestic abuse, throwing or breaking objects, or other temper tantrums may be signs of intermittent explosive disorder. These intermittent, explosive outbursts cause you significant distress, negatively impact your relationships, work and school, and they can have legal and financial consequences. Intermittent explosive disorder is a chronic disorder that can continue for years, although the severity of outbursts may decrease with age. Treatment involves medications and psychotherapy to help you control your aggressive impulses." (6)
Recognizing and naming this disorder is a relatively new occurrence. This disorder should be separate from those individuals who are abusive, narcissistic, or have borderline tendencies. While abusers, narcissists and borderlines can have IED, those with IED do not have to be categorized with the former.
Do you remember Yosemite Sam or Donald Duck? Even though those two characters are fictional, they epitomize the disorder. Both of those characters have short fuses, get angry at things that usually don't make others angry, and they both end up acting out in ways that cause social repercussions for each of them. It can be humorous to watch in animation; but in real life? Not so much.
Still, if you have a partner who often rages, they can be helped as long as it is only IED. They can get better with therapy and with medications that treat underlying disorders such as anxiety or depression that can contribute to the episodes that are full of rage.
In Summary
In conclusion, making this D-Day your last and rebuilding a marriage is all about wisdom, discernment, taking positive action, such as prayer, and finally moving on if it becomes clear that the situation will only get worse.
But, in all relationships, it takes two to tango and making this D-Day your last includes your wayward spouse and whether or not he/she is willing to do his part. It also includes making life-changing decisions if you are married to someone who is not capable of having a healthy relationship. As they say, "You can lead a horse to water, but you cannot make him drink."
There are some wayward spouses who are like the horse that does not want to drink the water and others who are more like cooperative horses who know what's best for them. Know which horse you are sharing a stable with because life becomes much easier! 
Hint: the guy below is not the horse you want to share a stable with because there will always be a third wheel in the stable.
How are you doing this week?
Footnotes:
*What do I define as a physical and sexual abuser? Well, they both basically use force to intimidate their victim. A physical abuser could give his wife a black eye, but he would also be a sexual abuser if he gave her a black eye and then forced her to have intercourse against her will.
Sources:
1.   Nicholson, Jeremy, PhD.  How to Prevent Infidelity and Adultery.
From https://www.psychologytoday.com/blog/the-attraction-doctor/201401/how-prevent-infidelity-and-adultery
2.  Nicholson, Jeremy, PhD.  Can Prayer Keep Your Lover from Cheating? From https://www.psychologytoday.com/blog/the-attraction-doctor/201311/can-prayer-keep-your-lover-cheating
3.  Krauss-Whitborne, Susan.  Why Sexual Narcissists Make Unfaithful Partners.  From https://www.psychologytoday.com/blog/fulfillment-any-age/201412/why-sexual-narcissists-make-unfaithful-partners
4.  Author Unknown. Is There a Connection Between Borderline Personality and Cheating?  People With BPD Often Struggle With Impulsive Behaviors.  From https://www.verywell.com/are-people-with-bpd-more-likely-to-cheat-425228
5.  Meyer, Cathy. Is Infidelity A Form of Domestic Abuse? From http://www.yourtango.com/201064990/infidelity-form-domestic-abuse
6.  Mayo Clinic Staff. Intermittent Explosive Disorder. From http://www.mayoclinic.org/diseases-conditions/intermittent-explosive-disorder/basics/definition/con-20024309