by Sarah P.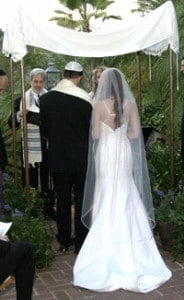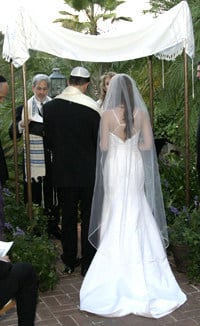 Tips From Modern Orthodoxy
Note: I belong to an inter-faith family, Christianity and reformed Judaism. Both religions dwell harmoniously in our home because we focus on commonalities instead of differences. We have a couple of friends from the modern Orthodox community and there are things we have come to admire about modern orthodoxy—mainly their views of marriage and fidelity. This is an article about common beliefs and values within modern Orthodox Judaism that contribute to fidelity as well as sensuality within a marriage. It is not intended to proselytize, convert, or diminish other religions.
Many people view religiosity and sexual repression as one in the same. Surprisingly, one of the most conservative religious sects on earth, Orthodox Judaism, provides its followers with laws and guidelines that, when followed, afford couples a sensual, psychologically healthy and faithful marriage.
Neither my husband nor I attend a modern orthodox synagogue. I was raised a Christian even though my mother is ethnically Jewish. My husband is wholly ethnically Jewish, but his family is completely secular. He can count the number of times during his life, on one hand, where he stepped foot inside a synagogue.
But, after our children were born, we have both become interested in learning more about Jewish holidays and traditions. When we do attend a synagogue, it is a reformed one where there are many inter-faith couples. Even though we consider ourselves open-minded and freethinking, we have both become intrigued by the hundreds of laws and extremely conservative beliefs that Orthodox Jews faithfully follow in terms of marriage.
Let's Take A Look Inside A Typical Orthodox Community
If you were to walk down the street in an Orthodox Jewish neighborhood, you would see men and women carrying on separate lives. You would also see women fully covered wearing modest clothing, no makeup and scarves on their head that cover their beautiful hair. You would not see men and women chatting, casually touching, or flirting. In fact, you may not see men and women talking at all, unless they are relatives or married to each other.
On the surface, all of it appears to represent extreme sexual repression. Some feminists might say that it is a disempowering lifestyle for women—if not a form of modern gender-based slavery.
Don't Judge a Book By Its Cover

What we don't realize is that there are very good reasons for what you see in Orthodox neighborhoods. While we might believe those reasons involve keeping women as subservient creatures, we would be completely incorrect.
The behaviors that are observed in a typical Orthodox neighborhood are based in Jewish law. The Jewish laws behind these codes of conduct have been written for the purpose of ensuring the sacredness or marriage, protection of the family, and fidelity within marriage.
But, what we don't realize until we start reading these laws in detail is that there is an even more compelling side-effect that most would never guess: when these laws are followed, they have the potential to create an extremely sensual marriage.

The Secret Is Out
Let's take a look at some of the tips we can glean from a typical orthodox marriage.
The purpose of marriage within Judaism is to create the spiritual and material unity of body and soul. Also, within Judaism, G-d is considered to have both feminine and masculine aspects. A man gains access to the feminine aspects of G-d through marriage.
Indeed, a wife is regarded as a man's home and he cannot be "home" or have access to the feminine aspects of G-d until he is married. So, without being married, a Jewish man cannot wholly know G-d or receive his blessings. Thus, an unmarried man within Orthodox Judaism is something that is frowned upon.
After a man marries, it is his duty to provide his wife with three essential things:
"A husband is responsible for providing his wife with food, clothing, and sexual relations. Marital sexual relations are the woman's right, not the man's." Source: (www.jewfaq.org)
Say what?
Yes, you read that correctly: a sexual relationship is one of the three basic rights of the wife, not the husband! I had only learned about that two years ago and I have to admit that I was shocked. After all, if we consider mainstream society in the United States, it would seem that sexual relationships are the right of the man, and not his wife.
In addition, women are not viewed as important simply because they can procreate. Women are important, first and foremost, for companionship for men since it is said that men cannot exist or be happy without wives by their side.
After women marry, even in antiquity, women retained all the property they owned prior to marrying as their own. Also, within Jewish tradition, a man has never been permitted to strike or physically harm his wife in any way. Within Jewish culture, even centuries ago, women have not been considered the property of their husbands or as inferior in any way to their husbands.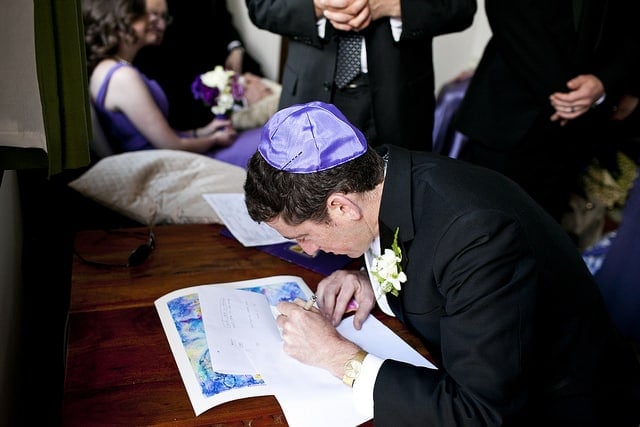 Dress Codes
Married women are required by the Talmud to cover their hair. Most women cover their hair with either a scarf –or- a wig and a hat. All women within the Orthodox community are required to dress incredibly modestly and never to draw attention to their physical appearance.
This serves dual roles: it prevents the eyes and minds of men from straying and thinking 'adulterous' thoughts, but it also makes the marital relationship even more special. Thus, it is the husband who has the great gift of beholding his wife's naked body and her beautiful hair.
Her husband becomes the only man in the world who receives the gift of knowing her intimately in all ways. This profoundly increases the intimacy between a married couple. Plus, it allows a husband to more easily keep his gaze on his wife.
Keeping the gaze on your spouse is also an important aspect of marriage within Judaism. Some rabbis interpret the commandment "thou shalt not commit adultery" to prohibit both physical and mental sexual involvement with a person other than one's spouse. Thus, if someone engages in detailed sexual fantasies about someone other than their spouse, it is considered adultery.
Is There A Psychological Benefit to Limiting the Gaze?
Yes!! From a purely psychological standpoint, sexual fantasies about someone are processed as if we are physically having sex with that person. Here is why: our brains possess neurons, frequently termed mirror neurons, which contribute to us processing empathy.
In addition to allowing us to process empathy, these neurons also have an interesting facet; that is, when we see an event, mirror neurons process the event as if it were actually happening to us. So, when we sexually fantasize about another, our brains can process the experience as having occurred (even though it did not).
Thus, our mind already believes it has been unfaithful and it takes little time for the body to follow. In that respect, limiting the gaze contributes to fidelity.
Code of Conduct Between Men and Women
In the orthodox community, men and women sit in different areas of the synagogue. But, this flows through into all interactions. Men and women do not 'befriend' each other. Men and women who are not married do not spend time alone together unless they are relatives. Most importantly, men and women do not touch each other, even in social settings.
For example, even today, you may not see men and women shake hands upon introduction. You will not see casual touching between men and women who are not married.
Rabbis have pointed out for millennia that any kind of touching can plant the seed for sexual feelings. This thinking even applies to a simple handshake. Therefore, touching is reserved solely for one's spouse. But, even more than that, a couple is highly encouraged to touch often and also make love frequently.
From a purely psychological standpoint, the guidelines against touching make sense. Any time we touch another person oxytocin is released. Oxytocin creates bonds between two people, generates trust, and establishes a false sense of familiarity. (This is why we can observe politicians and salesmen shaking hands frequently).
Since Judaism's goal is to maintain the sacred and incredibly unique bond between husband and wife, prohibiting touching makes sense. Also, since each member of the couple is not getting their 'touching quota' met by others during the day, they are less likely to become desensitized to touch. Thus, touch between husband and wife maintains a high erotic charge.
In Summary
Personally, I believe that these particular guidelines that are followed in Orthodox Judaism could benefit marriage for several reasons:
First off, if there is no casual touch and flirting between those of the opposite sex, this is one less avenue through which a budding affair can enter. In addition, there is no 'touch overload' for either person in the couple. Finally, touch remains something very special since it cannot be gotten from just anyone.
Secondly, since women cover themselves, there is no visual overload for men. Did you know that a study in the U.S. recently confirmed that after men viewed pictures of beautiful actresses and models that their reported satisfaction with their own partners greatly diminished? Ouch! Thus, if all women were to dress modestly in order not to provoke sexual attention, it could be inferred that men's desire for their own partners will not drop because of visual cues.
Thirdly, the idea that men and women do not engage in opposite-sex friendships fares wonderfully for marriage. It's no secret that many affairs are a result of a friendship taken too far. After my husband and I got engaged, we also realized this risk and agreed not to make friends with those of the opposite sex—even at work. After all, our workplace is the number one place where affairs begin.
Lastly, the idea that a sexual relationship is a woman's right, rather than a man's, also fares well for marriage. I believe this is the case because it creates a respectful view toward a wife in that her husband is there to serve her, and not vice versa. How many men blame their affairs on the fact that their wives did not provide them with enough action in the bedroom (which the man believes is his right)? We all know the answer to that—a lot of men do. Thus, putting the sexual relationship within marriage as the 'right of the wife' puts power in the hands of the wife by catering to her sexual needs first. It is also a viewpoint that promotes fidelity since, in theory; a husband will be concerned about meeting his wife's needs and not those of other women.
Therefore, I think these key points within Orthodox Judaism have something to offer the rest of us in terms of maintaining more faithful and more sensually charged marriages.