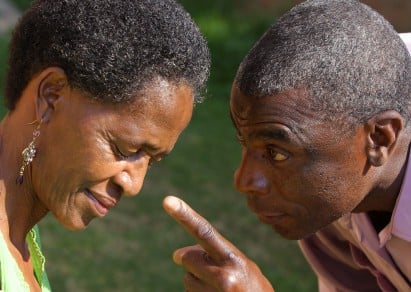 It takes time to recover and move back together again, intimately and emotionally, after infidelity – but it CAN be done. Every time your partner opens up to you about something difficult, healing happens. Every time one of you reaches out to the other and you re-connect in some way, healing happens.
This path to healing and to trust rebuilding requires patience and both of you on board and consistently making conscious decisions. This can be a sensitive and vulnerable period in your relationship, but it can also be positive and transformative.
In our coaching practice, we've seen many couples take a relationship-threatening thing like an affair and use it to create a stronger, closer and healthier bond than they'd ever had before.
But none this can happen if there's a particular game being played. It may be going on in your mind and in conversations between the two of you too…and you might not even realize the added damage that's being done to your relationship because of it.
We're talking about the Blame Game.
It's one of those not-very-fun games that countless couples play as they interact with one another. It's especially damaging if you're already disconnected because of an emotional affair. The Blame Game will squash the healing after an affair that's trying to emerge and it will prevent the re-connection that could otherwise be occurring.
Here's how the Blame Game goes…
Jennifer greets her husband, Tom with a tentative hug and they talk about the day they each had at work. She distractedly listens to Tom share about his meeting with a new client as well as the tense talk he and his boss had. All the while Tom talks, Jennifer has one question run through her mind: "Did he spend any time with his co-worker Angie today?" Angie is the woman with whom Tom had an emotional affair and every day what Jennifer wants most of all to know is the answer to this question.
When she finally speaks the weighty question out loud, Tom gets angry. He accuses Jennifer of ignoring everything he just said when he was trying to be open and share. He tells her how tired he is of having to prove that the affair is over. Jennifer replies, "If you hadn't cheated in the first place, I wouldn't have to ask that question every day. This is on you!"
It's the same no-win argument that Jennifer and Tom have just about every day. What begins as a benign conversation descends into a hurtful exchange filled with accusations from both of them.
The Blame Game may sound different in your relationship.
It could be that either you or your partner seems to lob more blaming words than the other one does. The effects are very much the same– more tension, hurt and distance. When blame is running through the thoughts you think and the words you say on a regular basis, there is not much (or any) room for healing and for moving closer together again.
Remember these 5 tips to stop the blame game and repair your relationship:
1. Pause to ask yourself, "Is that really true?" when an accusation comes to mind or out of your mouth.
Even a momentary breath and pause in the conversation provides you with the space to phrase your words differently.
2. Review the current facts FIRST and then speak or respond.
When you speak from the facts of what's going on now, you're less likely to inadvertently push your partner away.
3. Remember that taking responsibility is different than blame.
You can acknowledge your actions or your role in a dynamic without getting into blame. Your partner can choose to do the same. In virtually every situation, you both played a role.
4. Meet your partner's blame with an honest reply like, "I feel sad/mad/hurt when I hear you say that."
It's okay to share how you feel when he or she accuses or blames you. It's also okay to ask your partner to communicate differently.
5. Come up with no-blame communication agreements you BOTH will keep.
Agreements are only effective when they're created consciously and don't come in the form of a demand or ultimatum. Ask your partner to talk about new and non-blaming ways to speak differently about how you feel and what you each want as you move forward.
---
Are you looking for more help communicating without playing the Blame Game? Relationship coaches and authors, Susie and Otto Collins can help. Click here to get their free 7 Day Communication Magic eCourse.
LINESPACE
 [wlsp_signup]
LINESPACE