A recent study suggests that people with avoidant personality disorder are more likely to cheat and are more accepting of cheating behavior.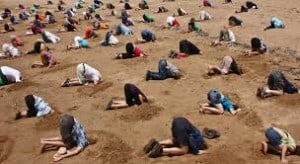 by Kajay Williams
Some people are more likely to cheat than others – that's just the way the world works.
Some people will find it much easier to set aside the boundaries of marriage and embark on more than one relationship than others – but there's a very good reason why. Recent research has suggested that those with an avoidant personality disorder are more likely to cheat on their spouse.
What is an Avoidant Personality?
An individual with an avoidant personality tends to have a number of very distinctive personality characteristics. They tend to be socially inhibited and may find it difficult to thrive or even function in a social situation. They also tend to feel inadequate and are especially sensitive to negative comments.
But perhaps the most telling characteristic of avoidant personality disorder is that the individual tends to be very uncomfortable with closeness – with anyone, not just their romantic partner, and they also tend to have feelings of isolation. This type of personality stems from insecure and isolating relationships when the individual was younger, or throughout their life.
Generally, people with avoidant personality disorder have a deep-seated need and desire to be liked. They tend to only be friends with people that they can impress or that hold them with high regard, because they are fearful of being rejected.
Because they tend to avoid getting close to people, because of their fear of being rejected, they may be reluctant to get romantically involved with anyone. Avoidant personality types also tend to be more impulsive and less able to rationalize decisions, and they tend to have less self-control.
The fear of rejection can also cause an individual with this type of personality to avoid conflict, too – and they may not tell anyone, even their spouse, about their real desires, wants and needs.
Why Are Avoidant Personalities More Likely to Cheat?
A recent study conducted by Nathan DeWall, psychology professor at the University of Kentucky, has suggested that those with avoidant personalities are more likely to cheat and that they are actually more likely to be accepting of other's cheating behavior. Those with avoidant personalities are also more likely to spend time looking at alternatives to their current relationship.
Because they are uncomfortable with intimacy, this could lead them to seek out multiple sexual encounters, even if they are already in a relationship. The University of Montreal conducted four studies into cheating and the reasons behind cheating – and taking aside the sexual satisfaction element, the study found that those with avoidant personalities were more likely to cheat.
Geneviève Beaulieu-Pelletier, the researcher behind the study, says…
Infidelity could be a regulatory emotional strategy used by people with an avoidant attachment style. The act of cheating helps them avoid commitment phobia, distances them from their partner, and helps them keep their space and freedom.
Geneviève's second two studies focused on the motives behind the cheating, rather than who cheated, and both studies showed that the number one reason for cheating, in both sexes, was so that the cheater could put distance between themselves and their spouse and their relationship. This may well be because those with avoidant personalities are afraid of closeness and intimacy, meaning that their relationship could stifle them – so they cheat as a means of getting out of it.
They're Less Likely to Confide
They are also less likely to confide in their spouse for two reasons; one, due to their fear of rejection and two, because they do not feel close enough with their spouse to be able to confide in them. Because they are unable to confide in their spouse, perhaps about their sexual desires or wants, they may cheat in order to fulfil these sexual desires without having to confide in their partner.
Because they are also more impulsive and less likely to try to rationalize their actions, they may cheat simply because they want to. The opportunity for them to cheat might arise, and instead of rationalizing the decision as an individual with a secure personality would, they act first and think later. The impulsiveness seen in those with avoidant personalities could also lead them to cheat on their partner.
Just because an individual has an avoidant personality does not automatically mean that they will cheat, however. The traits mentioned above are typical of those with avoidant personalities, but they are not present in every individual. Equally, research has shown that if an individual with an avoidant personality is highly committed to their primary relationship, they will be no more likely to cheat than an individual with a secure personality.
Kajay Williams, experienced infidelity in his own marriage and has spent countless man hours putting together professional resources to help others deal with infidelity.  He is the creator of Bounce Back from Betrayal.