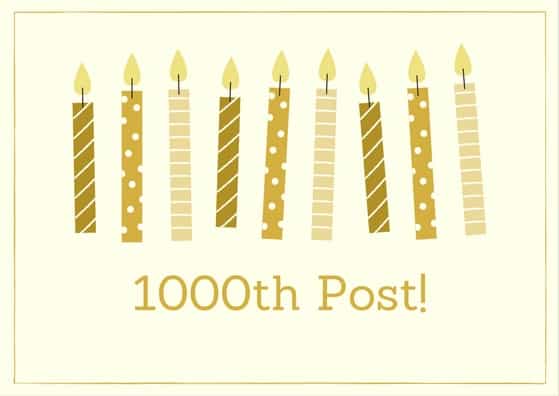 We've reached a bit of a milestone here at Emotional Affair Journey…
This is post number 1000!
Almost 6 years.  About 800,000 words.  Over 33,000 comments.  Over 6 million page views.  Wow!
Who da thunk it?
Never in a million years did we think we'd still have this site after almost 6 years.  And to be quite honest, the only reason is because of you. 
Every day we see (and hear) the tremendous pain, suffering and uncertainty that infidelity brings to individuals and marriages.  And that motivates us to continue to try and offer blog posts, reports, guides, and programs that can help people to survive these tough times.
And by no means have we been able to do this all by ourselves.  We've had tremendous support from  our readers, guest posters, Sarah P., Bob Huizenga and many, many more wonderfully beautiful people – too many to list.
Where the Heck Have We Been?
With that said, we realize it's been awhile since either of us have written a post – since March 22, to be exact.  (Boy time flies) We simply wanted to take a short break from writing – not knowing that short break would somehow turn into 5 months!
But it's not as if we haven't been doing anything.  Instead we've been focused on mentoring, some other work projects and some time-intensive personal issues. 
The personal issues are primarily the constant care of Linda's parents.  They are both in their mid-eighties, still live in their home and are getting to the point where if anything small goes wrong,  to them it's a major crisis. 
The fact that her dad has dementia and her mom isn't handling it very well, means that we are both constantly at their house taking care of stuff – cleaning their house, cutting their grass, taking them to doctor appointments, giving them a break from one another, etc.
It's sad to see her dad these days.  His physical health is pretty darn good but his mental capacity deteriorates at a constant rate.  Here's a man who used to be able to build, repair or maintain just about anything, but now needs one of us to come over to flip a breaker switch for him.
Anyways, we do what we have to do!
A Big Change for Us
Another thing that has happened to us over the last few months is we've become RVers.  (Well Trailer-ers to be exact).  After 35 years of tent camping and backpacking, we bit the bullet and bought a 24-foot trailer. And we love it!  We are now officially spoiled. No more setting up and breaking down camp every time we want to travel somewhere new.  No more stumbling to the bathroom or the nearest tree at 2AM.  No more air mattresses that deflate in the middle of the night.  No more getting soaked when unexpected storms hit.  Nope.  Instead, bring on the queen sized bed, the shower, the kitchen and …air conditioning!!!  Oh, and the TV, fridge and microwave are cool too.
Since purchasing it in mid- April, we've already spent about 29 days in it, which included a wonderful 2-week trip to Colorado and Utah with our daughters.  Our plan is to use it regularly and even work from it during the summer months while on the road somewhere.
Some Upcoming Site Changes
After our site has been down twice in 30 days for multiple hours due to hosting issues, we've decided to change hosting providers.  So, we will be making that change here in the very near future.  Hopefully, the migration to a new server will go well and not cause any additional outages. The only differences we're hoping to see are faster site load times and no outages!  However, our somewhat limited webmaster experiences have shown us that there are always hiccups when trying to make site changes and we certainly expect something will go screwy this time as well.
So if something looks funny or something that was previously there, is no longer there, now you know why.  (Crossing our fingers nothing happens!)
We also have a couple of things in the works with respect to the site content.  Namely, working on better site and content organization and introducing a new category/emphasis on self-improvement and empowerment.
You should notice these changes slowly over time though – not in one fell swoop.
We Could Use Your Help!
As part of a new project we're working on with Sarah P. we're looking for some real life stories in several different categories:
1) Female betrayed spouses who salvaged their marriage
2) Male betrayed spouses who salvaged their marriage
3) Female betrayed spouses who were not able to save their marriage
4) Male betrayed spouses who were not able to save their marriage
5) Female cheaters – why they did it and how it turned out
6) Male cheaters – why they did it and how it turned out
7) A married couple that began as affair partners
So if you want to help us out and share your story, you can write it up and send it to us using our contact form link.  Of course everything will be held in the strictest of confidence and privacy, and no real names will be used or announced in any way. 
Additionally, we need ideas for topics…What articles do you want to see more of and why? What psychology questions do you want to explore? What personal stories do you want from us? What questions do you  have of us? How can the blog be more helpful for you from a recovery standpoint?  If you have some ideas you can share them in the comment section.
On with the 1000th Post Stuff Already…
On our site we have Google Analytics tracking code implemented which tells us a lot about reader activity and such.  We thought it would be appropriate for this 1000th post to look and see what the top ten most viewed articles have been since day one.  Here they are:
Top 10 Viewed Articles of All Time According to Google
Cheating Spouses – 6 Reasons Why Their Affair Won't Last
When the Other Woman Becomes the Wife
It's Tough To Stop an Emotional Affair
When Affair Partners Marry: 9 Reasons Why They Might Fail
Getting Over an Affair: Dealing With Affair Withdrawal
Affair Recovery and the 7 Stages of Grief
Is The Cheating Spouse Living With Regret?
Real Reasons the Emotional Affair Happened
Six of Our Personal Favorites
My 'Woulda, Coulda, Shoulda' List
Stupid Things Said While in an Affair
My Letter to the OP After the Emotional Affair
Why Cheating Men (and Women) are Assholes and How They Can Become Less of an Asshole
Recovery and Trust After an Affair – Trusting the Rope
10 Elements of a Successful Marriage (How We Survived Two Weeks of Vacation Together)
So with that, we will bring this monumental occasion to a close.  Again, we thank all of you for your support over the years.  And who knows…we may be doing this again for our 2000th post!
If you have a favorite post, feel free to mention it in the comments section.