A real case study about the damage "the office wife" caused when she targeted a married man.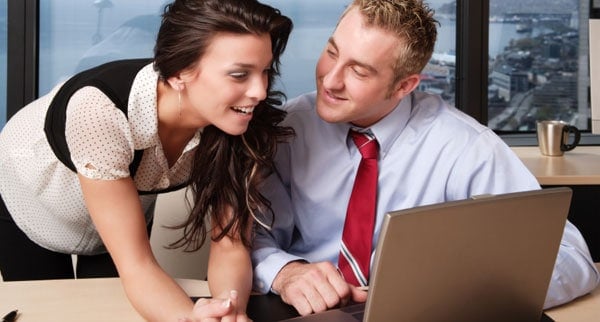 by Sarah P.
A note: This is one of the most difficult pieces I have written for a while because it discusses a very gruesome topic that many of us would prefer not to think about. This will also hit a raw nerve with many women and I apologize in advance for this. However, sometimes things like this occur (and have occurred) and I would like to present an actual account of this type of affair.
I have met several women over the years that innocently joke about their husband's "office wife." These wives, looking from under their eyelashes, remark in a rather gamine tone, "She looks after him when I can't—and truly she is a lifesaver." I have seen the naïve look in the wife's eyes each time, always bracing myself inwardly, and hoping against all hope that the situation doesn't end badly.
Well, having an office wife is something I am squarely against. Why? Well, because, I am a "square" myself. But, if you consider recent statistics regarding extramarital affairs, you will find that 36% of people have admitted to having an affair with a co-worker. Although actual statistics are difficult to acquire since an omnipresent statistician, who sees into the bedrooms of everyone, (thankfully) does not exist.
Now, not all men have office wives and not all wives are naïve to the machinations of which their husband's female co-workers are capable. Furthermore, many female coworkers are neither immoral nor open to being placed into the role of office wife. In fact, I would dare to say that most people aspire to living their lives from a moral foundation; and that many women within the workforce would not have an affair with a married man.
Still, there are just enough women in the workforce who plainly disregard the fact that a man is married. But, to make things worse, there are occasionally women who intentionally seek out a married co-worker for an affair, especially when he is in a position of power. But, the very worst of these women are the ones who hope to gain a promotion specifically by having an affair with a married co-worker in a position of power.
The purpose of this post is to present you with a real case study, if you will, about the damage one such woman caused when she targeted a married man in order to gain a promotion. The events I will describe happened in the early 2000's. It is not my intention to reveal identities of the parties mentioned, to protect the innocent.
So, names, locations, and any other identifying details have been changed.
Thus, the purpose of this post is to present a bird's eye view of how the trap is laid for the married man and how the events subsequently unfold. Hopefully, this post will provide some 'ah-hahs' for anyone who has wondered about the process of events regarding work affairs.
The Office Wife – The Beginning
Soon after I began working at company X, my manager asked me to help screen some of the candidates our team recruiter was bringing in for interviews. He sent another woman and I to training courses in behavioral interviewing and then tasked us with facilitating different panel interviews and providing feedback.
Most of the candidates were great and we ended up recommending them for a place on the team. However, there was one candidate that we did not recommend and we raised concerns to our manager. During her behavioral interview, "Lauren" spent most of the allotted hour flirting heavily with our male coworkers. In addition to that, she took no pains to hide various inter-personal faux pas that had occurred during past employment.
As she smiled and flipped her heavily frosted blond hair, she described many instances of questionable behavior. Of course, some of the men on the teams, with glazed eyes, just nodded and smiled. It appeared that they were focusing on her appearance and not on what she was saying.
Still, most of the panel members decided that Lauren would not be a good fit for the team. But, when she sauntered out of her one-on-one interview with our boss, he was completely charmed. Though Lauren neither had prior experience in our industry nor a degree in the industry, she had the ability to charm almost any man that she met. Our manager, who was in his early thirties, was no exception. She was offered a spot on the team immediately.
Lauren had been recently married and though her husband also worked in our division, that did not stop Lauren from spending her days sitting on the desks of other male co-workers. No one was sure if Lauren actually worked – she was at work, but she never seemed to deliver any real work. Whenever anyone asked, she simply smiled, blushed, and provided an excuse.
The first time one of the women on the team complained that Lauren was not getting her tasks done, our manager joked that the woman was complaining because Lauren was "a beautiful blond." (Now, that response is wrong on so many levels—but that is what he said. Years later, that manager happened to get fired when it was discovered he was having a sexual relationship with the team recruiter).
After a while, Lauren decided that she had bigger aspirations. Given Lauren's behavior, it came as no surprise when several of us heard Lauren assuring her only friend in the office that she would have a position in management before the end of the year.
Though her statement was true to her character, we did not take her seriously. Since everyone else on the team had graduate degrees, more work experience, and seniority, we believed that she was suffering from delusions of grandeur. After all, the rest of us had gotten where we were due to an old-fashioned work ethic.
But the winds of change were blowing. Soon, our regular department director accepted a job with a start-up, and a new gentleman was hired to replace him. "Paul" was in his fifties and was happily married with six children. His wife, who was a very kind and unassuming woman, stayed at home and raised the ones who were still living at home.
Until office space was found for Paul, he was given a large cubicle right next door to mine. I spent most of my day keeping my head down and working, so it was difficult not to notice that Lauren was stopping by Paul's cube at least ten times a day.
All About Work Affairs: If You Feel a Cringe When Your Spouse's Colleague is Around, Take Note
Turning on the Charm
Every day thereafter (and until Paul got his office) Lauren could be seen leaning into Paul and hanging on his every word. Everyone on the team noticed what was going on, but they figured that since Lauren was married to such a handsome and nice guy, she was just taking an opportunity to schmooze.
One co-worker noted that there was no way Lauren could be interested in Paul—after all, Paul's hair was completely gray and he was about 40 pounds overweight (all in his abdomen). Then, there was the fact that Paul was almost 30 years older than Lauren, and happily married. She reasoned that Lauren was just brown-nosing, per usual.
Soon, it was announced by our manager that Lauren would be training for a supervisory role and that Paul would be her mentor. Soon after that, Paul got his own office with a closing door down the hall.
After Paul moved, Lauren would occasionally stop by my cube to make small talk. Really, it was apparent she was gauging my reaction to see if I had caught on to her. She would feign naiveté and say things like, "I don't know why I would possibly be picked to be a supervisor! Oh I am soooo nervous!!" I would nod and listen. When she realized that I saw through her, she would promptly leave.
A few weeks later, Lauren was moved out of our team and given supervisory duties over a small team of software testers. We saw her leave each afternoon for lunch with Paul. In fact, one day as I was walking back to the office, I spotted Paul and Lauren walking hand in hand, whispering and laughing. After they spotted me, they dropped their hands and smiled.
What Happens in Couples After Someone Cheats? The Long-Term Impact of Infidelity
Later that day, Lauren came by my cube just to "chit chat" as she would always say and she told me about how happy she was with her husband.
The next week, Lauren hired a new tester to her testing team. I noticed the new tester right away since she seemed glued to his side. Like her, he had blond hair and bright blue eyes. He was equally young, from the military, and he seemed to hang on her every word.
By that point, I had been promoted to project manager and was required to interface with her from time to time. Lauren would occasionally call meetings, but would use that meeting time to ascertain whether or not I noticed what she was doing. Once again, I listened to the tales that she spun, but stayed out of it, feigning ignorance. Anytime anyone in the office had complained about Lauren in the past, they were always ignored. I simply did not want to get caught up in these particular sexual politics.
For the next year, Lauren could be seen either spending work hours with Paul or with her "tester" named "Rusty."  On the other hand, Lauren's husband, who was quiet and focused, could be found in his cubicle working hard all day.
It was always amazing to watch Lauren in action. Anytime she went to visit the cube of a man, she would sit on that particular man's desk with her legs spread. Most of the time Lauren wore tight pants or short skirts. The "gentlemen" on the team preferred to ignore it, but the men who eyes wandered could be heard talking about Lauren frequently.
One day, an announcement came out of the blue. Lauren had been promoted to a senior management position, reporting to Paul. That day, she could be heard around the office proclaiming, "I just don't know how this happened! I am soooooooooo surprised!" A week later, Paul had also given her a service award, an accolade, which came with a trip to Hawaii with him.
For a little while, Lauren left Rusty in the dust and focused all of her time in the office on Paul. They could be seen going everywhere together, walking shoulder to shoulder, gazing at each other. Paul developed a kind of glow and looked as if he had won the lottery.
There were many times that Paul and Lauren were absent from their offices for long periods of time. When Lauren would return mid-day without her thickly penciled on magenta lipstick, we knew where she and Paul had been.
But…. All good things must come to an end.
It Always Ends Badly
One day I spotted Lauren outside of our corporate office in hysterics. The senior director of the marketing division, who was a woman, was consoling Lauren as black mascara ran down her face.
Soon, Paul's office was cleared out and he was gone.
Because of my position at the time, I was privy to the details. Though everyone in the company saw Lauren groom and lure Paul (and that it was consensual), Lauren had filed a particularly venomous sexual harassment claim against Paul and Company X. Lauren alleged that the relationship was not consensual. Paul was promptly fired so that Company X would not get sued. To appease Lauren, Company X transferred her to the marketing division and gave her a senior management position.
Soon after Paul was gone, Lauren came out in the open with her (other) on-going affair with Rusty and her husband quietly and discreetly left her. After all, she provided more than enough dramatic flair for both of them.
The Office Wife – Closing Thoughts
After this happened, I have to admit that I felt sorry for Paul. While it was Paul's choice to have an affair with Lauren, it must be acknowledged that she was a force to reckon with, she knew that, and she used her physical assets to gain an advantage.
When Paul first showed up at the company, he kept his head down and worked. He was not flirtatious or inappropriate in any way. But, it was very apparent that the attention and ego boost Lauren provided to him was a very powerful temptation. It also must be noted that he never sought her out in the beginning. She came on strong and never let up until she was assured that a senior management position was in her immediate future.
Knowing what I know of men, many of them would genuinely have a difficult time if a young, tall, and shapely blond many years their junior decided to pursue them with the force of a hurricane. Now, this does not excuse a man's behavior or absolve him of blame, but I believe it is something that needs to be taken into account. Sometimes people are all too human.
Though Paul lost his wife and his job, in and ideal world he and his wife would have taken the time to see a couple's therapist. Genuinely speaking, I do not believe Paul was seeking out an affair.
Still, even when couples like Paul and his wife see a therapist, many times the man believes the reason for his behavior was due to loss of romantic love. Many men, in this situation and others, will say "I love my wife, but I was no longer in love with her".
The Most Horrific Sentence in the English Language: I Love You, But I Am Not in Love with You.
That phrase seems to be the catch all that some use as an attempt to absolve themselves of guilt and/or responsibility. But, this type of thinking requires examination.
If you think about it, when the offending partner says they love but are not in love, this is a fallacy.
Why?
Well, whether it is marital love or love for a child, love itself is a verb. Love is an action, a way of living, and a way of being. Love is something that we cultivate within our lives and within ourselves.
Love takes courage because love, if you are doing it right and for the long haul, asks something of us. Most of all, it asks us to behave in a way that is loving. This is especially true when we are extremely tempted by the fantasy of what it would be like to have an affair.
Being loving means sticking to the promises you made on your wedding day. It means putting integrity above your own selfishness and ephemeral desires.
So, if the offending spouse claims that he still feels love for his wife, it must not be forgotten that the offending spouse is not being loving or acting from love itself. But most of all, whatever the circumstance of the affair, a plan needs to be developed to lessen the chances of it occurring again.
Readers, what do you think?
Have you been through a situation where you or your spouse cheated with a coworker? Were you able to salvage your marriage?
Have you been in a situation where you knew a coworker (male or female) had sexual designs on your spouse? How did you address that?
In these cases, do you place the blame fully on the offending spouse or do you believe the coworker who heavily pursued the spouse is also to blame?
Share your thoughts!!
---
We'd like to thank Sarah for contributing to our blog.  She recently finished her Master's work in clinical psychology and is currently working on her PsyD (Doctor of Psychology ) degree.