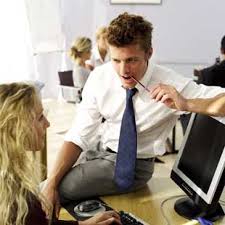 by Sarah P.
I firmly believe that if a couple is to recover from an affair, there are certain behaviors that must be changed. There are other behaviors that must be dropped altogether if recovery is to be possible. The behavior that needs to go is flirting.
I believe that extreme flirtation opens the door to an affair. In fact, I wouldn't recommend flirtation at all after one is married, except for with one's partner.
Now, I imagine that this is easier said than done for some. I have noticed many men flirt in order to get continual validation from the opposite sex. Women also flirt for the same reasons.
And the flirting itself isn't as big a problem as the underlying reasons. Anytime someone needs constant external validation from the opposite sex, they're probably not going to be the best partner. It's hard to have a healthy relationship if one partner is extremely insecure and cannot get his or her emotional needs met by himself or herself. People who feel complete within themselves and who feel validated generally do not need to flirt or seek external validation.
In the case of heavy flirting, this is a behavior that must stop altogether. And if you suspect your spouse is having an affair (or if he or she has not had an affair yet), I would examine your partner's level of flirtation with others and I would nip it in the bud.
My friend's predicament…
One of my best friends owns a business that often takes her into the homes of married couples. Her primary reason to be there is to educate the children and not to interact with the parents. But, recently, she has experienced a lot more dads flirting with her and going out of their way to do so.
I have known my friend for many years and I know that when she's out in public she dresses very conservatively and has integrity. Still, even if she dresses conservatively, there's no getting around the fact that she's extremely (naturally) attractive.
She tells me the dads who are the worst flirts often have the most attractive and gracious wives. It makes my friend absolutely sick to her stomach when it happens. She empathizes with the wives of these cases and knows how horrified she would be if her boyfriend ever cheated on her.
My friend is not the pursuer at all and when she interacts with families, she always addresses the wife and the child. She is very mindful of not speaking with the husband because she does not want to give the wrong impression. Still, she has received some of the most obnoxious proposals from married fathers. In fact, one man was so bold as to flirt with her in front of his wife and make various inappropriate comments about my friend's appearance. My friend was very upset by this and did not respond. Now she tries to make sure that fathers are not around when she is doing her job.
Now, if I did not know my friend so well I would wonder exactly what she did to encourage such behavior. I have known her for many years and she dresses very conservatively anytime she's out. She does not encourage men who are taken and basically sees them as off-limits. She's a nice person, but she's not gregarious or opening herself up in anyway.
A personal example…
I too have experienced similar things although they are not as often since I primarily work alone these days. Several years ago, I was going in for an orthodontic consultation to readjust my bite. My orthodontists were a husband and wife who practiced together. I met with the husband first and he made a comment about how attractive I looked (to him) and he often touched my shoulder while speaking. I ignored him and in fact I remember freezing in my tracks because his behavior was so out of the ordinary and a turn off.
Then, I met with his wife about options that were available to me to adjust my bite. I was completely shocked. His wife was absolutely gorgeous and so nice. She was a beautiful Italian woman who naturally looked like a model and who was smart, as evidenced by the fact that she was an oral surgeon. On top of that, she was warm and humble and had a smile that would light up the room.
That was probably 10 years ago, but I still think about it because it made such an impression. This male dentist was married to the perfect woman on all counts. His wife was 100 times more naturally attractive than I could ever be. Yet, she was so kind and genuine that any woman would want her as a best friend.
Her husband was attractive enough, and I'm sure that he used the idea of him being a doctor and played it to the hilt to flirt with other women. Luckily, she did not see how her husband had behaved toward me. I absolutely cringed on the inside and asked myself over and over again, "Why?"
Even if his wife had not been all those wonderful things, it would not have made a difference. He was responsible for his flirtatious behavior.
And that brings us to our next point…
Really, men have no reason to flirt with women when they're married (nor do married women have reason to flirt with men). By the way, I define flirting as making comments about a person's appearance that would lead them to believe he/she was physically interested.
Flirting can also occur when someone violates your personal space and starts hanging on your arm and touching your shoulders. Flirting can occur via text message or email. Flirting can also be the five-minute stare where for example, a man looks you up and down repeatedly and always settles on your breasts. Flirting can be sexually inappropriate comments.
The point is – and the bad news is – there are men and women out there who have no regard for their wives' or husbands' feelings. They carry-on flirting with other women and men while keeping the door open. After all, out of all those women (and men), one might just take the bait. If a person notices this sort of behavior in their spouse, I would advise her/him to nip it in the bud ASAP.
I was in a situation long ago where had I paid attention to my fiancé's behavior, I would have realized that he was not an innocent flirt. I assumed it was just his personality. Little did I know that anytime he flirted, he was more than happy if a woman were to reciprocate in a physical fashion. I didn't even see his infidelity coming and was completely blindsided.
Ben and Jennifer…
Another example of a man with a beautiful wife who cheated on his wife is Ben Affleck. He got to marry Hollywood's sweetheart, Jennifer Garner. She was at the peak in her career when she got married to him. She gave up her prime years to raise their children while he went out and worked.
In my opinion Jennifer Garner is also the whole package. Talented, beautiful, sweet to a fault, and willing to put her own children above all else, she is an amazing person. And yet it has come out recently that Ben has basically been cheating on her from the time they tied the knot. Ouch. I wonder if there were signs. Prior to that, I always questioned his character in that he went from Jennifer Lopez to Jennifer Garner.
So my point is, if you see flirtatious behavior in your spouse, it's time to have a talk. When you speak with him/her about it, site very specific instances and be very detailed in how you describe the behavior. Let him/her know that if your marriage is to work, such behaviors will not help build a marriage.
Never attack your spouse as a person or attack their character. Always stick to the behavior that you don't like because behaviors can be changed and behaviors are also separate from the core of the person. If he/she doesn't want to own up to it, ask how he/she would feel if you did the same thing with other men/women. They would be lying if the said it would not bother them.
So, don't let it slide, don't close your eyes to it, and do something positive about it. If your marriage is worth it, then it's worth talking about the hard things and working things out.
---
We'd  like to thank Sarah for once again contributing to our blog. Sarah is a busy writer and mom and has two Master's degrees – one in English and another in clinical psychology.