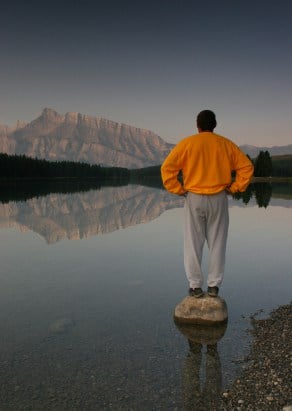 It's once again Good Friday and the day reminds me of a post I wrote on Good Friday four years ago about my selfishness being a root cause of the emotional affair and for my actions once it was discovered.
I say "a root cause" and not the root cause, as there were certainly other issues at the time that plagued me, but that's a story for another day.  (Wait, I think I wrote about that too!)       Anyways…
Since we've been quite busy this week preparing our home inside and out for a boat load of guests on Easter, we thought it would be a good time to rerun it.
My Emotional Affair – Selfishness Personified
It's Good Friday and I'm at my office.  Nobody else is here and it's incredibly dead quiet.  So I thought I would write.  I got to thinking about a discussion Linda and I had the other day about how the person involved in an affair can profess to love their spouse,  yet still carry on an emotional affair with another person and knowingly inflict immense amounts of pain on his/her partner. 
I know in my situation, I never really stopped loving Linda, though I may not have felt the "in love" feelings that I once had for her.  That didn't mean that I ever stopped loving her.  After all we have been together for 30 years, she is the mother of our children, and is a wonderful, caring person.
So how was it that I could sneak around behind her back with someone else?  I'm not a bad person at all, really.  I'm a good father.  I thought I was a decent husband, and I was brought up in a loving, caring and religious family, absent of any marital infidelity.
I guess the best word to describe why I did it was selfishness (though I'm sure Linda would offer you many more).  I was selfish in that I was too concerned with my own feelings and what was missing in our relationship, and didn't think about the consequences my emotional affair could have on Linda.
I was too selfish (and stupid) to share my feelings of discontent with Linda in the first place, and instead did so with another person.
I was too selfish to allow myself to get wrapped up in the feelings of infatuation and illusions of love that existed in my emotional affair with Tanya.
And I was too selfish to honestly admit my affair when it first came to light on the "D-day" when Linda found out.
It took the possibility of losing everything staring me in the face to change the way I look at everything—not only in marriage, but in life itself.  And in knowing what is important and what is not.
They say that an affair is a traumatic event, and I can attest to that wholeheartedly.  It has been traumatic for Linda more so than me, but it has certainly been a life altering event and has made me realize how devastating taking someone – or something – for granted can be for all parties involved.
This event has changed me forever, and I hope that I am becoming a better husband, father, worker, communicator and writer.  It's a shame that it took something like this to ignite these mass improvements.
I guess in some sense, you could say that even after my emotional affair I'm still being selfish.  I can't help it.  For some reason I have to have a great family, happiness, freedom, success, and a loving, forgiving, beautiful wife  that was there all the time.