I realize that it's very cliché to compare the affair recovery struggles to climbing a mountain, but after our experience on our vacation we discovered that the comparison to be even more appropriate.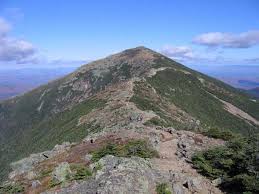 By Linda
While in the White Mountains in New Hampshire we set off on a day-hike called the Franconia Ridge Loop trail.  The hike was recommended to us by one of the local outdoor outfitters as being one that was relatively short (8.5 miles), traveled along some pretty waterfalls and had beautiful vistas of the surrounding mountains.  A hike that sounded just what we were looking for.
Little did we know that this would be the toughest hike that we'd ever do!
Just as recovering from the affair was the toughest thing we've ever done.
Doug and I are avid hikers and typically hike several times a week.  Sometimes it's just for two to three miles or so, but oftentimes we will go seven to eight miles.   So we're not exactly couch potatoes and are in what we thought was pretty good shape physically.  However, we aren't really used to hiking up mountains since we live in a relatively flat area.  As a result, this particular hike (climb) really kicked our butts.
I'm going to describe the hike for you not for the purpose of providing you with some sort of nature documentary, but more so to make the analogy and fill you in on some observations I had on our little adventure.
The Climb
The hike started out at the trailhead parking lot on a cool morning with a slight rainy mist.  All of us collected our gear and supplies for the day in our backpacks, hoisted them on our shoulders and started the trek. 
Just as we began we ran into two older women who were on their way down from an overnighter on the trail.  They didn't appear to be in great physical shape yet they seemed somewhat fresh and still had some pep in their step.  I thought to myself that if they are looking as good as they are, then this must be a pretty easy hike.  Wrong!
As we got going, the trail started easily enough as we meandered through some forest area on a relatively level surface, but soon enough the uphill portion began.  At first it was a gentle slope that was still quite easy but then it turned into more of a climb where we were battling rocks and large boulders at quite a steep angle. 
At this point it was helpful (and convenient) that we were ascending along a beautiful mountain stream that had numerous waterfalls which provided us with several viewing and picture taking opportunities.  We milked these stops as much as possible to regain our wind and the strength in our increasingly wobbly legs.
This went on for what seemed like forever.  Just when we thought we had climbed to a place that would seem to indicate the summit was near, we'd veer back into the woods only to encounter more step-like scrambles over rocks and boulders.  It was exhausting.

After about 3 miles we finally got above the tree line and could see our first of three peaks.  We traveled along a ridge line up to the summit and took some time to rest on some large boulders.  It was a bright sunny day by now and the view from the top was amazing.  We were above the clouds which were to the west so we couldn't see much in that direction, but in all other directions you could see for miles and miles.
After a while we got up and started off for the next summit. It was only about seven tenths of a mile away and most of it was an easy hike along the ridge, but there was some steep scrambling towards the end that was required to get to its summit. 
Again we took a break to soak in the sights and take some photos.  One thing we noticed at this point was towards the final summit there was some sort of a front coming in that caused the clouds to virtually hide it completely.  We didn't think too much of it though as we started to head in that direction.
As we got going, all of a sudden the wind started to really pick up.  Now I don't think I'm exaggerating when I say that there had to be gusts of about 25-30 mph.  That's not too strong, but it still can be a little scary when you're hiking along a ridge of a mountain.  But we pressed on.
This distance to the last summit was about a mile but this time it wasn't so easy.  In addition to the wind, the terrain was much steeper.  It was a very tough mile.  As we approached the summit the weather really started to worsen.  The wind was now blowing much harder and the temperatures were dropping fast.  I'd say it probably dropped into the 40's with the wind making it feel much, much colder. 
Luckily, all of us had jackets and long pants in our backpacks. So we quickly put them on and forged ahead.  (Doug of course didn't think he needed a jacket or long pants and was still in shorts and a t-shirt.) At the summit the wind must have been whipping around at 50 mph or more and gave us the sense that it would blow us right off the mountain.  We hunkered down around some rocks for a few minutes but it was so bad we didn't take any time to take pictures.  Besides, there was nothing to see but clouds and rain.
The Descent
Fortunately, with this summit also came the connector trail to head back down the mountain.  So we quickly got going and started the descent.  We were on the windward side of the mountain though and we were totally exposed to the wind and cold. 
Now, many think that climbing a mountain is the hard part and descending is a piece of cake.  Wrong again!  In fact, we both agreed that it was much harder to go down than to go up!
Imagine going down 3.5 miles of nothing but rocks and boulder steps, all at a steep angle.  Your feet pounding on rocks, your toes about to burst through your boots and your knees, ankles and thighs taking a huge beating from the pounding and the downward slope.  It was pure hell.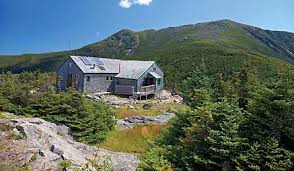 After a mile or so, the weather improved just as we came upon the Greenleaf Hut that is part of the Appalachian Mountain Club hut system.  It was like heaven.  We stopped and warmed up and had some awesome cinnamon rolls that were freshly baked, grabbed some water, went to the bathroom and basically rested for about a half hour.
We had about 2.5 miles to go to get back to our vehicle, so this little rest was much needed.  The only thing was that once we started again our legs were like jelly and we still had a long ways to go downhill.
To make a long painful story a little shorter, the next 2 miles were even more hellish.  Nothing but rocks and boulders over a steep downward slope.  At times it felt as though we were walking like we were drunk.  We were losing much of our coordination and felt as though we were one false step from tripping and cascading down hundreds of feet.
Anyways, after a 2 mile stretch things started to level off a bit.  The rocks turned into hard dirt and eventually into softer dirt.  We staggered back to the area where we were parked.
We can typically hike 8.5 miles on the trails around our home in about three hours or so.  This 8.5 miles took us nine hours!
Some Observations on Affair Recovery Struggles and Climbing a Mountain…
OK, so that's the story of our hike.  Based on this little adventure I'd like to make a few observations and throw out some thoughts that popped into my head about how this compared to affair recovery.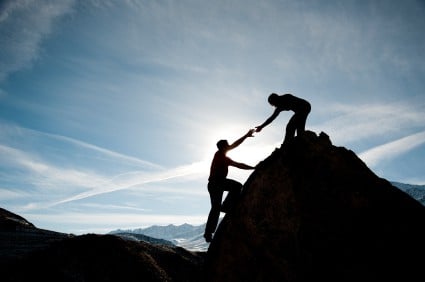 We were not prepared for the journey.  Just as we are not taught how to overcome infidelity by our parents or through any other formal training, we weren't really prepared for the physicality of this mountain climb.  We also didn't research the trail enough beforehand to know how difficult it would be.
With every mountain climb there is some degree of pain – both mental and physical.  The pain of infidelity is excruciating, as is the pain of climbing and descending a mountain.  I'd be lying if I said that there weren't times that I wanted to quit.  That goes for both the affair journey and the mountain climb. It is these times when the pain can be so great that your mental strength has to carry you through. 
Just when you think you've made progress you find out there is much more work yet to do.  When you are in the forested areas of a mountain, it has a way of tricking you into thinking that there is a clearing ahead, and that clearing is the short stretch to the summit.  However, it often is just a switchback leading to another painful climb.  Affair recovery tends to be the same way.  At times you feel as though you're taking a small step forward only to take a step or two backwards.  Progress seems painfully slow, but if you are making some progress – any progress – then that's what's important.
Everyone's summit on 'Mount Infidelity' is different.  Now this might not make any sense, but my summit may be different than yours.  To me, my summit was when I finally knew I had the entire truth from Doug.  Your summit might be your D-day.  It might be when reconciliation seems for certain.  Perhaps it's when you feel that you have healed.  It could be when the divorce is finalized. A mountain range has many peaks and with infidelity recovery we all climb different mountains (though they may be similar). 
Things can change in a hurry.  Just as the weather quickly turned on us, so too can the conditions and elements of the affair and your recovery. One minute you can be happy and laughing and the next you can be triggered and tossed into a state of sadness and depression.  You might feel that you're on the right track only to be slung backwards due to a new discovery or some harsh words spoken by your spouse.
Sometimes it's harder to come down off the summit than it is to climb it.  Depending on the route you take, descending the mountain can be harder and full of more obstacles than climbing it ever was.  This was my main learning point.  Sure, we've climbed mountains before, but we've never climbed one as steep or that gained as much elevation in such a short distance. There's no doubt we could have taken a different route that would have made the descent a little easier, but we chose a different path. 
As with infidelity, sometimes after you've reached your summit, things get more difficult.  There can be triggers.  You can experience backsliding.  There can be multiple D-days.  It's possible there can be false reconciliations and renewed contact with the affair partner.  Your hard work isn't done yet.
When you've finally completed your journey there is a feeling of strength and accomplishment.  This mountain tore us up. We had blisters, our knees ached for two days and our feet ached for two days more.  But we actually felt like we had accomplished something.  I'm not going to say that I necessarily had a sense of accomplishment after getting over the affair, but I sure did realize that I had much more strength than I ever knew I had before.
You can learn a great deal from others who have climbed the mountain before you.  The one mistake we made while trying to figure out what mountain trail to take was not asking enough questions.  We just asked what some good trails to take were and stopped there.  We didn't bother to learn more about it from those who were more familiar with the area.  The information was readily available, but we chose not to research it any further.
Likewise, it can be most beneficial to learn from the affair recovery struggles and experiences of others.  They can help to guide you and make you aware of potential obstacles and hardships along the way. We created our mentoring program as a way to help you on your journey.  You can learn more about it here:  Individual Mentoring with Linda and Doug
Well, that's it.  I hope this lengthy trail story made some sense to you.  If you feel so inclined, let us know your thoughts in the comment section below.