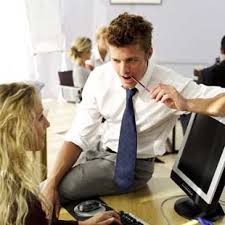 We subscribe to several Google Alerts and just Monday we received one that we thought would make for a good conversation.  Well, that's what we're hoping for, anyways! 
The alert pointed us to an article written for TheAge.com by sexual health therapist Matty Silver entitled, "Can an affair save a marriage?" (Click here for the full article)
Though the article in my opinion really didn't address that question specifically, it did focus on the whole question of monogamy and whether or not humans are wired for it.  Also, the idea that monogamy can be too restrictive and is the reason for many unhappy relationships.
So, I'm going to throw some bits and pieces from the article out for you in the hopes that they will spark some discussions.
Nugget #1:
Silver says, "In today's society it is accepted that when we are in a relationship we have to be monogamous. Being monogamous is not always discussed or agreed on when a relationship starts – it is often just expected. In practice, however, many couples struggle with the concept."
Nugget #2: 
"What has changed in the past decade is the way we are cheating; it has become easier than ever…The typical affair we used to have started at work or within our circle of friends or acquaintances – now we have the internet. We can have steamy chat-room conversations with strangers and have cybersex with anybody who is keen.  Internet affairs can involve sexually stimulating conversations or cybersex, which may include filming mutual masturbation with a web camera.
I have several clients who are taking part in this, especially women at home with young children and partners who work long hours. They tell me there is no physical sexual contact, it is exciting, it isn't cheating and nobody will find out. But some studies suggest that online affairs can trigger emotional infidelity, and when found out can also trigger feelings of anger, jealousy and insecurity in the other partner."
Nugget #3:
"We need to talk about monogamy the way we talk about sobriety; you can be monogamous and fall off the wagon and then sober back up." – Dan Savage
Watch this short video by sex-advice columnist Dan Savage that was part of the original article.  (Warning…contains some foul language)
httpv://www.youtube.com/watch?v=w8SOQEitsJI
 LINESPACE
Nugget #4:
Catherine Hakim, a British social scientist who was educated in France and wrote the book The New Rules Of Marriage believes that an unforgiving attitude to adultery is damaging married life and driving couples to divorce and children to suffer.  Further, she believes that it is possible to have a successful affair where both parties are happier and no one is hurt.
Hakim said: "Anyone rejecting a fresh approach to marriage and adultery, with a new set of rules to go with it, fails to recognise the benefits of a revitalised sex life outside the home". However, she believes that being honest and truthful about an affair can be hurtful and is not necessary. "Total discretion is the absolute rule – the other party should never find out."
OK, that's it. 
So…Is monogamy an outdated concept?
Can an affair save a marriage?
Thoughts? Comments?
Please make your comments in the section below this post.
Thanks!
Linda & Doug
[wlsp_signup]
LINESPACE