Molly Chanson shares her story with us and how self-care and yoga have helped her on her own journey to healing and self-discovery.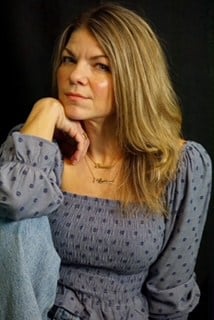 By Doug
On paper Molly's life looked pretty good. She was married and the mother of two young boys, lived in a nice house, and ran a successful business. But something was off, and it nagged at her persistently.
She soon discovered that her husband of 10 years was having an affair with a woman he loved. The reality was crushing, yet it opened her up to strength and resilience she didn't know she had.
Molly Chanson MA, RYT, has been a practicing yogini for over 25 years and completed her teacher training at the renowned Kripalu Center for Yoga and Health in Massachusetts.  I had the pleasure of speaking with Molly again recently and recorded our discussion. 
You may recall our previous discussion back in September 2020 when we delved a bit into her experience of being betrayed by her then husband and how she was able to heal with the help of yoga, therapy and other forms of self-care.
---
Healing from an Affair and Self-Care – An Interview with Molly Chanson
---
Fallen Star…
Fast forward to 2022 and Molly has just published her first book: Fallen Star: A Return to Self through the Eight Limbs of Yoga, that applies yoga philosophy – on and off the mat – as a path to healing.
Molly has experienced a lot in her life including infidelity in her marriage, an eating disorder, alcoholism, and sexual assault. In this interview, Molly shares her story with us and how self-care and yoga have helped her on her own journey to healing and self-discovery. 
Molly's personal experience demonstrates how to reclaim your identity after betrayal, particularly not letting the actions of others affect your sense of self in the long term.
You can listen to our interview below in MP3 format. It's about 54 minutes in length.
If you prefer to read, here is a link to a transcription of our conversation:  Molly Chanson Interview
Listen to the Interview:
I thought the following excerpt from the  introduction to Molly's book was really good…
"When you first set out on a path, you probably can't see the end of the dark tunnel. You may feel lost and unsure. I can't say what the end will look like for you, but I can say, based on my own experience, that the end result doesn't matter. You can't make a wrong turn. The only way to screw up is to not be present along the path. To heal and to feel complete, the path is the goal."
You can read more about Molly and her healing journey at Mollychanson.com 
She also offers online yoga classes that you can do in the comfort of your home:  https://www.mollychanson.com/the-practice 
Please share your experiences, success stories, struggles, etc. below in the comment section.  Thanks!