Today we have a great piece taken from a thread in the Higher Healing Forum that we'd like to share.  One of the blog's active contributors recently had lunch with a friend who also happened to be a cheater.  She feels as though she gained some valuable insight from her lunch with a cheater.  You just may as well.  Please read on!  
An Interesting Talk With a Cheater
by "Livingonafence"
Yesterday I had lunch with an old friend. He and I used to work together and became really good friends. We have the same sense of humor and take on a great many things. He has been gone for some time, taking a trip across the country for the last year-and-a-half in an RV with his family.
He just got home a few weeks ago and we went to lunch to catch up. He'd told me on the phone that he and his wife have been fighting, or rather are still fighting. So when we got together I asked what was going on and if he was OK. 
Backstory: He had an affair. It was around the same time that my husband (H) had his emotional affair (EA). I didn't know he was doing it when he did it. He confessed when he realized he was dealing with a bunny-boiler. It was physical. He had told me this just before my own D-Day. I talked to him right after D-Day but I was too confused to know what to ask. So yesterday we really discussed it. It was very enlightening.
Here are a few of the things he told me:
It was like a drug – she complimented him. She made him feel good and he kept going back for more. He could have cared less about the physical part. He did that mostly because it was expected of him, and he needed to do that to keep the 'feel good' talk to continue. 
I asked him how he was able to do it knowing his wife was home, trusting him and waiting for him. He knew it would be bad if his wife found out, but the logical side of him convinced himself that it wouldn't be that bad. He said he logically knew it, but emotionally he couldn't feel it.
He didn't know he would feel so low hurting his wife this badly. He didn't know she would be so devastated. He couldn't put himself in that place. When he ended up there, he felt like more of an asshole because he hadn't expected the pain he caused. Once he was in that place for real, he saw the affair for what it was – nothing. I used the word 'fantasy' and he jumped on it.
The OW heard what she wanted. He told her from the beginning that he wasn't leaving his wife and kids. He was clear that they were never going to be 'a couple'. She ignored that, believing they were in love and that eventually he would see that too and they would end up together. She did what many OW (and OM) do and began pressuring him more and more to be with her. She started making real life demands on his time and attention. That's when he told his wife. Interestingly, that's the same point where my H ended his EA. Both of them were not interested in anything real. They were interested in having someone tell them how great they were. Seems to be a standard tactic in an affair – when one party starts to act like this is a real thing, the other ends it.
His wife was devastated that he could do that. He lied to her, betrayed her, etc. We all know how his wife felt. He confirmed that yes, during the affair he magnified all of his wife's flaws and ignored anything good. He didn't realize it at the time but that's how he was able to treat her so poorly. He can't believe, in hindsight, how horrible he was.
From me, he wanted to know how I was able to move forward. He asked if I saw a light at the end of the tunnel. I said "Oh yes, but I didn't realize how fragile that bulb is. It's much more fragile than I had thought before he cheated." He got a kick out of that answer. 
He asked if I still thought about leaving, and I confirmed that I did but not as much. I also confirmed that not a day goes by where at some point I don't hate my H with a passion for causing all of this. He laughed but I saw the look in his eye. It was pain. It pained him to know that after all this time his wife most likely had these same thoughts. I told him that the images in my head of my H becoming giddy when she messaged him, or being so happy on a call with her, was maddening. I said "It still hurts knowing someone replaced me in that role in his life. That was my place – that's what made he and I different than you and I (meaning my friend and I). That's what separates a romantic relationship from a friendship. It hurts knowing someone else filled that role for him." He seemed to completely get that.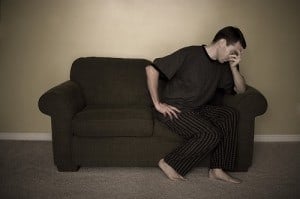 He and his wife are having problems, but they are the same problems they had before he cheated. His wife has wild mood swings and they last a long time. He wanted an escape from that. He knows now that he handled it all wrong, but he wanted someone that wasn't bitching at him. He isn't blaming his wife for the affair. He's blaming his unhappiness. He says now he doesn't have any voice because he cheated so no matter what she was doing, it pales in comparison. He's trying to address the real problems now, the right way. She isn't. She doesn't care.
I did tell him that no matter how wrong my H was or how hurt I was, I'm not blind enough to think that we got to the point where he cheated because we had such a wonderful marriage. I took ownership of my part in the relationship being in that state. We took each other for granted. We didn't really talk. We were existing in the same home. His wife won't do that.
I just wanted to share some of our conversation with all of you. My friend confirmed so much of what we all say. This man doesn't know my H, so he wasn't saying all of this to help his pal out. I know his wife but we aren't 'friends'. She is my friend's husband. I've met her twice? Maybe three times. We've never 'hung out'. I met her when I went to their house to see him for computer help. In other words, he wasn't saying any of this knowing it would get back to his wife. He wasn't saying anything to make me feel better. He's not like that, and our friendship isn't like that. It was two people on opposite sides of an issue discussing the issue and the aftermath.
It was a great insight into the mind of a cheater – both what was happening during an affair and what happens after D-Day. 
So his family took a long trip together. He planned this hoping that getting away from all the stresses of daily life would help his marriage. He wanted to spend real time with his wife. He wanted to make new memories. He wanted to reconnect. He's done well financially since I met him so he was able to do this (yes, I'm jealous!!) but he says it didn't help. It helped the affair recovery, but not the existing problems. 
I feel sorry for him. They'll most likely divorce. He isn't happy and she won't even discuss working on it. Her standard response is "this is how I am. Why don't you love me unconditionally like I do you? I put up with your quirks." Quirks is how she puts it. Apparently it's so bad that their sons have said to my friend "why did you leave me alone with her all day?" That isn't a quirk, that's a problem.
They've been to counseling, but the focus was healing from the affair. During counseling when his concerns came up they were quickly dismissed because that wasn't the focus. It was very frustrating to him because he wants his marriage to work. I suggested they go again but this time with the focus being on the marriage and 'the quirks'. He knows he solved his problems in the past the wrong way and he wants to do it the right way. She isn't interested and doesn't see it as a problem. Yes, she knows her children have made comments. Yes she knows that if they divorce the kids have said they want to live with their father. It doesn't matter to her. It's very sad.
He did say he'd never cheat again. He said again he had no idea how bad it would be after D-Day. He didn't know he'd feel this bad. He didn't ever imagine the pain it would cause.
Finally, I told him my H hasn't even looked up OW online, just to see how she's doing or whatever happened after I found out and told her H. He said he's the same. He couldn't care less. The thought of seeing her only brings up all of the memories of the pain the affair caused. He has no interest in peeking under those covers. He said within just a few weeks he was asking himself what he ever saw in any of it, and now the thought of doing it again just would never exist. 
I asked why people do that – why they cheat, get caught, and then have no interest in it. Why do they not think about it first? He said it goes right back to all of the internal justifications. Once it was known to others he saw it as they saw it. He felt embarrassed and ashamed that he ever thought it anything but the stupid fake neediness that it was. And he reiterated logically knowing it was wrong but not being able to emotionally put himself in any kind of post D-Day scenario. 
It was interesting having a real person vocalize all of the things that we've read or discussed. I've known this man for 12 years. We were very good friends (never hiding anything from our spouses). This was genuine. He liked being able to ask me questions as much as I liked being able to ask him. It seems cheaters have questions too.
Anyway, I thought I'd share this with my online friends.
Thanks "Livingonafence"!!