A key to a joyful life after an affair is acceptance, which requires an attitude of gratitude.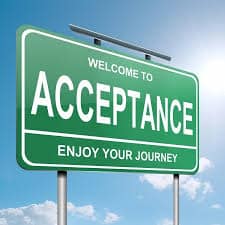 By Linda & Doug
Robert C. Jameson, MFT and author of "The Keys to Joy-Filled Living" says that the key to acceptance after an affair is to have an attitude of gratitude.
But how do you do this when you are so angry and hurt you can't see straight? Being grateful is the farthest thing from your mind, right?
The article excerpt below provides us with the author's thoughts on how to move to a place of acceptance by changing our attitude.
Acceptance Is A Process
No matter what resolution you decide, to repair the relationship or to end the relationship, at some point in time, the acceptance process comes into play. How can you accept that your life has been turned upside-down?
The process of moving you to acceptance is easy to describe and to understand. However, it can be a challenge to experience acceptance. In order to experience acceptance, we need to change our attitude. In order to change our attitude, we need to change our altitude.
Moving out of judgment to acceptance requires an attitude of gratitude. If you can be grateful that something has occurred, then it's easy to accept the event. If you have an attitude of resistance, judgment, or resentment, it can be very difficult to move to a position of acceptance.
"That's great," you say. "But how do I move to an attitude of gratitude when I'm so angry and I don't like what's happening? I'm not grateful. I'm resentful. I'm angry at him/her for what happened. What happened is wrong. It hurt me. It's terrible. Be grateful? You've got to be kidding."
Changing our attitude requires us to change our altitude. We have to look at the event from a different perspective and a different point of view. This step is by far the most challenging step to take. It is the place where most of us get stuck.
Hopefully, I can give you some keys on how to break free so you can change your attitude, and move from judgment to acceptance.
To help make my point, let me share a story. I'm walking on a trail up a mountain path. I'm having a wonderful time. The birds are singing, there is a breeze in the air, and I'm admiring the beautiful cloud formations. Ouch! I trip and fall and I sprain my ankle. What a curse! My day is ruined. I'm angry at myself for being so clumsy and twisting my ankle.
So, how do I move to a position of acceptance?
Step one: change my attitude to being grateful that I twisted my ankle, which is swelling up as we speak. Great! Have an attitude of gratitude? How the heck do I do that? Move to step two: change my altitude or my viewing point. How? OK, so here I am, looking at that mountain path from the point of view of an eagle flying overhead. As I'm sailing on the wind, I look down and see a huge rattlesnake just around the bend, right in the middle of the path. If I had continued at the same pace, I see that I would have walked right into the rattlesnake, and it would have bitten me and I could have died from its poisonous venom. Whew! I'm now so glad that I twisted my ankle. This was a gift from God. I'm now in a position of acceptance, and I can deal with my situation in a more effective and powerful manner. I am no longer judging myself. I feel grateful for twisting my ankle.
"But how do you know if that snake was really around the bend? Aren't you lying to yourself and pretending you know something that I don't?" Yes, possibly I am pretending to know something that I don't really know. I sense we all pretend we know a lot about things we really don't know. The difference here is you are making a very conscious effort to affect a change inside yourself, a change that will give you more freedom and inner peace — qualities we experience when we are in acceptance.
A Life-Changing Event
You might say, "OK, I got it, but that's a simple story. What about the really hard things that happen to us in life; like my partner having an affair?"
Challenging things happen to all of us. It's nice to know that you are not alone. Some events are life-changing, and it is these life-changing events that require the most work. Life-changing events are just that… life-changing. Remember, it's not the issue that's the issue; its how we deal with the issue that's the issue.
I am encouraging you to look at how to deal with this issue in an uplifting manner so that no matter what happens, you can be more accepting of the experience.
We are all in the process of learning how to use everything for our upliftment, advancement and growth. I am not suggesting or saying this is an easy process. That would be a lie. It is a challenge. However, the two primary rewards for working through the process are freedom and joy. (Read full article here)
We'd love to hear your point of view regarding this article. Please post your thoughts in the comment section below. Thanks!