I learned a valuable lesson about transparency…Even after more than five years, one slip-up can throw a betrayed spouse (BS) back into panic mode.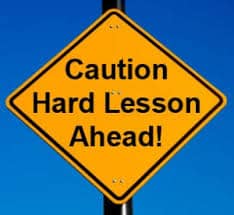 By Doug
In this case, the BS happens to be Linda and I'm the one who slipped-up.
Everything was cool after an hour-long discussion but I certainly learned another valuable lesson. Actually, it was a lesson I already knew (or should have known), but I got lazy and careless and it caused Linda some undo worry and panic.
Here's the story about transparency…
I have a small business where we produce marketing materials for people who are in the mortgage business. I really have very little time involvement anymore in the business and sub-contract out all of the graphics, design and fulfillment work that goes into producing and delivering these things. All I do is write the material, invoice customers, process payments and pay bills.
The few people that work for me do so virtually and are scattered about the US and sometimes even in other parts of the world.
I just recently hired a woman (Let's call her Joyce) in Texas to help me write the articles and other copy, as it was starting to get a little too much for me to handle with everything else I have going on. Not to mention that I've totally lost interest in writing about the real estate and mortgage industries, to boot.
If you're the unfaithful, get it, read it and carefully consider the advice. If you're the betrayed, give it to your unfaithful spouse.
Anyways, one evening about a month ago after reading some of the work that Joyce produced, I commented to Linda that I thought she was a very intelligent person and a very good writer and was glad to have her helping me out.
Linda became somewhat interested in Joyce and asked me who she was, where she lived, what she looked like, etc., and then made the comment that she always felt insecure about her own writing abilities and by me raving about Joyce's writing skills, it made her feel even more insecure.
I explained that I didn't mean anything by it and that my saying that had nothing to do with her own abilities, as I feel she is a good writer, and that I didn't mean to upset her.
She responded that she knew I didn't mean anything by it but that it reminded her of a time when we had discussions about my AP and her qualities that were different than Linda's. Those qualities were always something that bothered her and caused her to have feelings that she wasn't good enough, exciting enough or special enough.
Long story short…we talked things out and everything was good.
Since Joyce started about a month ago, we've had regular discussions of a business nature via email. I've had to bring her up to speed a bit on the mortgage industry and the types of articles and other materials that I expected, as well as discuss future editorial content and schedules. During one of those emails, Joyce mentioned to me that she lives in Austin, TX. I respond that I've heard Austin is a cool town with a rich musical history and nightlife and had always wanted to visit there. Joyce replied by mentioning a few of her favorite restaurants and even included some links to their websites and to an Austin visitor bureau website.
I didn't think anything of it, thanked her and went about my day.
Why Triggers Are So Hard and Why They Should Never be Minimized
Fast forward a few weeks to this past Wednesday…
Joyce shoots me an email about a work related issue and also included another link to a tourist spot in Austin. I didn't see the email as I was outside doing something, but Linda did. When I got back to our office, she's sitting at my desk and says "I think I'm gonna get sick."
I could see a look of panic in her eyes but had no idea why. She showed me the email and I'm like, "Uh, ya, so? What's the big deal?"
"Why didn't you show me all these emails and why didn't you tell me where she lived when you knew I was curious about that?" she asked.
My response was something along the lines of, "To be honest, I didn't think anything about it. I get so many emails each day and communicate with so many people I really didn't think it was any big deal and never gave it a second thought."
Whoops!
That's where I f'd up.
I should have known that Linda had an interest and curiosity in Joyce based on what I had said earlier about her writing skills, and that I should have been transparent by letting Linda know about our discussions regarding where she lived, etc.
When Linda saw that email it catapulted her directly back in time 5 years ago when she saw the "innocent" texts on my cell phone. There was real panic and fear. She felt I was hiding something.
Even though the discussions between Joyce and I were completely innocent and 99.9% business related, (Even Linda admitted as much after reading them) it was a major trigger and I should have been more aware and sensitive to it. After all, if we've learned anything from our own experiences and of others on this site, it's that affairs can begin with the most innocent of conversations or remarks.
After a long discussion, everything was pretty much back to normal and we were even joking about the incident.
However, I learned that even the most innocent, seemingly harmless thing can cause a trigger for Linda and I need to be even more transparent, especially since she had already expressed her curiosity about Joyce earlier.
Feeling inadequate
The experience also magnified a deeper element. An element we hear all the time during our mentoring sessions with other betrayed spouses…
The betrayed can have a terrible time getting over the feeling of not being good enough. Even after 5 years, one small slip can send a person back in time to a very bad place that was filled with feelings of worthlessness and massive inadequacy.
To be honest, it can be a tough hurdle to overcome because on one hand the cheater may be doing everything possible and right to make amends and to help the healing process. There has been forgiveness, there's adequate transparency, trust has been restored and there is much love and intimacy in the relationship. Things are going good. However, the betrayed may still have an underlying fear of being hurt again.  Their radar remains on alert and there is the mindset of "I may have been fooled once, but…"
After all, the cheater did feel that someone else was better during their affair (the fantasy), so these feelings the BS may have are totally legitimate and understandable and must be handled in a sensitive manner.
So, I learned my lesson.
Please share an related experiences about transparency, your thoughts and/or advice so that others may learn.  Your comments are very important and much appreciated!