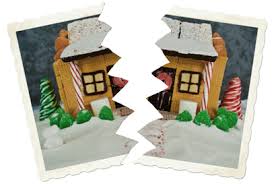 Here we pick up where we left off of the messed up story of a Christmas made complicated as a result of infidelity.
When we last left the man, it was a few days before Christmas and his plan for his kids to meet his new wife prior to Christmas was not going over so well.  In fact it was basically flat-out rejected.
His plan had been to fly his kids into the city where he lives (2 hours away) and have them stay with he and his wife for a few days.  However, the kids did not like this idea at all for a few reasons.  The obvious one being that they didn't want to stay in the same house as their Father's new wife.  Secondly, they had wanted to spend some time with their Mother over the holidays, and lastly, they wanted to be able to visit other family and friends during their stay (mostly their super-cool aunt and uncle). 
So it was a couple of days before Christmas and the aunt and uncle had still not heard what the kids' travel plans were.  Finally the man called his mother and let them know that his kids were not going to be staying with him after all, nor flying into the city where he lives. 
He also informed his mother that he wasn't sure yet as to whether or not he and his wife were going to make it to the annual Christmas get together. His mother was quite dismayed at the possibility of that happening. 
Finally, on Christmas Eve he called and informed everyone that he would be coming to the party by himself – not at 2:00 when it started, but around 7:00.  Everyone assumed this was so he could spend the day with his wife.
It was no surprise that the new wife decided not to come.  The aunt and uncle felt that him coming by himself was indeed the right decision but he should have spent much more time with his kids. 
This arrangement did not sit well with the kids either.  Here they had not seen their Father for at least six months and now he would only be spending a few hours with them.
So somewhere around 7:45 the man finally shows up at the party.  He says his hellos to all of the people there and very awkwardly forced hugs with his kids.  The kids were not happy at all and their displeasure was quite obvious.
The man seemed less than thrilled to be there and it didn't take long for the man to pull his cell phone out and start texting.  It was obvious that he was texting his new wife and it was obvious that this was infuriating his kids even further.  After all, he barely made it to the party and now he was barely interacting with his kids who he has not seen for months.
It took about 10 minutes for the kids to get fed up enough to get up and move to another room where they sulked for the remainder of the evening.
Thank God their cousin had some friends stop over which provided a much needed diversion and wound up breathing a lot of levity into a party that was being taken over by tension.
This whole family holiday experience brought to light several examples of bad choices made by the man with respect to how he handled this whole situation with his kids.  Here is what he needs to do…
He must stop trying to force his new wife onto his children before repairing the damaged relationships with them.
He has to stop putting the new wife before his children.  His actions are telling his kids that her feelings and companionship is more desirable and important than that of his kids.
He should be trying to repair the relationship with his children by rebuilding trust with them, while leaving the new wife out of it.
He needs to make frequent visits and phone calls with his children, even though they may be uncomfortable and he might be confronted with anger.  He needs to suck it up and keep trying in order to rebuild their trust.
He must be more aware that his actions caused long term damage to his children.  They feel abandoned and betrayed so he needs to deal with these issues instead of assuming that everything will be great when they meet the new wife.
He has to stop believing that he and his wife are the victims and that everyone is against them.
He must stop putting everyone else in the middle and deal directly with the issues in front of him.
Infidelity has torn this man's family apart as it does for so many others.  Often it's the kids who are negatively impacted most of all.  In this situation, the man needs to get out of his little bubble, use his very intelligent brain and do what he needs to do before he loses the relationships with his kids forever.
LINESPACE