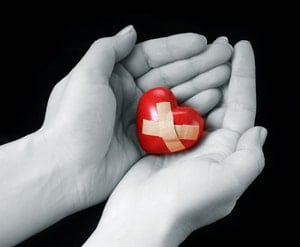 It really seems that infidelity is an epidemic these days!
We just received word about two more couples who are separating because of infidelity.  One of the couples we have known for the last 15 years.  Like many of the couples, they have three children, have been married for over 20 years and the husband has found someone new.  I am beginning to wonder what is happening to our world.  Are we really meant to be married forever?
The news is something that I don't take lightly.  When my friend told me the news, the words hit me like a ton of bricks.  To someone who has not experienced infidelity it may not be as heartbreaking, but after I heard the news I got in my car and broke down like a baby.
I really don't know how many more stories I can hear without believing that our marriage is destined to fall to that fate. The stories sound so similar to ours that I can't help but be concerned.  I wonder how we are surviving.   Are we really OK, or will Doug come home one day and break the news that our marriage is over?
As soon as I heard the news I called Doug sobbing.  He kept telling me "We're ok.  We're happy."  I want to believe him but sometimes it seems that the odds are not in our favor.  Why is it that we keep hearing about all the marriages that are breaking apart?  Why don't we hear about the ones that have worked their butts off to stay together?
Then I began to think about what has really happened to all of these marriages.  I imagine it was the same thing that happened to ours.  We all became very busy with our jobs, our children, our responsibilities, and stopped putting our marriage first.
I  am sure that the husbands felt neglected and lonely, as did their wives.  They probably wondered if that was the way it was going to be for the rest of their lives.  They felt trapped, and the only relief was to find someone new. They found someone whom they believed could make them feel happy and appreciated again.
Forget about pre-marital couples counseling!
I began to think about when Doug and I were preparing to get married and were obligated to attend a marriage class.  During the class we had to listen to couples discuss the struggles that we would face as a married couple.  I remember thinking (while in my infatuated state) that that won't be us because we love each other, and love does conquer all.  Boy was I stupid.
I believe that our society is in a marriage crisis and something has to been done to educate couples on what it takes to make a marriage survive. We don't need pre-marriage classes.  What we need are classes after our first child is born and refresher courses throughout the various stages of our marriage.
We need to stop glamorizing infidelity and truly look at the real impact it has on everyone involved.  Most of the time when we hear about infidelity we tend to ostracize the cheating spouse, or we put blame on the betrayed.  We should look at it for what it really is – a sad situation where both partners lost their way and forgot how important their marriage was. We should make it a time for guidance, not judgment.
I really don't know what the answer is but I hope that someday the couples will wake up and realize that the grass isn't greener on the other side, and that everything they need can be achieved with the person they married.   I wish they would realize that marriages can be repaired after infidelity and come out better than ever.
LINESPACE