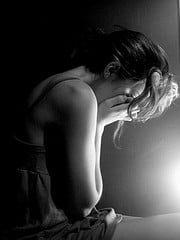 A few years ago a neighbor of ours husband had an affair.  Long story short, they divorced and now he lives with his affair partner.  In fact, we're not positive but we think they are now married.
Well, the other day we were at a party and our neighbor was there as well.  We got to talking and somehow got on the subject of her ex-husband and their whole affair situation.  We were soon shocked to discover that the affair partner's husband committed suicide as a result of the betrayal.
When you hear something like that it really makes the idea that "affairs can be life or death" jump up and slap you in the face – hard.  This person took his life and left 2 very young boys fatherless.  It's tragic to say the least.
It also begs the questions… "How has this suicide affected the relationship between the affair partners (possibly husband and wife)?"  Do they feel guilty? Do they feel any remorse?  Do they in any way feel responsible for the suicide?  What will the mother tell the two young boys when they find out their daddy killed himself and start asking questions?"  There are probably a hundred more questions we could ask…
Unfortunately, we may never know the answers to those questions.  At least not straight from the horse's mouth. The few times that we've run into the ex-husband around town, he has treated us as if he doesn't even know who we are, so there is no doubt that we're never going to have the opportunity to ask – even if we had the guts to.
This whole situation reminded us that thoughts of suicide often go hand in hand with the aftermath of infidelity.  It could be that the betrayed spouse is searching for anyway to escape the pain and feels that suicide is the only answer.  Cheating spouses as well might look to suicide as the answer to help them escape from their guilt and shame.
As we've said numerous times before, the betrayal of infidelity is a trauma, and any trauma can cause depression, anxiety, panic and a host of other emotions that can overwhelm even the strongest among us.  
We realize this is a real downer of a topic but it's an extremely important one.  We do know that many of our readers have at one time considered (are considering) taking their own lives.  Because of that we thought that it would be a good idea to provide some resources in an effort to help prevent anyone from taking that drastic route.
First things first…
If You Are Suicidal
If you are considering suicide, please, just call someone. Call a parent, a neighbor, your best friend, or someone you love. If you feel seriously on the verge, please call 911. They will respond lovingly and care for you. If you prefer anonymity, you can call a suicide hot line:
In the U.S. – Call the National Suicide Prevention Lifeline at 1-800-273-TALK (8255) or the National Hopeline Network at 1-800-SUICIDE (1-800-784-2433). These toll-free crisis hotlines offer 24-hour suicide prevention and support. Your call is free and confidential.
You can also contact:
Psychiatric hospital walk-in clinic
Hospital emergency room
Urgent care center/clinic
Outside the U.S. – Visit IASP or Suicide.org to find a helpline in your country.
Take Five Minutes to Read this Website:
If you are feeling suicidal and don't want to make a call, please take five minutes and read this website:  http://www.metanoia.org/suicide/  It was created by a very caring person and  has some wonderful resources.
If You are Helping a Suicidal Person
If you are in a situation where you are trying to prevent a person from taking their own life, go to this website as it has direct and to-the-point information for helping someone who is suicidal:  http://www.metanoia.org/suicide/whattodo.htm
Additionally, here is a good article to read if you're dealing with another person who is suicidal:  http://www.helpguide.org/articles/suicide-prevention/suicide-prevention-helping-someone-who-is-suicidal.htm
Common misconceptions about suicide
FALSE: People who talk about suicide won't really do it. 
Almost everyone who commits or attempts suicide has given some clue or warning. Do not ignore suicide threats. Statements like "you'll be sorry when I'm dead," "I can't see any way out," — no matter how casually or jokingly said, may indicate serious suicidal feelings.
FALSE: Anyone who tries to kill him/herself must be crazy. 
Most suicidal people are not psychotic or insane. They must be upset, grief-stricken, depressed or despairing, but extreme distress and emotional pain are not necessarily signs of mental illness.
FALSE: If a person is determined to kill him/herself, nothing is going to stop them. 
Even the most severely depressed person has mixed feelings about death, wavering until the very last moment between wanting to live and wanting to die. Most suicidal people do not want death; they want the pain to stop. The impulse to end it all, however overpowering, does not last forever.
FALSE: People who commit suicide are people who were unwilling to seek help. 
Studies of suicide victims have shown that more than half had sought medical help in the six months prior to their deaths.
FALSE: Talking about suicide may give someone the idea. 
You don't give a suicidal person morbid ideas by talking about suicide. The opposite is true—bringing up the subject of suicide and discussing it openly is one of the most helpful things you can do.
Source: SAVE – Suicide Awareness Voices of Education
Suicide Warning Signs
People who kill themselves exhibit one or more warning signs, either through what they say or what they do. The more warning signs, the greater the risk.
Talk
If a person talks about:
Killing themselves.
Having no reason to live.
Being a burden to others.
Feeling trapped.
Unbearable pain.
Behavior
A person's suicide risk is greater if a behavior is new or has increased, especially if it's related to a painful event, loss, or change.
Increased use of alcohol or drugs.
Looking for a way to kill themselves, such as searching online for materials or means.
Acting recklessly.
Withdrawing from activities.
Isolating from family and friends.
Sleeping too much or too little.
Visiting or calling people to say goodbye.
Giving away prized possessions.
Aggression.
Mood
People who are considering suicide often display one or more of the following moods.
Depression.
Loss of interest.
Rage.
Irritability.
Humiliation.
Anxiety.
Source, and for more information: American Foundation for Suicide Prevention
Click here for more common signs of someone who might be suicidal:  http://psychcentral.com/blog/archives/2007/10/08/common-signs-of-someone-who-may-be-suicidal/
Ways to Cope with Suicidal Thoughts and Feelings
Remember that while it may seem as if these suicidal thoughts and feelings will never end, this is never a permanent condition. You WILL feel better again. In the meantime, there are some ways to help cope with your suicidal thoughts and feelings.
Things to do
Talk with someone every day, preferably face to face. Though you feel like withdrawing, ask trusted friends and acquaintances to spend time with you. Or continue to call a crisis helpline and talk about your feelings.
Make a safety plan. Develop a set of steps that you can follow during a suicidal crisis. It should include contact numbers for your doctor or therapist, as well as friends and family members who will help in an emergency.
Make a written schedule for yourself every day and stick to it, no matter what. Keep a regular routine as much as possible, even when your feelings seem out of control.
Get out in the sun or into nature for at least 30 minutes a day.
Exercise as vigorously as is safe for you. To get the most benefit, aim for 30 minutes of exercise per day. But you can start small. Three 10-minute bursts of activity can have a positive effect on mood.
Make time for things that bring you joy. Even if very few things bring you pleasure at the moment, force yourself to do the things you used to enjoy.
Remember your personal goals. You may have always wanted to travel to a particular place, read a specific book, own a pet, move to another place, learn a new hobby, volunteer, go back to school, or start a family. Write your personal goals down.
Things to avoid:
Being alone. Solitude can make suicidal thoughts even worse. Visit a friend, or family member, or pick up the phone and call a crisis helpline.
Alcohol and drugs. Drugs and alcohol can increase depression, hamper your problem-solving ability, and can make you act impulsively.
Doing things that make you feel worse. Listening to sad music, looking at certain photographs, reading old letters, or visiting a loved one's grave can all increase negative feelings.
Thinking about suicide and other negative thoughts. Try not to become preoccupied with suicidal thoughts as this can make them even stronger. Don't think and rethink negative thoughts. Find a distraction. Giving yourself a break from suicidal thoughts can help, even if it's for a short time.
Source:  HelpGuide.org
Coping with suicidal thoughts – PDF download with information on how to understand your suicidal feelings and how to develop a safety plan. (Consortium for Organizational Mental Health)
Conclusion
Now we don't pretend to think that this is an all-inclusive, exhaustive guide on suicide prevention, but it will get a person started in the right direction.  If you are feeling suicidal (or know someone who is), visit these sites that are mentioned/linked to and by all means talk to someone (or read)  before doing anything drastic.
Additionally, if you have experienced suicidal thoughts in the past or are in a position that deals with this sort of situation, please share your experiences, advice, tips and/or resources in the comment section below.  This is important!