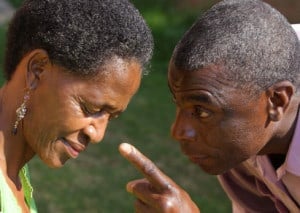 We've all been manipulated by other people, and it's likely that we've all done a bit of manipulation at one time or another. Telling a white lie in order to get what we want is one way of manipulating someone.   It's fairly clear that infidelity and emotional manipulation go hand-in-hand.
When we manipulate other people – lying for instance – we deprive them of their ability to make decisions based on their own accurate reading of reality. By lying, we are providing an alternate reality to the other person – and they make decisions that may be to our advantage, but it may not be a decision they would make if they knew all the facts.
Manipulation shows disrespect to the other person – but ultimately we are disrespecting ourselves and compromising our own integrity when we manipulate others. We give ourselves the illusion of control, but it is hardly a feeling of control that we can be proud of.                                                              
Why do people manipulate others?
Marriage and Family Therapist, Kim Jones, MA, MFT says that…
Manipulative people have a strong need to be in control. This may derive from underlying feelings of insecurity on their part, although they often compensate for these feelings with a show of strong self-confidence. Even though they may deny it, their motives are self-serving, and they pursue their aims regardless of the cost to other people. They have a strong need to feel superior and powerful in their relationships – and they find people who will validate these feelings by going along with their attempts at manipulation. They see power as finite. If you exert power over them, they will retaliate in order to gain back the control they feel they are losing. They cannot understand the idea that everyone can feel empowered or that everyone can gain. When they are not in control – of themselves and over other people – they feel threatened. They have difficulty in showing vulnerable emotions because it might suggest they are not in control.
Those who are manipulative usually don't consciously plan their maneuvers. They emerge from the manipulator's underlying personality disorder, and are played out within the context of a victim who colludes with, and unwittingly encourages, the manipulation. There is a wide range of tactics used by manipulators ranging from verbal threats to subtle attempts to arrange situations to suit the manipulator.
Here are some common tactics that manipulators use:
becoming angry
lying
intimidating
shouting
name-calling
pouting
sulking
ignoring you
playing the victim
giving you the silent treatment
making you feel guilty or ashamed
making insults
being degrading
Actions NEVER matching their words
Not ever taking any ownership or responsibility for their actions
Some manipulators can be described in terms of having an antisocial personality (these people are sometimes called psychopaths or sociopaths). This is a personality disorder often associated with criminal behavior. They feel little compassion for other people, don't really feel guilty when they do something harmful, pathologically lie, show superficial charm, tend to be impulsive, and don't take responsibility for their own actions.
This leads us to our discussion questions for the week…
How have you been manipulated in your relationship?

Does it continue today?

What specific manipulation tactics were you exposed to during the affair?

If you are the cheater, how did you manipulate your spouse during the affair?

How does one put an end to being manipulated by another person?
Thanks!

Linda & Doug