We talk a lot about healing from an affair on this site.  After all, that is the ultimate goal for us, as I'm sure it is for most of you as well – whether you are the cheater of the betrayed.  But what is healing? Recently someone asked what that meant to me.
The Merriam-Webster online dictionary offers the following definition components for healing:
to make sound or whole
to restore to health
to cause an undesirable condition to be overcome
to restore to original purity or integrity
Synonyms for healing include: cure, fix, mend, rehab, rehabilitate.
Healing may mean something completely different for each of us and while going through your own process of healing from an affair, you need to determine exactly what it means for you.
For me, healing allows me to feel fortunate that I'm still walking this earth with Linda as my wife and my family intact.  It allows me to carry on each day more loving, stronger, wiser, kinder and more humble as a result of what happened in the past.   It's the ability to live without constantly feeling the guilt and shame but knowing that I have to continue to help Linda with her own healing process.
Healing From an Affair – An Analogy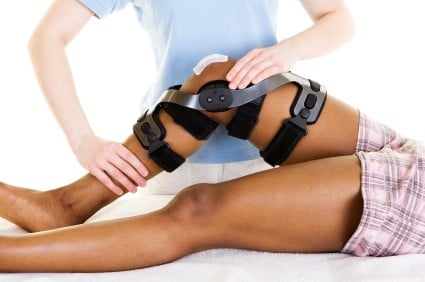 Several years ago I blew out my knee playing ball and as I write this I started to think about the healing process from that injury.  As you read my story, try and think about a past injury or some other painful experience that you have been able to heal from and how it might relate to healing from an affair.
When the injury occurred there was the pain that I experienced from the tendons tearing.  The loud pop of them ripping was certainly a scary thing.  At first I remember being able to get right back up and walk it off somewhat, but then the next day when I got out of bed, my knee buckled and I fell to the floor in shear agony and was unable to put any weight on it.
Suddenly I felt a myriad of emotions and had the feeling that I may never be able to play ball again, or for that matter, perhaps I would not be able to run or perform any athletic activity as I once was able to do.  After all, I had several friends who had the long scars on their knees from surgery who were never the same again on the playing fields and even had troubles simply walking.
The next step was to gain knowledge and seek counsel.  I went to the doctor who proceeded to manipulate my knee in various ways that created even more pain, but as a result of my pain responses he was able to make an initial diagnosis.  I asked questions.  I talked to others who had the same injury.  I did some further research on the injury that I sustained.  I eventually got an MRI that confirmed the doctor's diagnosis.  He suggested an operation to repair the torn tendons and ligaments and gave me pain medicine to help reduce my discomfort so that I could sleep and for the most part carry on with my everyday life.
The next step was to decide whether or not to go through with the operation.  I didn't like the idea of getting operated on and thought that perhaps I was stronger than that and didn't need it.  Could I just get by without getting it done and simply stay off of my feet for awhile and hope that over time my knee would feel better?  No.  In order to completely recover from my injury I needed to get the operation done and have the doctor reconnect everything that was torn up.  So that's what I did.
After the operation came more pain and a few days of recuperation while in a drug induced state of restfulness, followed by weeks of physical therapy.  Now if any of you have ever had an operation or injury of any sort that required physical therapy, then you know that this can be the most difficult and often the most painful part of recovering and healing.  It's often more painful than the original injury itself.
The words "physical therapy" are often shortened to just "PT."  A friend of mine who is a physical therapist jokes that "PT" really stands for pain and torture – because that is what is seems like.  But if not for this pain and torture, the true healing and strengthening of the injured knee could not be successful.
I found it interesting at the time that much of the physical therapy for knee injuries is not actually focused on the knee at all.  Rather it is focused on the other areas of the leg that surround and support the knee itself.  The leg in almost its entirety needs to be strengthened in order for the knee to be healed and to be protected from possible future injury.
After weeks of "PT" I was deemed fit and ready to resume my athletic endeavors but there was still some hesitancy on my part.  Will my knee hold up?  Will I reinjure it and have to go through all of this again? Not until I actually got back on the field and gave it a try would I know for sure.
The first time I got back on the field I was nervous.  I could run straight ahead just fine, but I was concerned about my lateral movement.  Sure, I had a supportive brace on, but was it enough to keep my knee from buckling?  Once the game started, the thoughts of reinjuring my knee went away as the adrenalin of competition took over.  As luck would have it, I had no problems and have not reinjured my knee since.
I continued to exercise and work out to strengthen my knees and legs – and still do so to this day.  Sure there are times when I squat or put my weight on my knees in an unusual manner that there is some pain or discomfort, but I certainly consider my knee fully healed at this point.  I still have to keep it strong though, so that I can enjoy the physical activities that we like to do.
I have a friend and fellow athlete who had a torn rotator cuff that he eventually had operated on.  At the time, this was a very difficult injury to recover from.  The therapy was long and intense.  He followed through for a while, but for whatever reason, felt he didn't need to go to "PT" any longer.  The result was that he could never throw a baseball over hand again.  In fact he can barely raise his right arm above his head.  He didn't follow through with the process and he never fully healed from the injury.
So from this boring story of my knee injury, can you see that in many ways healing from an affair can be very much the same as the process of healing from any injury or operation?
Some of you may argue that healing from an affair is nothing like the process in my story and that in fact, it may be impossible to heal from an affair.  I guess that depends on your definition of healing, your knowledge and your willingness (and your spouse's) to put forth the effort.  Absolutely, the pain as a result of an affair is different and more intense and complex on many different levels, but the process for healing is similar.
In many respects, healing is a willingness to take a chance on life and living it to its fullest. Yes, there are risks and there is the chance of failure and of being hurt again, but without taking those risks you don't have a chance.
We're working on the final touches of our higher healing membership area.  If you don't know what I'm talking about or if you have interest in being a part of our efforts to achieve greater healing from an affair, click here for a post that explains what we're doing.