What are the basic elements that need to work together to help you heal from the affair?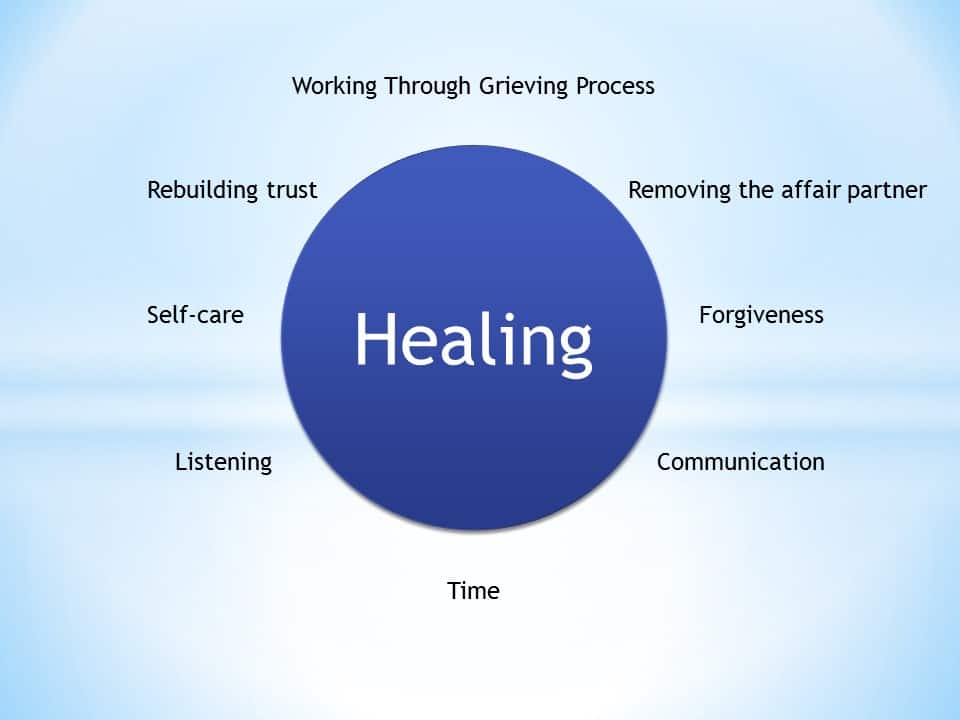 By Sarah P.
This article is about some of the 'must-haves' that need to occur during the healing from infidelity. Conversely, there are other actions and processes that are more nuanced that need to occur, but this article is meant to address fundamental items that need to be in place and not the nuanced ones.
Certainly, both men and women engage in extramarital affairs and the elements required to heal from the affair are basically the same for both genders, but for the sake of brevity, I will be using the scenario of a betrayed wife.   
First Step to Heal from the Affair…Removing the Affair Partner
As they say, "two is company and three is a crowd." The first absolutely non-negotiable thing that must occur to heal from the affair is that the affair partner must be sent packing. But, don't do it with your husband; he really needs to do this on his own. Otherwise, he might get a real narcissistic kick out of two women fighting over little, old him. Plus, seeing the affair partner could set you back in the healing process.
If she is a stranger, she will become a real person to you, rather than a nameless, faceless entity. She might actually take her anger out on you and view herself as the victim. This will make the grieving process harder because she becomes very concrete in your mind.
If you happen to know the woman personally, I feel very badly, indeed. The reason I feel bad is because you will learn the tough lesson: contrary to what we women were taught about the sisterhood, there are women who say they believe in it, while happily stabbing others in the back.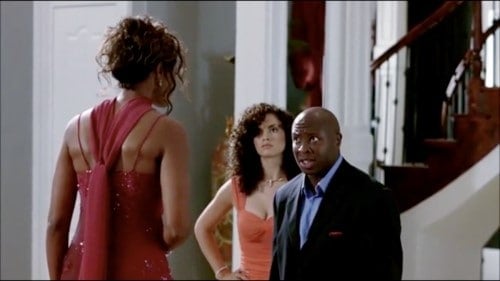 There is no question about it: your spouse must get rid of the other woman.
Don't fall for excuses where he might say he needs more time to think through what he will say. What he is really saying is that he is not really sure he wants to give up the affair and is planning a way to be more secretive.
When men are in the affair fog they are capable of saying what the wife wants to hear and also what the mistress wants to hear. Believe it or not, many men are not comfortable disappointing others or drawing lines. This attitude can get twisted by the affair fog and men wrongly consider the needs of the other woman. All the while, no one, especially not the other woman, is considering your needs. Such is the affair fog and your husband must put down the 'drug' immediately.
It also might be helpful if you purchase a one-way ticket to Antarctica in the winter and send it to the other woman. But, alas, that won't be possible because why would you spend another dime or second on her? That chick has got to go!
If you're the unfaithful, get it, read it and carefully consider the advice. If you're the betrayed, give it to your unfaithful spouse.
Working Through the Grieving Process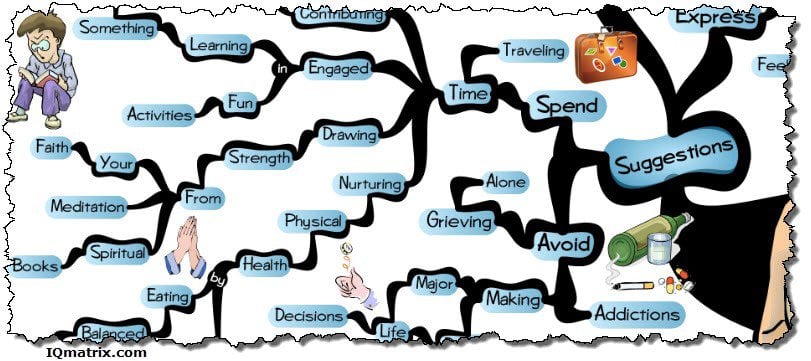 I don't know anyone who has been happy going through the grieving process, but I do know that many have felt happy after they went through it.
The grieving process has five stages:
Denial
Anger
Bargaining
Depression
Acceptance
David Kessler, who specializes in grief studies, has a lot of wisdom to offer. As hard as it may sound, it is necessary and it's a process that we need to flow through us.
Denial
Denial is the first stage of the grieving process and I am sure we are all familiar with the cold comfort it provides. Embrace denial and accept the process. David Kessler explains why:  "In this stage, the world becomes meaningless and overwhelming. Life makes no sense. We are in a state of shock and denial. We go numb. We wonder how we can go on, if we can go on, why we should go on. We try to find a way to simply get through each day. Denial and shock help us to cope and make survival possible. Denial helps us to pace our feelings of grief." (1)
That's right, denial helps us pace our feelings so that we don't get eaten alive by them. Denial knows the lion is in the room, but denial is like the lion trainer cracking a whip so that the lion circles you but doesn't devour you. Denial helps anesthetize you for a little while and that is a good thing.
Anger
But then you move on to the next stage: anger. Again I will say that you are allowed to embrace it. Anger can even be your friend because it mobilizes you. Kessler continues, "Anger is a necessary stage of the healing process. Be willing to feel your anger, even though it may seem endless. The more you truly feel it, the more it will begin to dissipate and the more you will heal. There are many other emotions under the anger and you will get to them in time, but anger is the emotion we are most used to managing." (1)
So, embrace the paradox that is embracing anger. Rage while kneading bread, pound your feet on the treadmill, write the kind of letters that would make a sailor blush, and then shred them. Contrary to what we are told about anger not being a nice quality in women, we are actually allowed to feel anger and to sit with the feeling. Let it flow through you. But, don't take it out on others because that's what pillows are for!
Bargaining
After the anger starts to fade, you will start to bargain with the universe or God.
Kessler adds, "We want life returned to what is was; we want our loved one restored [to the way things were prior to the crisis]. We want to go back in time …if only, if only, if only. Guilt is often bargaining's companion. We may even bargain with the pain. We will do anything not to feel the pain of this loss. We remain in the past, trying to negotiate our way out of the hurt." (1)
Once again, do not rush this process along.
Depression
Depression is surely to follow. Depression is kind of like a bad word. People hear the word and they cringe. This society has developed a deep-seeded fear of depression. For some, it conjures up images of mental institutions that have everyone locked up with a key that has long since been thrown away. For others, it conjures up a profound sense of shame. People tell themselves, "Depression is for other people, but I am healthy and I am 'better' than that."
Well, guess what, depression is probably the most equal opportunity employer in existence. It does not see age, gender, race, body weight, income level, education, or geography. To depression, there is no such thing as healthy or better than that. Nope, just like death and taxes, depression is the universal leveler. It does not care who you are or who you were in the past. But, most importantly, it is an essential phase of the grieving process.
Kessler adds, "After bargaining, our attention moves squarely into the present. Empty feelings present themselves, and grief enters our lives on a deeper level, deeper than we ever imagined. This depressive stage feels as though it will last forever. It's important to understand that this depression is not a sign of mental illness. It is the appropriate response to a great loss. We withdraw from life, left in a fog of intense sadness, wondering, perhaps, if there is any point in going on alone? Why go on at all?" (1)
I believe that Kessler says it best: depression is not a sign of mental illness. Personally, I would go as far as to say that depression is a sign of being connected to one's innate humanness.
So, throw out the shame and allow depression to run its course since depression is not a sign that you are mentally ill or that you are flawed. Get rid of all of those false beliefs about depression. Don't suppress it. Allow depression it to visit you like the friend you thought you didn't need, but ended up needing in the end. This is the surest way to make depression leave for good.
Acceptance
Kessler adds, "Acceptance is often confused with the notion of being "all right" or "OK" with what has happened. We will never like this reality or make it OK, but eventually we accept it. We learn to live with it. It is the new norm with which we must learn to live…. Finding acceptance may be just having more good days than bad ones." (1)
Notice that acceptance is not interchangeable with forgiveness and that acceptance will never mean that you approve of or agree with what occurred. Acceptance simply means that your good days will outnumber your bad and that your triggers will no longer throw you back into full-blown depression. There is personal power in acceptance. Plus, gaining acceptance a sign that you ran your own personal emotional marathon and won.
We've put together what we feel will be a helpful guide for you called: "An Introductory Guide to Coping with Grief."  You can download it by clicking here.
Rebuilding Trust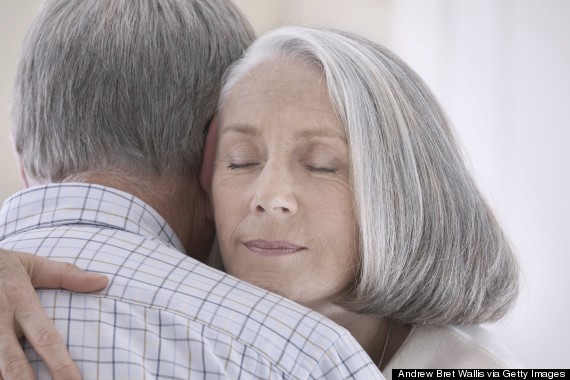 To trust or not to trust? That is the question….
Picture this: the cheating spouse is haranguing you because you no longer have the same level of trust for him that you had prior to his affair. He is whining and doesn't understand why he can no longer be the beneficiary of unconditional trust. For husbands who do this, psychologist Dr. Willard Harley, says this:
Many unfaithful spouses have demanded that the betrayed spouse trust them. They argue that without that trust their marriage cannot thrive. They don't use that argument to build their marriage, but rather to avoid doing anything to regain trust. They don't tell their spouse what they are doing in secret, but they want the spouse to believe that it is not anything harmful to the marriage. Demanding trust is simply a tactic to get away with further thoughtlessness and dishonesty. Part of this problem is that spouses are often led to believe that trust is something you are required to do when you are married. But trust is not a requirement for marriage; it's a reaction to experience. It grows as each spouse shows himself or herself to be trustworthy." (2)
On the other hand, 21st century philosopher, Martha Nussbaum, says this of trust:
One may rely on an alarm clock, and to that extent be disappointed if it fails to do its job, but one does not feel deeply vulnerable, or profoundly invaded by the failure. Similarly, one may rely on a dishonest colleague to continue lying and cheating, but this is reason, precisely, not to trust that person; instead, one will try to protect oneself from damage. Trust, by contrast, involves opening oneself to the possibility of betrayal, hence to a very deep form of harm. It means relaxing the self-protective strategies with which we usually go through life, attaching great importance to actions by the other…. It means, then, living with a certain degree of helplessness." (3)
The gosh-darn thing about trust is that it requires one to live with vulnerability. I believe that this is the crux of why it is so hard to trust after an affair.
A man should not worry about whether or not his wife is being slow to trust after an affair since a wife has a much bigger burden to carry. If a woman trusts and therefore opens oneself to vulnerability, she knows that if an affair ever happens again, this time it might kill her.
Trusting after an affair is kind of like walking through a war zone without a bulletproof jacket. So, like Willard Harley, I believe you can have a marriage without fully having trust after an affair has occurred.
But if your husband still complains about trust, here is what you can tell him: one regains trust by consistent actions, both when seen and unseen. Your spouse's daily as well as future actions need to demonstrate behaviors that engender feelings of trust in you. He needs to be consistent in his actions and this consistency must last from here on out. He needs to understand that each act that is incongruent with trustworthiness re-sets the clock. In short, he can't just talk; he must act because actions speak louder than words.
It is also helpful if you let your husband know that there are concrete behaviors, which he can employ daily that will help build trust. These behaviors are called the three A's:
Affection
Attention
Appreciation
If he is able to practice all three of them, then he is going to go a long way to rebuilding trust.
But, the most important element is that the cheating spouse must take full responsibility for his actions and choices in the past. Then, he must realize that both in the now and in the future, he is accountable to his actions and choices. There is no longer a blame game to play. The blame game cards have been burned and the table overturned. From now on, there is only accountability. In the end, rebuilding trust is your betrayer's job.
So, the next time your spouse complains that you are taking too long to trust him, say this: "Sweetheart, it is not me who is taking too long to trust—it is you who are taking too long to be trustworthy."
Listening 
Now for a 5 second intermission. You can imagine the elevator music they are probably listening to…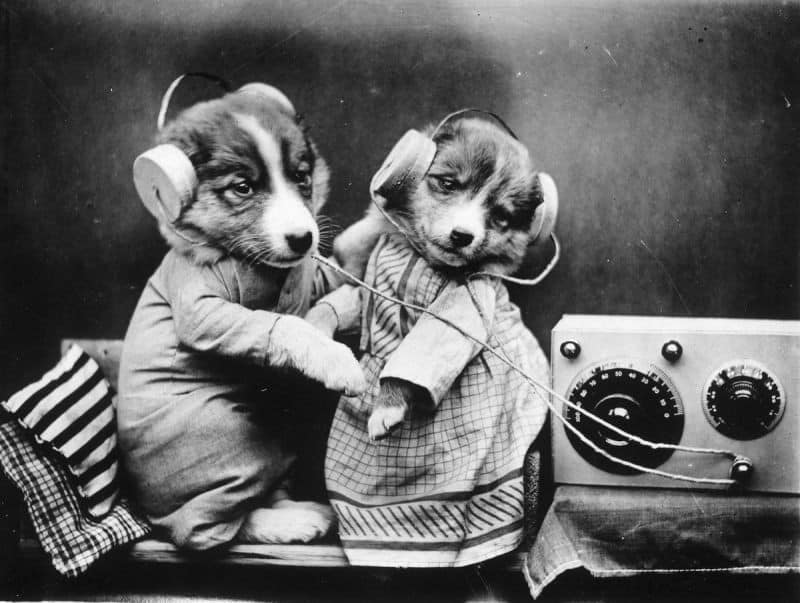 I wanted to bring in a little uplifting photo to break the heavy mood. This is a photograph taken during the golden age of radio. These two little darlings show us how important it is to listen to whatever message is being conveyed at the time.
Listening is pretty self-explanatory, so I will discuss the essentials. Listening and actually being heard in return is so important. It really builds trust, understanding, and intimacy with others. When your husband feels listened to, it helps him feel understood, and that is a powerful thing for your marriage.
How many of us hear someone out, but instead of listening, we are planning our response? Active listening involves being in the moment and allowing your partner's every word to sink in, without planning a response.
On the other hand, this goes both ways. Your spouse will also need to listen to you and actually hear your feelings without being defensive. But, you will also need to really listen to him without being defensive when he speaks to figure out what the affair was about.
For example, was it a cry for help? It turns out some men actually have affairs to improve their own marriages. (I know… seriously?!) Then, others are just plain, old sex addicts. Still others are using extramarital sex to anesthetize some kind of hidden, psychological pain.
Finally, there are those 'good guys' who are at work, trying to mind their own business, when an affair partner eagerly presents herself. It's as simple as being in the wrong place at the wrong time and being like the frog in the pot.  The frog is being boiled so gradually that he feels like he is in a hot tub, not in a death pot. The frog never realizes that someone has made a meal out of him until it's too late.
Many good guys do get caught in this situation, especially if there is a female coworker who has specifically set her sights on the guy. This is especially true if she a spouse poacher. These women are experts at knowing both how to make it seem like his idea and also like nothing is happening and that his marriage is safe.
I am going to digress with a personal story: Unfortunately, my husband is someone that many women would consider a desirable partner. I love him and I know other women can see his good qualities, too. I have at least fifteen stories of women at his workplace throwing themselves at my husband in a way that is really blatant.  It doesn't matter that these women all know he is married and have even met me on several occasions.
In addition to that, he has about 50 pictures of our kids and me on his bulletin board as well as kid's artwork decorating his work area. I stop in on holidays to bring homemade baked goods or hot dishes like lasagna. Of all the stories, I will tell you the one story where there in no grey area and someone would literally need to be blind not to see this woman's attempt.
So here is the story…about 1.5 years after we married, his regular secretary decided to work 4 days a week. He was assigned an assistant to help him on Fridays whom I will refer to as Friday Secretary. She was a mother of four and she had children by three different men- all of this and she was under the age of 30.
I come from a family where we don't have children before marriage and we marry, well, once. My parents are married as are his and family members and we all just work it out regardless of what happens, even if there are affairs.
Anyhow, I will admit this woman had two things going for her. The first thing was that she did absolutely everything my husband asked and more— and she hung on his every word. (That is, she listened to him!) The second was she was attractive enough, though a completely different physical type from myself in every way. (She kind of looked like January Jones and this is probably why I recently ranted after seeing The Last Man On Earth).
Anyhow, it was secretary's day and my husband told me he wanted to take out his regular secretary, a gorgeous, smart, older woman who was married to the head of the organization. His regular secretary and I got along great and we would often have dinner with her and her husband. Of course, I would be coming along to this appreciation dinner as well.
So it was that he asked his regular (4 days a week) secretary to join him and me for dinner. But, being the nice person she was and is, she told my husband that he should invite the Friday Secretary too. One of the rules my husband and me have is that we do not have lunch or dinner (one-on-one) with the opposite sex unless I am present or unless it's a family member.
When my husband asked Friday Secretary to go to dinner as a token of appreciation for secretary's day, Friday Secretary jumped at the opportunity to go to dinner and did not bother to ask if anyone else was going along. Dinner was scheduled for a Friday and that day of the dinner, Friday Secretary showed up to work in a skirt and a piece of actual lingerie for her alleged shirt. She openly flirted with my husband during the day, assuming it was a 'date' or something.
The female office manager actually sent Friday Secretary home to change during lunch because her clothing actually offended several clients and management was approached about it in the morning. My husband came home and on the way to dinner, he told me what had happened with Friday Secretary (the flirting and all) and that he was really embarrassed.
Friday Secretary showed up at dinner in another revealing top and was astounded to see my husband, his regular secretary, and me all chatting happily. Friday Secretary pouted during the entire dinner and then left. Apparently Friday Secretary was bored with being a Friday Secretary and wanted to join the oldest profession in the world.
Back to the topic…. While listening involves the obvious act of listening to your husband carefully and focusing on what he is saying, it also involves paying attention to his non-verbal physical cues. Part of active listening involves being aware of subtle body language as well as what some call the 'temperature of the room'. (I simply call it the vibe).
There are going to be times when he is depressed, in pain, stressed, or upset and his first instinct might be to go into his office and have alone time. That is fine too, in small doses and being aware of that and giving him space is key. Sometimes listening just means knowing where he is at in his mood. As a result, you can be sensitive to his needs in the moment and give him space.
As I said earlier, cultivating listening without judgment is also extremely important, that is if you would like to rebuild you marriage. Always remember the affair was never about you, so when you can listen without judgment, you can create a safe space for communication as well as and learn more about your spouse than you have ever dreamed.
No Such Thing As TMI – The Importance of Full Disclosure After You Have Had an Affair
Improving Communication
Improving communication between you and your spouse is so important when going through the healing process. But, the communication needs to center around rules of engagement such as the ones I have discussed in fair fighting. But, there is also the element of honesty. There will come a time when you ask questions that are going to make your spouse very uncomfortable.
So what about full disclosure?
I am starting to change my views a little bit about what is disclosed in full disclosure. I was watching a video by a Marriage and Family Therapist who, many years ago, had cheated on his wife with her best friend. OUCH. As he spoke, his wife sat next to him adding parts to the story. He said something interesting about full disclosure that caught my attention.
Basically, he disclosed whom the affair was with (his wife's best friend), how long it had been going on, how sorry he was, and the fact that it had ended. But, he also let her know that he was in a state of limbo where he realized that if he told her every single, sordid detail about the affair, the chance of him keeping his marriage would diminish.
Therefore, he discussed this conundrum with his wife and said he would discuss factual things but he wasn't comfortable going down the path of mentioning specific details that would continually add salt to her wounds. On the other hand, he (her husband) always answered his wife's questions and he was not defensive when she asked questions.
But, the most helpful thing was that he realized he had to get his relationship with the Lord right before he could recover. In the video he said, "If there was no God, I had no hope for stopping this behavior. I realized I was completely powerless over this [addiction]." But, some don't have a relationship with God and that is okay as well. You don't necessarily have to believe in God to have a renewal. I also believe in the ultimate triumph of the human spirit and it is a powerful thing. If a person wants to change badly enough, that person can change.
So, full disclosure? It's complicated.
You deserve complete honesty from your spouse, but there are going to be hot topics. Your husband is allowed not to talk about something at that particular moment, but your husband needs to be honest about why he doesn't want to discuss an event or detail, rather than lying about an event or getting defensive.
In other words, he always needs to be honest in his communication and never lie about events, but he may not want to talk about it in the moment. On the other hand, he is also not allowed to stonewall you and refuse to talk about the affair. Stonewalling doesn't build trust.
Forgiveness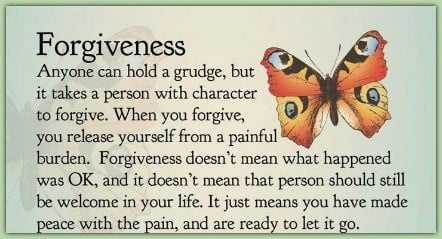 If you already know my stance on forgiveness, you will remember that I have mentioned that forgiveness is a gift that you give yourself. I like the way that The Greater Good Foundation at Berkeley University defines forgiveness and they do it much more eloquently than I have done it in the past:
Forgiveness does not mean forgetting, nor does it mean condoning or excusing offenses. Though forgiveness can help repair a damaged relationship, it doesn't obligate you to reconcile with the person who harmed you, or release them from legal accountability. Instead, forgiveness brings the forgiver peace of mind and frees him or her from corrosive anger. While there is some debate over whether true forgiveness requires positive feelings toward the offender, experts agree that it at least involves letting go of deeply held negative feelings. In that way, it empowers you to recognize the pain you suffered without letting that pain define you, enabling you to heal and move on with your life." (4)
However, there is still a sticking point for me in this definition specifically about letting go of negative feelings. I believe that you may never let go of negative feelings, but you will accept them. I believe accepting them allows you to no longer allow negative feelings to define you. That might be a paradox to some because how can you forgive and still have negative feelings.
The answer is that your negative feelings will be focused more on the time and place and be compartmentalized around that time and place, rather than on the other person. So, you can exist in a state of forgiveness and acceptance while still knowing that negative feelings are present.  The only difference is that these feelings will no longer trigger anger or define you.
Some therapists may not agree with me and that is okay. We all have our personal takes on things based on research and experience. I know personally that I will always hold negative feelings toward my ex; however, they no longer trigger extreme anger or define me. I have accepted them, grieved, but they still are present. They simply co-exist and are linked to a past that no longer exists.
I believe someone would require a lobotomy to truly let go of negative feelings; we all remember the events that triggered such feelings. As long as there is memory, in theory, we cannot make experiences that made impressions on us completely disappear. Thus memory keeps negative feelings associated with events alive in memory. But, that's okay and it's also okay to live a life of paradox.
Heal from the Affair – Making Self-Care A Priority
When I was with my ex, my life revolved around him. Every waking moment, our couplehood occupied my thoughts. I kind of lost "me" in "us". All of us are capable of this, but we must not forget ourselves. It is very important to make self-care a priority even if you feel fully recovered.
I will admit that after my ex and I broke up, something shifted in my thinking and I realized I could no longer be swallowed up in couplehood. So when I met the man who was to be my husband, I had a conscious awareness of not losing "me" in "us". This does not mean that I have let go of love; I have just made a conscious decision to let go of the very codependent aspects of a relationship. I believe that my marriage of several years is better because of it.
So, in the evolution of self, I believe that letting go of codependence is extremely important. In letting go of codependence, you find a sense of emotional freedom and paradoxically a more profound intimacy. Self-care is the ingredient that allows you to do this.
Self-care involves not only treating yourself well, but also thinking well of yourself. Instead of working against yourself, you do things that add to your physical and emotional wellbeing. You go out with friends, you exercise, you eat healthy foods, you forgive yourself for whatever perceived flaws you have, etc.
Time
Time is the ultimate healer, or so this truism goes. In time, new experiences begin to replace the old. The newness of the sting becomes dampened as the days go by. We may not forget, but the pain subsides as we gain time, space, and insight.
With time and in retrospect, there becomes great beauty in sadness and we trade tears for the hope of a better future. Winter always turns to spring and the cycles of life tend not to unhinge us as much as we grow older. In fact, this article from the Huffington Post gives us some really good news about time in general: "a growing body of research has proven that we're wrong to think that happiness is correlated with youth. A wealth of scientific and anecdotal evidence demonstrates precisely that it's when people have surpassed many of life's big landmarks that their overall satisfaction and happiness peaks…Though it may sound counterintuitive, the Gallup poll found that 85-year-olds are generally more satisfied with themselves than 18-year-olds." (5)
So, time can help you heal from the the affair, but aging in general means there will be much happiness ahead of you. I call that great news, because there has to be some positive payoff for getting older.
Summary
In summary, this article covers the basic elements of things that I believe need to work together to help you heal from the affair. There are probably more I have not thought of, so these are the bare minimum.
But, what about you? Is there something I have forgotten or something that has been very effective for you in healing? Tell me your story!
For a more comprehensive guide to recovery and healing from an affair, you should really check out Linda & Doug's program, "Survive and Thrive after Infidelity."  It goes deep into everything from D-day and beyond.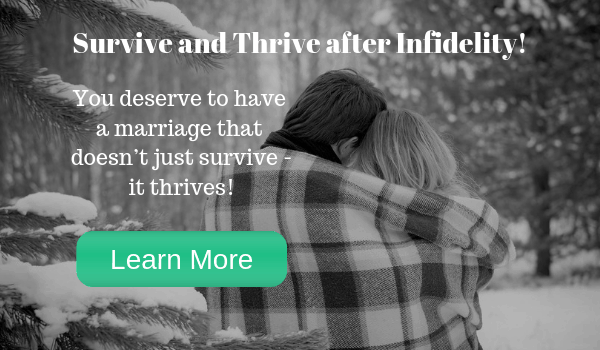 Sources:
Kessler, David. From http://grief.com/the-five-stages-of-grief/
Harley, Willard, PhD. From http://www.marriagebuilders.com/graphic/mbi8121_trust.html
Nussbaum, Martha. From: https://www.brainpickings.org/2016/05/03/martha-nussbaum-anger-and-forgiveness/
The Greater Good Foundation. From http://greatergood.berkeley.edu/topic/forgiveness/definition
Gregoire, Carolyn. From http://www.huffingtonpost.com/2014/04/10/scientific-proof-that-the_n_5110179.html