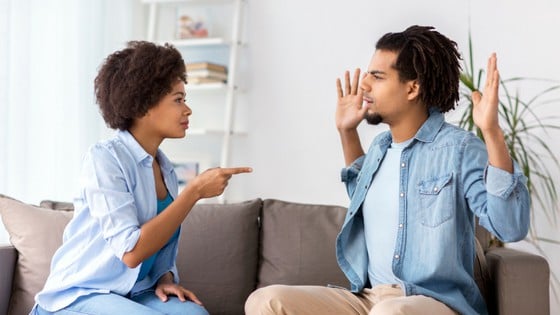 By Sarah P.
Sometimes people think I am too hard on the affair partner. There is a backstory as to why, but since people who read this blog do not know me, I have hesitated sharing all of it. After all, the lives of other people are not TV shows where we sit back and gawk.
Sometimes readers (not commenters or members) might read these blogs to gawk at the lives of others – any of our lives – those of us who leave comments and wonderful advice on the blog. But, we are all real people and I wanted to re-affirm that.
But, the shame of being judged has caused me never to tell all of my own story to the world. There were events that occurred that were more traumatic than what I have already told. These traumatic and (untold) events have influenced and continue to influence my perspective.
Regardless, I wanted to explore the fine details of who takes the blame for infidelity. I want to clear a path for a new way to both perceive adultery and help people recover from it.
This post is a culmination of beliefs that need to be thrown out (the old way of thinking) to be replaced with a new way of thinking that is founded in solid psychological research, accountability, and empowerment.
A fair warning: this post will contain straight talk about sexual relationships and a lot of other uncomfortable things. The more emotionally difficult the topic gets, the more satire I will use.
What is satire?
Satire is a genre in which vices, follies, abuses, and shortcomings are exposed. Satire is meant to be humorous while drawing attention to real issues in society. Its purpose is to deliver constructive criticism or commentary by using wit or humor.
For example, my oldest (a teen) watches video game streamers online. My oldest is all-too familiar with infidelity because my teen was the one to counsel friends whose parents were divorcing due to infidelity.  I only found out all the details recently. In this case, the apple does not fall from the tree.
Today my teen was watching a male, video game streamer who announced his girlfriend was having a physical relationship with his best friend. Obviously, the male streamer dumped both the girlfriend and his best friend.
But, in concluding the story, the video game streamer said:
"Cheaters are just like pennies. They are all two-faced, they are always dirty and on the streets, and eventually they find themselves in someone else's pants."
Boom. Or, do I say, cha-ching?
That is satire.
Both the streamer's commentary and my comment about cha-ching, which implies cheaters are for sale and concludes if cheaters are for sale, they might just belong to the oldest profession in the world. (In case your parents never told you what that profession was, it is called prostitution.)
I have also experienced the devastation of infidelity. Unfortunately, I have also experienced devastation over many other things, such as an inherited and rare genetic disease that leads to bouts with hospitalization.
All of that stress and heartbreak turns into a big monster. I have two ways to let it out: crying for days on end or finding ways to laugh for days on end. Regardless of the satire that I write, I have never done any of the following in real life:
I have never hit anyone… I have never even spanked my children.
I have never said anything truly unkind to another person about who they are. Since I counsel, I have to point out traits and patterns of behavior, but those are SEPARATE from the person. I respect people unconditionally. That is, unless they are sociopaths… in that case, I stay as far away as possible.
I have never cheated on anyone and took great pains to ensure whomever I dated before marriage did NOT have any kind of girlfriend… not even a casual one.
I have never gotten physical revenge on anyone because it is the wrong thing to do. However, it also ties you to them from the perspective of karma. Yikes.
I love all animals and children unconditionally. Spiders go outside. Spiders bite and I do not fault them for it, but since I know their character, I put them outside so they can peacefully make a home in a nice tree.
However, I do not love all adults unconditionally if they have no insight and continue to actively destroy the lives of another people. Those people are like the "money changers" in the Temple. Like Jesus, I start throwing tables when these people enter the room. (Satire.) In all seriousness, I just take great steps to avoid them.
Here is one detail I have never told until now that gives insight into why I am so hard on my ex. This horrendous situation with my fiancé and the other woman did NOT come at a time when people might be able to say they were too young to know better. My fiancé was over 30 years old and the other woman was over 40 years old when all this happened. (I have no issue with younger men and older women. If older women have younger boyfriends/husbands, they get a high five from me.) What I was trying to convey was my ex and the other woman were not at an age where people could say, "maybe they have some growing up to do." If someone has not gotten the idea of how to treat others by their mid-twenties, they never will, unless they seek therapy.
I also judge cheaters and the people who knowingly engage with cheaters in an attempt to destroy families. These people are adult bullies. Uncovering what adult bullies do (cheating) and giving them the mouthful they signed up for is not bullying. It is called fighting back. Bullies, cheaters, and spouse poachers do not pick on tigers. They only pick on the docile people of the world. I used to be docile and that docility caused me to lose the life I thought I was supposed to have. I am still docile UNTIL cheaters and spouse poachers turn up. Then, I become like Katy Perry in the video Roar. Also, Katy Perry is a lot younger than me.
Spouse Poachers: When it's open season on your husband, you need to have a plan
False Beliefs
Here are the false beliefs that belong to the old affair narrative that we are going to throw out:
If a husband cheats, his wife caused it.
If a husband is not getting it (sex) at home, he will find it somewhere else and no one can blame him.
If a wife strays, her husband does not know how to provide for the family or for her.
Single or married people who knowingly have sex with married people are victims. WRONG. They are victimizers right along with the married person.
When people are cheated on, they are not allowed to blame the other person or their spouse.
Boys will be boys.
When people are cheated on, they are not allowed to verbally rage about the other person and their spouse. (The operative word is about and sometimes it is okay to rage at the wayward spouse.)
Truly kind people never swear or do unusual things on or after D-Day.
When people are cheated on, they should just "get over it" in less than 30 days after D-Day and move on.
Cheating is not a big deal—everyone does it.
Married people who cheat are kind people who took a detour.
Other women are equivalent to wives in terms of their victimization. (WRONG. The other woman is someone who victimizes the wife.)
The other woman is a nice person and it is the wife's problem for not understanding that.
People have affairs because they found their soulmate (who was not their spouse.)
People have affairs because their "spouse made them do it."
I was having a conversation the other day with someone and it dawned on me why Western culture is one that is famous for blame-shifting. If someone commits a terrible act against another, they find a way to blame their victim and others blame the victim with them.
Anthropologists call this scape-goating. Instead of cultures making individuals accountable for their behavior, they find a convenient scapegoat so that a perpetrator does not have to be held accountable. The scapegoat gets blamed instead.
In Western culture, people used to say, "The devil made me do it." But, this is just another form of scape-goating.
The other day, the root of scape-goating and not taking accountability occurred to me. It goes like this:
One day a man walked in a beautiful garden and had a wonderful life in paradise, but became lonely. Soon a woman arrived and the man and woman played in their jungle paradise together.
The woman was a natural explorer and liked to explore all the wonders in their garden of paradise. One day, she struck up a conversation with a stranger. The stranger was an expert on all the flora and fauna located in the garden.
The stranger gave the woman a tour around the garden and they soon arrived at a beautiful tree. The stranger told the woman that the fruit from this tree was not only delicious, but that it would give the man and the woman a mental upgrade so that they could know everything there is to know.
The woman took a bite of the fruit and brought some home for dinner. Her husband also ate some of the fruit and they both got the same mental upgrade.
Soon, the entity that created and oversaw the garden arrived and noticed the man and the woman had eaten fruit from the fruit tree that provided mental upgrades.
The entity got angry and asked the man and the woman what happened.
The man said, "My WIFE made me do it."
The wife said, "The green stranger made me do it."
 And the green stranger said, "I was just minding his own business until the nosy humans arrived and wanted to be know-it-alls."
All three of them were kicked out of the garden and forced to live hard lives. They taught their children to blame others for their behavior and that is what happened until someone came along and said each must be accountable for his or her behavior.
Now, it is time to for people to take responsibility for their part of infidelity—and the accountability falls on the wayward spouse and the affair partner.
So it is time to throw out false beliefs that place blame elsewhere. It is time for a new way to think about affairs based in accountability.
But, now it is time for a satirical story that is supposed to make you laugh, but that also instructs you on the warped thinking that can occur during infidelity.
Adult Story Time: GoldiChild, the Three Bears, and Beds
Let us talk about the reason why I believe the other people who have consented to destroying a relationship get part of the blame. Notice again, I used the word "part" and not "full." 
There is this prevailing myth that the other person, like GoldiLocks, is just someone nice who lost his or her way in the woods. 
These (allegedly) really nice people had packed a picnic lunch of cucumber sandwiches (without the crust), petite-four cakes, scones, cream, and a nice thermos full of black tea with cream and sugar. They were minding their own business and they were on the way to a castle for high-tea on the lawn.
Some people still believe these GoldiChilds were out in the forest taking an innocent stroll while a choir of adorable singing birds flew through the sky and sung a sunny song about only being as big as your dreams.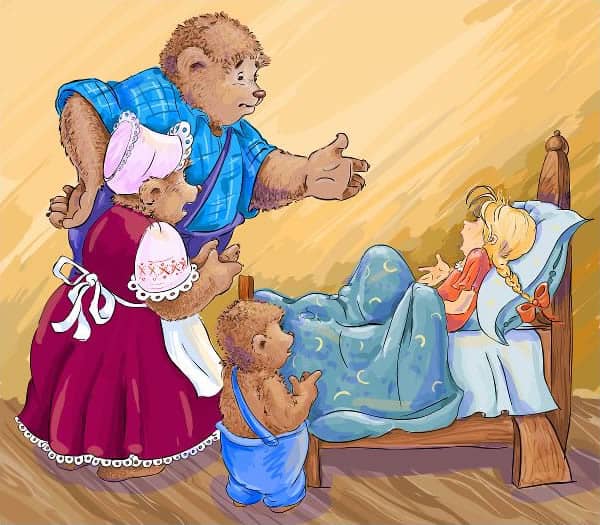 Now, those birds were given a reality check by the swift-running Peter Rabbit!
Back to GoldiChild, since this is not Peter Rabbit's story.
So there was GoldiChild, minding her own business, while a bunch of singing birds came along, and caused her to take the wrong fork in the road.
Plus, GPS sometimes does not work in forests.
After taking the wrong fork, GoldiChild saw a simple, thatch-roofed cottage in the clearing.
That was the beginning of the horror story for the three bears: Mommy Bear, Baby Bear, and Daddy Bear. These three docile bears lived quietly in the woods, minded their own business, and were a happy family of three furry and quiet bears.
GoldiChild saw their house and said to herself, "This house is nothing like the Queen's castle, but is a new and unexplored thing."
GoldiChild liked new things.
She had never seen the cozy cottage before and was intrigued by what goodies might be inside.
GoldiChild let herself into the thatched house while Mommy Bear and Baby Bear were walking in the forest, with the hand-woven baskets they had made, and they were picking wild huckleberries.
It was huckleberry season and the three bear's favorite dessert was Mommy Bear's huckleberry pie.
Note: If you would like the recipe for Mommy Bear's Huckleberry Pie, just email Sarah P. because Sarah P. is a friend of Mommy Bear and they trade recipes. Unfortunately, Mommy Bear does not have email in her thatched-roof house, or she would be happy to share it herself.
Back to Mommy Bear's story horror story…
It was a beautiful day, the sun was out, and the huckleberries were ripe. Mommy Bear and Baby Bear were out picking huckleberries all day long so that Daddy Bear could have a day alone in his man-cave.
GoldiChild saw the thatched-roof house and since GoldiChild was a nosy person, she walked into someone else's house to explore. Note that GoldiChild was actually a 30-year-old woman in denial about her age.
GoldiChild smelled something delicious in the house.
Sure, the house did not belong to her, but something smelled delicious and GoldiChild needed to know what that delicious smell was.
GoldiChild entered a beautifully-decorated, Tuscan-style kitchen and saw there was something baking in the oven.
Why it was one of Mommy Bears famous lasagna's.
GoldiChild decided to take the lasagna out of the oven and she proceeded to eat all of it straight from the pan.
GoldiChild and Garfield are actually the only two entities known to humankind who can finish enormous pans of lasagna in 30 seconds and all on their own.
GoldiChild was really tired after she ate the entire pan of lasagna. She wandered upstairs looking for a bed.
First, she entered Baby Bear's room and laid down the bed. The bed was too small and GoldiChild felt she deserved something more elaborate.
So, GoldiChild went to look at the other beds.
GoldiChild spotted the guest room, but she kept going because she believed she deserved the best.
On her way to looking for other beds, she noticed there was a very tall and handsome Daddy Bear asleep in a beautiful, king-sized bed.
GoldiChild said to herself, "A bed fit for a king is better than scones on the queen's lawn, so I will take it for myself."
GoldiChild removed all of her clothing because she got too hot if she wore clothing to bed.
Then, GoldiChild crawled into bed with Daddy Bear.
When Daddy Bear sleepily rolled over, with his eyes closed, he accidentally pawed at GoldiChild.
At that moment, GoldiChild realized she had just found her soulmate. He had such big and strong paws!
It did not matter that Mommy Bears' clothing, perfume, and even Mommy Bear and Daddy Bear's wedding photo was above the bed, GoldiChild did not believe such things should come between soulmates.
GoldiChild pawed back at Daddy Bear who was still half-asleep with his eyes closed. Daddy Bear pawed some more. GoliChild pawed back even more briskly. Then, Daddy Bear pawed back quite intentionally.
Daddy Bear was definitely in the mood for something and GoldiChild said to herself, "Bear or human, it does not matter. A soulmate is a soulmate and being a different species should certainly NOT stand in the way of true love."
Daddy Bear and GoldiChild pawed vigorously for about a half an hour. Exhausted, they both fell asleep. (Daddy Bear had never opened his eyes to see what he was pawing at.)
When Mommy Bear and Baby Bear came home, Daddy Bear was not in his man-cave and there was a pan of empty lasagna on the counter.
"That's strange," Mommy Bear thought. "He only takes a slice and leaves the rest for us."
So, Mommy Bear wandered the house looking for Daddy Bear while Baby Bear stood at the kitchen sink and rinsed and dried the huckleberries.
Suddenly Mommy Bear screamed a scream like none before.
She found Daddy Bear and a naked, human female in her marital bed.
This scream woke up GoldiChild.
GoldiChild looked up at Mommy Bear and said, "Could you keep it down? Me and my soulmate are taking a nap."
Mommy Bear yelled, "But, he is my husband!"
And GoldiChild yelled, "That does not matter because I am his soulmate."
And Mommy Bear yelled, "Did you eat all the lasagna?"
And GoldiChild yelled, "Duh! Would you just shut up? I am trying to sleep!"
And Mommy Bear roared a roar that had never been roared before.
That roar that had never been roared before woke up Daddy Bear.
He looked at his wife, Mommy Bear, and noticed she was not in bed. Then he looked to see who was in the bed with him.
Daddy bear said, "What? How did I get here?"
And GoldiGirl said, "You got here because we are soulmates."
Mommy Bear roared, "Is this true that this human is your soulmate?"
And GoldiGirl yelled, "Don't judge interspecies love! No wonder he loves me more than you. At least I am open minded."
At that point, Mommy Bear hit Daddy Bear over the head with an iron skillet and grabbed GoldiChild by her hair and threw her out the bedroom window along with her clothing.
Mommy Bear hoped Baby Bear did not see what had just occurred because it would be too traumatic for her cub.
After that, GoldiChild did all kinds of things to harass Mommy Bear and Baby Bear. 
Mommy Bear sued GoldiChild for alienation of affection and for breaking the laws of common decency: it does not matter if your soulmate is a married man or a married bear, married is married and married is off-limits.
Thankfully, Mommy Bear lived in a state that recognized alienation of affection and won.
Daddy Bear, Mommy Bear, and Baby Bear are still a family, although GoldiChild still hides in the bushes and stalks them anytime she is on her way to the castle lawn.
End of satire…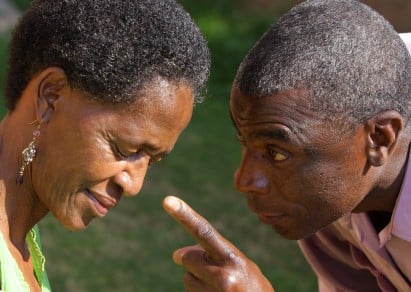 So, let's analyze this situation.
Let's suppose a person in the woods is lured by "goodies," eats the goodies, and tries out all the beds until he or she finds the right bed. It does not matter (to them) that the marital bed they found themselves in belongs to someone else–that someone else would be the betrayed spouse.
But, GoldieGirl or GoldieBoy could not be bothered that the bed they are sleeping in belongs to a betrayed spouse. They are tired. It takes a lot of work eating other people's goodies, sleeping with other people's spouses, and then sleeping in other people's beds.
GoldieGirl and GoldieBoy do not see people (or bears)—they just see their own needs and how to use others to get those needs met. It does not matter if their use of people breaks up families and causes unspeakable trauma, the GoliChilds of the world continue to see their own needs.  
If GoldieGirl or GoldieBoy is confronted, he or she will blame the spouse-poaching scenario on the fork in the road and broken GPS. Indeed, their GPS is broken—their moral GPS. Also, forks in the road (and forks on the table) are not living or sentient beings—they cannot be blamed.
Since most readers do not know me in real life, the alternative-universe of GoldieGirl and GoldieBoy was meant to make you laugh. It was meant to be satirical, not literal. Also, the fact that Daddy Bear was asleep the whole time was metaphor for the affair fog.
However, spouse poaching is quite literal.
A caveat before I begin: spouse poachers exist and genuine spouse poachers are truly cruel and selfish human beings. However, they are not a large percentage of the population. But, since our global population is heading for eight billion, millions of spouse-poachers exist. I suspect true spouse poachers qualify for a diagnosis of malignant narcissism, which is not actually a diagnosis.
Someone with the qualities of a spouse-poacher would likely be diagnosed as a sociopath with narcissistic features. But, I like the term malignant narcissist since it has been a common term in online communities dedicated to healing those who are abused by cluster-B personality types.
You are very fortunate if you came across an affair partner who was more or less passive in his or her relationship with your married spouse. Once these passive affair partners realize there will be a big fight ahead, they generally move along.
Besides, people who have affairs with married people generally have several different people in rotation, in case the married person stays with his or her family.
I always laugh out loud when a wayward spouse discovers their lover has several lovers. It turns the tables for the wayward spouse when they realize their affair partner is not monogamous. They are cheating and being cheated on at the same time by their lover—the ultimate irony.
Let's use a fictional example of how the life of a female spouse-poacher might look:
Imagine a single, spouse-poacher named Little Lisa.  Little Lisa has sexual encounters with Married Man on Monday, Tim on Tuesday, William on Wednesday, Theodore on Thursday, Fred on Friday, and Sam on Saturday. Sometimes Little Lisa uses Sundays as a day to spend time with Jesus. You know Jesus: he is the handsome, young Puerto-Rican man who attends Lisa's church.
When Married Man on Monday finds out about the six other men, he is generally shocked to his core. Sure, he can cheat—but he is devastated when he finds out he was no more than the Married Man on Monday to Little Lisa. If the Married Man drops out, Little Lisa has six more men to keep her entertained and will be happy if more men come along.
Infidelity as a Crime
I wanted to talk about culpability for a moment and discuss it from a legal perspective. There is a logical reason I assign half of the blame to the other person. When the other person knows they are involved with a married person and said married person met the other person while married (and not separated) and the other person continues to fuel the affair, they have some culpability.
I will explain.
Imagine your marriage is a bank.
And marriage is a type of bank due to shared assets, even though it is not normally referred to as a bank. That would not be as romantic and maybe people would think harder about with whom they share their bank.
Caveat: I am not talking about betrayed spouses. No one can predict if he or she will be betrayed. I am merely pointing out that a relationship might be less shiny and exciting if people thought of it as a bank.
After all, there has never been a romance novel written that takes place solely in a bank. It is great if the leading man is a handsome billionaire, but it is more fun for the fictional leading lady to get to know him at sunset while they both ride horses on a beach.
Regardless, since almost all long-term marriages involve assets and since affairs affect said assets, let us pretend marriage is a bank.  (I lost a new home and all the money I had invested in it. After the break-up, the HOA got sued and directly affected the sale price. So, I never recovered all the money I had put into it.)
So now that you are imagining marriage as a bank…
Imagine your spouse met someone, developed a relationship with them, and realized they would be a perfect partner with whom to rob a bank.
The other person thinks it is a great idea to rob the bank and excitedly develops a plan on how they (the spouse and other person) will rob the bank together. Then, the other person and the spouse rob the bank together and the other person even drives the getaway car. The other person drives the getaway car to ensure that the spouse does not have second thoughts about the bank robbery.
If these two people actually robbed a real bank together, they would be seen as co-conspirators to a crime and they would be put in jail while they awaited their trial. It would not matter if they were lovers—it would not matter "who started it."
The only thing that would matter is that they planned to rob the bank, robbed the bank together as equal partners, and one person drove a getaway car to ensure there was no going back to return the money.
Let's look at who did what, if it involved consent, and how those actions affected a situation.
Note: the other person/lover cannot consent to a relationship with a married person if the married person carries on a double-life and takes great pains to reinforce the idea they are single.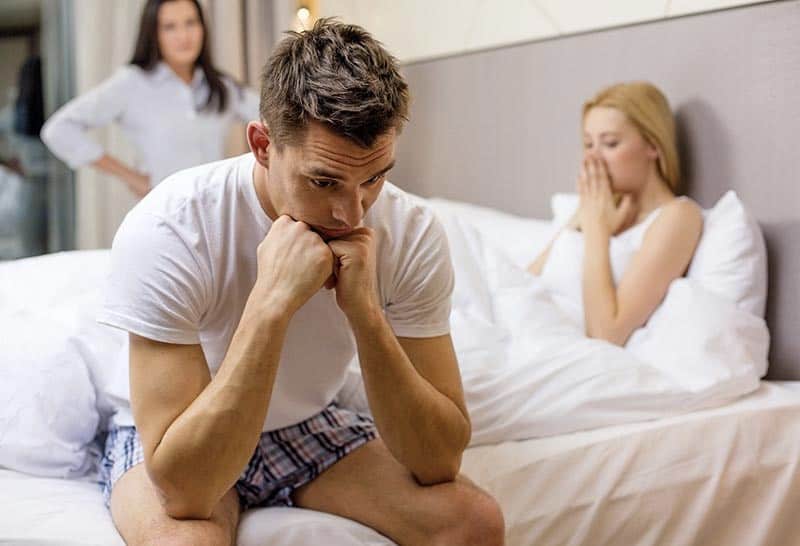 Conned
One time there was a story in the Huffington Post about a single woman who had been conned. My heart broke for this woman and what she went through. Unfortunately, I forgot who wrote it, but I remember the story.
The story went something like this: there was a single woman living in NYC and like most people, she was looking for love and marriage and she was dating other single men. She started dating a single man in NYC whom she grew to love. She spent many nights in his studio apartment with him and they practically lived together for a period of time. He had a great job, he loved her, and she believed this man could be "the one."
Eventually, she took him to meet her large group of friends. Her friends all gave him the "thumbs up."
This man proposed to the woman and she enthusiastically said, "Yes." But, it was (not) her fairy-tale moment come true.
Soon after, this woman's phone rang and she answered it. There was a woman on the other end of the line and she wanted to speak to her husband.  The woman on the phone informed the "fiancé" that the man she had been dating was married and had children.
The fiancé literally put the wife on speakerphone so the man could hear. The man continued to lie to his fiancé and told her that there was a woman out there pretending to be his wife. He explained it was not his wife calling; it was a woman who spent her day pretending to be his wife calling.
Fortunately, the fiancé did her homework and figured out the man was always married, had children, and had been living a double life. He had a regular home in New Jersey and a studio in NYC.
The studio was tailored to look like a bachelor pad and he even had burner phones and laptops. He was serious about maintaining the smallest detail of the illusion that he was single.
I cannot help but wonder what kind of marriage a man would have if he invested all that time and energy into his wife and his children. It could be a fulfilling marriage. But, instead he chose to spend all of his free time creating a seamless double life.
Of course, the fiancé talked to the wife and broke up with the married man. My heart sank for this woman. She had genuinely thought she was dating a single man and thought she would get married to him. I cannot imagine how she felt when her engagement turned out to be an elaborate con. It's a nightmare situation for any woman.
This woman is NOT "the other woman," even though she had an emotional and sexual relationship with this man. (We are giving her the benefit of the doubt that she is telling her the truth. I do know of others who have been conned and none of these women were easily fooled.)
To be the other woman or the other man, a woman or man needs to fully consent to a romantic/sexual relationship with a person who is married (and not separated.) In this situation, the husband is 100% to blame because he had created the illusion of being single.
The 'Bad' Spouse
Then, there are women who are seduced by married men and consent to a relationship with a married man hoping the man will leave. In these cases, the married person starts it, but the other woman or other man keeps it going. Perhaps the married person lies to their lover and spins complete lies about his or her spouse in order to make himself (or herself) look like a victim.  Nonetheless, it does not change the fact he or she is married.
I have heard a lot of very moral women say they will NEVER date a married man. But, then they announce the caveat. The caveat is this: if the wife is withholding a sexual relationship from him and being a bad wife to him, then the wife deserves her husband to cheat.
What is a bad wife anyways? If a bad wife means a wife is not 100% perfect, everyone could meet the criteria for a bad wife. That would also imply all men could be bad husbands, since no one is perfect. And if spouses can cheat because they have a bad spouse, everyone can have an excuse to cheat.
I have explained to many a woman that a man who is willing to cheat – that is knowingly and willingly breaking his marriage vows – is probably an unreliable person in terms of the truth. I try to explain to a person that if a spouse is willing to cheat on his/her spouse, he or she will have NO problem building up a fictional story of a bad wife or bad husband. That never seems to occur to people.
Why would someone who is willing to break his marriage vows tell her the whole truth?
In this case, the other woman still shares some blame. She knows the man is married and she assumes it is okay to have a relationship with a married man because he claims his wife is neglecting him.
Even if his wife is neglecting him, it does not matter. That is between a husband and a wife and it is up to the husband to let his wife know what his needs are OR he can also get a divorce.
In these situations, the other woman shares some blame because it takes two to tango. She is knowingly committing the act of adultery with a married man. It does not matter what she has made herself believe. It is the act that matters.
Back to the bank scenario… it does not matter if someone thinks about robbing the bank.
If they never commit the act of stealing from the bank, then nothing is stolen.
Look at people's concrete actions and not their words.
Also, for anyone who maintains the married spouse takes 100% of the blame when the other person is pro-actively consenting to do whatever it takes to destroy a marriage, remember this:
If one man or one woman does a sexual act alone, the human species does not continue and no one has an affair.
Until recently, it took one man and one woman to conceive a child, thus helping ensure the human race continues. Each person contributed 50/50 in terms of DNA and the sexual experience.
One person is to blame when one person commits an unlawful or immoral act alone.
If two people conspire and consent to committing an act together, each person shares 50% of the blame. Caveat: As said before, in order for someone to fully consent to an act, he or she must have full knowledge of what he or she is consenting to. You cannot give consent to an affair when a person takes great pains to have a double life and even pretends not to know his wife when she shows up at the door.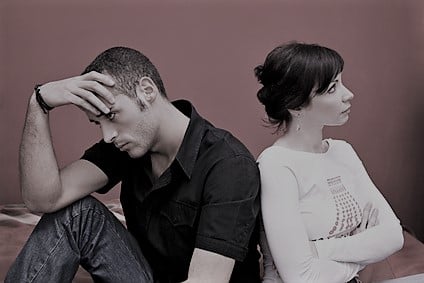 Back to spouse poachers…
Spouse poachers are usually female and pursue the men/targets and get a tremendous high from the idea of destroying another woman's life.
In my case, the other woman pursued my fiancé and would not give up until she poached him. Many different people told me this. She took tremendous pleasure in ruining my life even though she never met me and never saw a photo of me.
They told me the OW's behavior was so outrageous, no one took her seriously—they told me no one could be that evil or crazy, so they assumed she was drunk and saying stupid things. So, they did not tell me.
They literally could not see it happening and let it go. Then, it did happen and I got to find out after the poach.
In this case, the other woman and the wayward spouse share the blame equally.
The other woman in my case gave me the "parting gift" of stage one cancer. She probably wanted to thank me for allowing her to take my place in what was supposed to be my life. In fact, she even got to move into my home.
Is there a Miss Manners book for the etiquette involved in spouse-poaching?
I wonder if there is a checklist of all the formal etiquette that is required for poaching a spouse. I am pretty sure leaving parting gifts of some kind if STI or another is one of those "must have" events on the check-list.
Marriage requires something borrowed and something blue.
I am sure in the spouse-poaching world this something borrowed and something blue is giving the gift of STIs to the betrayed wife or betrayed husband. The betrayed wife/husband gets used, is forced to borrow an STI they never wanted and from a stranger, and this causes the betrayed spouse to be very blue indeed.
09/11/2001
September 11th, 2001, also marked a turn for the worse in my own life. From what I have pieced together, my fiancé and the other woman met each other in the late spring, but I think it became sexual for them during September 11th, 2001.
Several colleagues and I had been selected to work on an elite software team and we were sent to San Francisco to get training on the ins and outs of launching third generation phones.
On September 10th, we all sat in a restaurant overlooking the San Francisco Bay. It was around 11pm and I saw flickers of lights over the inky black water. I was feeling rather peaceful until a rather loud thought announced itself in my head: "Something bad is coming. Life as you know it is going to be changed forever. Don't get too comfortable."
I did not tell my coworkers who were drinking too much while I sipped on regular iced tea. I kept looking out the windows at the thick, black water and vague points of light. I felt two things: that our country was under attack and that some things were going to change in my life.
I am an intuitive empath and intuit things others cannot see. I could not understand why I was so upset. All I knew is that I felt so very shaken on the inside and I kept looking over the bay and had a vision in my mind of planes that were flying and either dropping bombs or flying into things.
I told myself this was completely irrational thinking and so I never said a word, not even to one of my close friends who was sitting next to me.
My mom called my hotel room around 5:50am Pacific time; before then sun had even come up. Her first words were, "Our country is under attack. Turn on CNN, our country is under attack."
I freaked out because of the strong premonition that occurred hours before. My mom could not quite explain what was happening so my hands shook as I located the remote and tried to figure out how to find CNN.
CNN was reporting live what was happening. I could not make sense of what I was seeing. It was so outside of my frame of reference of how the world worked, my brain scrambled to try to put together what was happening. My premonition had come true about planes hitting things, but where was it happening and why?
At one point, I thought I might be caught in a bad dream. It was too much to take in that I had the premonition only hours before and it was happening live on TV. I cannot describe in words how I felt. Instantly, the world became something I did not understand.
I got off the phone and banged on my friend's door. I ran in and told her we needed to turn on the TV. She and I were trying to figure out what was happening. Life felt surreal. We wondered if we were in danger, if there were more planes to come, or what to do. She we called all of our coworkers and told them to come to her room.
We all sat there together as we watched the Twin Towers fall. We were speechless and did not know how to react. We did not know if we should leave our hotel and start driving the many hours it would take to get home or if we should stay put.
By mid-morning, we found out training was cancelled. One coworker got ahold of a Suburban—the last vehicle left on one of the lots. Planes were not flying and the Amtrack schedules had been suspended.
I begged my friend to come with us, but she wanted to stay put. She was paralyzed with fear and refused to move. Three of us got into the Suburban and shared 16 hours of driving non-stop until we got home.
I arrived around 5am and ran into the bedroom to find my fiancé. I was so frightened and needed to be comforted.
He woke up with a frown and said, "What the hell are you doing here? You should have stayed in San Francisco until you knew more."
He was genuinely angry and I asked him why. All he said was that it was stupid for me to leave San Francisco.
Something was definitely wrong and I believe that was probably when he consummated his physical relationship with the other woman. She may have been sleeping in my bed with him and he probably had to shoo her out. If that were true, she would have had five days to stay with him in our home to see how well he and I had it.
She was an employee in high-tech (like me) but had managed to get to 40 years old without her own house or any real assets. I had real assets by the time I was 26 years old and one of those assets was the home we had purchased.
I believe September 11th was the day our country lost its innocence—at least in recent history. It was the first devastating event that I had to live through in my life-time.
It was also the first time I could intuit something was wrong in my relationship. However, after a couple of days back home, my ex started acting normally again. He continued almost another six months with the other woman before he made a decision.
Emotional Reasons the Other Person Shares Some Blame
In my case, the case of that featured a real spouse-poacher—the poacher wanted my bed and my head. A real spouse-poacher wants to target your married spouse and take down your marriage. In doing so, they will also very intentionally mess with your head. They get pleasure in doing so.
Even though it is hard for people with empathy to understand why someone would want your bed and your head, all I can say is that real spouse-poachers lack empathy. They think life is a game and they have chosen you to (unknowingly) be their opponent in playing the game of "steal the spouse."
They love the fact that you do not know because it gives them an advantage and you a disadvantage. They get a kick out of thinking about you, the betrayed spouse, going about your day and planning the future of your marriage, knowing that when they succeed there will be no future marriage for you- at least not with your current spouse.
Again, I wanted to state this is a small percentage of the population and is NOT meant to infer that all other women are like this. Fortunately, only some other women are like this. But, when they arrive, they arrive with the force of a hurricane and leave everything they have touched in shambles.
If you happen to cross paths with one like I did, you will never forget. You will end up blogging about your experience years later because you cannot stand the thought of another innocent spouse going through what you went through. You will feel it is your duty to raise the alert to all the spouses out there and in so doing, you will hopefully preserve families.
Contrary to what some say about divorce—"the kids will get over it!"—this does not appear to be true. Recent studies show that divorce shapes the generations to come in very negative ways. If you look at it holistically, you get a very bleak picture of a future emotionally broken society. In case you have not figured it out, the thought of betrayed spouses and the children from unnecessarily broken families drives me.
The New Narrative for Affairs: 10 Core Principles
At the beginning of this article, we mentioned the old narrative of affair recovery, in which many people still frame affairs. But, it's time to replace it with a new narrative. I have identified Ten Core Principles at the center of affair recovery.
But, before I jump in, I wanted to say that writing for the affair recovery world is a field fraught with land mines. Whoever visits EAJ does so in a time of tremendous grief. EAJ is absolutely biased towards the side of the betrayed partner and we assign blame equally to the wayward spouse AND his or her lover. It takes two people to have an affair.
My caveat is that the "other person" is never to blame if they wayward spouse takes great steps to hide the fact that he or she is single. No non-married person can consent to an affair if they are led to believe the person they are dating is single. Also, if a non-married person is in denial about the (married) person they are dating, denial is no excuse. The affair partner does not get blamed if any reasonable person in the same situation would also be fooled, due to a married person's double life.
Here are the new Ten Core Principles of Affair Recovery:
1) It takes two to tango and both affair partner and wayward spouse share blame equally (if the affair partner knows the wayward spouse is married.)
2) The betrayed spouse is NOT to blame. I have done tremendous amounts of research and have discovered a betrayed spouse cannot make another adult cheat or un-cheat.
3) A person who has affairs can control his or her behavior if he/she wants to do so.
4) A wayward spouse cannot blame-shift his or her behavior or his or her bad choices to make another person, including his or her spouse, responsible.
5) Wayward spouses and the lovers of wayward spouses must be held accountable for their behavior because they caused the disaster.
6) If a marriage is that terrible, having an affair makes the marriage 100 times worse. 
7) All of us have terrible experiences at one point or another, but having terrible experiences cannot be a valid excuse for choosing to harm betrayed spouse through infidelity.
8) People who choose to cheat with married people and attempt to break up marriages are emotional bullies and spouse poachers.
9) Betrayed spouses are allowed to verbally rage, swear, cry, punch pillows, confront their wayward spouse and even verbally confront the other person if they feel the need to do so. Note: if we judge betrayed spouses for acting less than perfect, we become a partner in their abuse and invalidation. We must validate the betrayed spouse's experience and never fault them for being less than perfect. We don't have to live through the pain—they do. 
10) The other person who knowingly chose to have an affair with a married person is not a victim. In having an affair, this person has helped victimize a betrayed spouse and/or his or her family.
In Summary
It is time to throw out the old way of thinking about affairs so that we can create a new model that empowers the victims of affairs: betrayed spouses, children, and even grandchildren.
We must not fall into the trap of blaming the betrayed spouse for the actions of another person. We must also support the betrayed spouse when he or she shows that they are only human, just like the rest of us. We cannot judge betrayed spouses for how they handle infidelity. Betrayed spouses are usually very kind people who have been thrown into a terrible and unusual situation.
People in unusual situations behave in unusual ways. French culture understands this very well, whereas cultures based on Anglo-Saxon value systems usually promote the blame game. It is time to end the blame game. None of us can help it if we are victimized and it is okay to do what we need to do (short of illegal acts) to recover from infidelity.
How has you week been? If you are a betrayed spouse, did others blame you for your situation? Did others ostracize you? What do you think about the new way of thinking versus the old way of thinking?