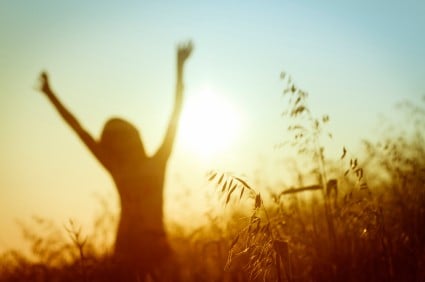 I imagine that almost every betrayed spouse has heard the words "get over it" or "move on" since discovering their partner's infidelity.  We do indeed talk a lot about "getting over an affair," but it occurred to me that perhaps we have never really defined just exactly what that means.
It certainly means different things to each of us, but I think that there are basic fundamental characteristics that are inherent in getting over an affair.  So what are they?  What do they look and feel like?  How can we better define it so that you know what to work towards and know when you get there?
First of all, I don't think it means that a betrayed will ever forget about the affair. I don't think it would mean that a person would stop being disappointed that the affair is now part of their marital history.   I don't think it means that every once in while you feel the sadness that something special has been taken away from you.  I believe all of those feelings will always be with us.
However, maybe it means that a betrayed just doesn't think about it as much as they once did, and when they do, the pain is only a dull ache rather than a deep blow to their heart and gut. Maybe they are able to go through their normal day and not be reminded every minute of the affair.  They surprisingly realize that it has been hours since the affair popped into their mind.
Getting over an affair may mean that trust has returned or that a person's confidence is restored.  It can mean that a person has rediscovered the emotional, loving state of security and certainty that he/she once had.
For many, the work that needs to be done after an affair involves restoring their dignity and overall sense of well-being.  It's getting to a place of reconnecting with the simple joy and life that flows through our veins, independent of anything – a simple appreciation of life.
I've come to learn – and firmly believe – that one will always feel some level of pain associated with the betrayal of an affair, but it is the time spent thinking about it and the impact a person allows this pain to have on the quality of their life that defines "getting over it."
In other words, the pain will be there if the thought of the betrayal should surface, but the time spent on the pain and the impact we allow it to have on our life will be minimal.  An analogy I found online puts this into perspective…
"It's like YOU are in the driver's seat and the pain from the affair in the TRUNK of a car. Once in a while, the pain will sneak out of the trunk and try to grab the wheel. But when you are healed, you have the strength to easily throw the pain back in the trunk where it belongs."
I had the pleasure of speaking with a person the other day who has been recovering from her husband's affair for a couple of years now.  For quite some time she was stuck.  She went from one therapist to another and felt that most were opinionated and/or trying to "cure" her based on their own objectives.
She eventually found a therapist that practices "Focusing."  She claims that this therapist while using the focusing techniques helped to unravel the inner feelings that were undermining her.  The "Focusing" process doesn't analyze the "story," but instead focuses on releasing a person from the pain and hurt of the feelings they are left with.
It sounded interesting to me, so I decided to look a little bit more into Focusing and how it might help a person with getting over an affair.
Getting Over an Affair With Focusing
The psychotherapeutic process of "focusing" was developed by Eugene T. Gendlin, an American psychotherapist and philosopher.  Focusing involves "holding a kind of open, non-judging attention to an internal knowing which is directly experienced but is not yet in words. Focusing can, among other things, be used to become clear on what one feels or wants, to obtain new insights about one's situation, and to stimulate change or healing of the situation." Source:  Wikipedia.
Apparently, it is a safe and gentle technique in which a person can learn to observe, at a safe distance, with a therapist or on their own, the painful experiences which have marked their life. It allows a person to re-enter a terribly painful past scene, freeze-frame it, and while they examine it, to put boundaries around whatever needs to be contained in order for them not to become overwhelmed anew by the trauma.  From here a person can reconnect with whatever needs they were unable to feel or attend to at the time of the experience.  By tuning in to their feelings and needs again, they can regain a sense of personal agency, identity and dignity.
We all know that living through our partner's affair is trauma.  And during trauma, every part of our being was taken over by the intensity of the experience. We spent all our energies on reacting to the situation – just trying to survive, and we couldn't really process everything at the time.  Yet the fallout from this still remains hidden in our unconscious mind. These unresolved instances can, however, be affecting our responses and behaviors on a daily basis. After trauma, a person can withdraw from the experience but still have a feeling of its presence in the form of background anxiety, anger or sense of powerlessness. Practitioners of focusing say that it is particularly good for releasing this bottled-up energy and helping to move the knowledge of the issue along – into better "focus." To me, it sounds very similar to meditation (or at least contains elements of meditation), but I could be completely off base.  Anyways, the developer of focusing, Eugene T. Gendlin, says in his book "Focusing," that there are six steps in the process:
Clearing a Space
Felt Sense
Handle
Resonating
Asking
Receiving
He says these steps can help identify and change the way thoughts and emotions are held within the body.  "Focusing can be done virtually anywhere, at any time, and an entire "session" can take no longer than ten minutes, but its effects can be felt immediately–in the relief of bodily tension and psychological stress, as well as in dramatic shifts in understanding and insight." You can get an explanation for each step, along with other information about Focusing on his website, The Focusing Institute.    Or, you can check out his book, "Focusing."
What does getting over an affair mean to you?  Also, we would be interested to hear some comments from anyone who has tried this focusing technique to aid in getting over an affair.