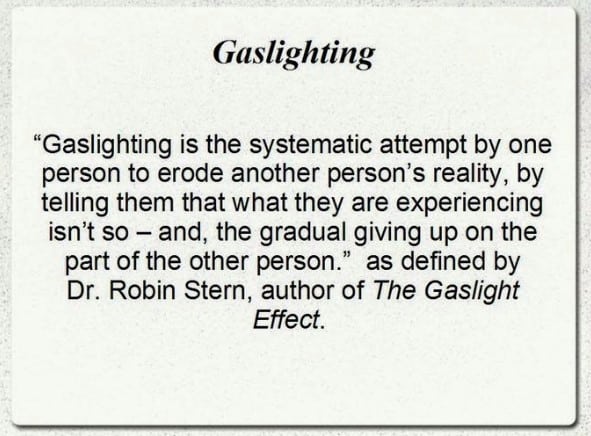 By Sarah P.
While the title of this post seems comical at first, this is a title that is quite literal since it hints at gaslighting. I wanted to revisit the topic of gaslighting and how wayward spouses use it.
It is essential to understand it and recognize it to preserve your equilibrium as a betrayed spouse. I also wanted to talk more about situations (like mine) where a wayward spouse refuses to acknowledge that the "other person" exists.
My ex was – and continues to be – someone who is completely invested in the idea of refusing to acknowledge there was "another woman" despite mountains of evidence and hundreds of eyewitness accounts.
Bigfoot has that too—but the evidence of the other woman is all over the internet in the form of photos of her and my ex. Then there is their marriage license and their children's birth certificates.
However, if you were to talk to my ex, he would not acknowledge her or his children. They are all figments of a collective imagination because he is invested in the illusion that he is a good person, but to stay invested in this illusion, he must deny the facts: her, their marriage, and his children.
I wonder if his children know they are "imaginary friends" left over from my ex's childhood. (Satire). Note: I truly wish no ill on his children; I am pointing out my ex's comical behavior, which is part of gaslighting behavior on his part.
Some are fortunate if their spouse (at some point) admits that the other person exists and that the other person is not a figment of a betrayed's imagination.
It is terrible when a spouse cheats, but it is more terrible when a spouse (despite mountains of proof) will do anything to make a betrayed spouse (or betrayed fiancée) lose their grip of reality.
This was what happened in my case—it was something my ex and the other woman attempted to do. 
Thankfully, they did not succeed.
Revisiting Gaslighting
Gaslighting is a topic that needs to be revisited frequently because I believe we need to be collectively reminded of it. We also need to be reminded that what our wayward spouse is doing is not some kind of collective illusion. That way if we experience it, if a friend or loved one experiences it, or if we see it happening, we can hopefully ensure a gaslighter does not succeed.
One time Doug and I interviewed a private investigator about infidelity. The investigator mentioned that he encountered men who would be caught in bed with a lover by the wife and the husband would say something to the effect of, "I don't know how she got here…the woman fell out of the ceiling." That is gaslighting taken to its fullest. The gaslighter knows his wife has two eyes and can see what is happening, so the gaslighter says the woman happened to fall out of the ceiling—because it was not his fault. "Strange women fall out of ceilings and into bed naked all the time," says every teenage boy when he is thinking of his ultimate fantasy.
But, wives know better than that.
However, if a wife is married to a gaslighter, he will refuse to admit reality, no matter how real it becomes. Finding another woman in bed with your husband is pretty real…and heartbreaking, and shocking.
Today I was thinking about the lengths my ex went to in an attempt to make me believe there was no other woman. The irony was that he was constantly bringing the other woman to events where there would be mutual friends and where she would tell her story of how she spotted him across a room, was determined to poach him, and succeeded. Aww, isn't that (not) an example of true love?
He also told everyone (except me) that the other woman had moved into my home. He and I worked together in the very same company and on the same floor. Coworkers were meeting the other woman a lot. However, he took great pains to make me believe she did not exist.
Wouldn't it have been easier for him NOT to bring the other woman to events where she would regal my coworkers with the details of how she took me down?
I have never cheated on anyone and so it is impossible to imagine what was going through his mind.
But, if he wanted to keep the other woman a secret, all he had to do was NOT bring her to events and NOT move her into my house. That's it.
He could have moved into an entirely different house with her, which was one thing I was working on with my attorney. But, my ex would not accept moving and he gave no reason.
To hear it from him, there was certainly NOT another woman in my house refusing to move. In fact, she certainly did NOT help make his decision because she (the other woman) was off on the golf course with Bigfoot and the Loch Ness monster—who also do not exist, let alone play golf. (Satire).
People who cheat and then gaslight (even though there piles of evidence as to their cheating) are not rational. This is why I will never understand it, but I will keep trying.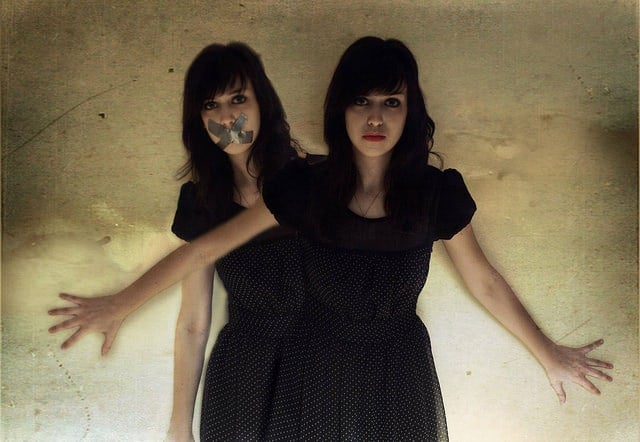 Orchestrating the Grand Illusion
I wanted to examine a small part of this story to illustrate what gaslighters do in order to orchestrate the grand illusion.
Gaslighters (like my ex) often foil their own plans. However, if they do not manage to foil their own plans, I still would like for anyone reading this to recognize gaslighting.
My ex gaslighted me to the point where I started to think he was dating "the invisible woman"—as in the female counterpart of the "invisible man" who had to wear glasses, so that non-invisible people could see the invisible man instead of running into him. 
Since no one can see an "invisible woman," she is placed in the same category as other rarely seen figures such as Nessie and Bigfoot. My ex was hoping that if he told me often enough that she did not exist, I would start to believe it.
Over the years I have been tempted to ask my ex why he did what he did. That is, why couldn't he just have moved out and told me he had fallen in love with someone else? Why couldn't he just have apologized and left the situation gracefully along with all of his worldly affects? Why couldn't he leave my stuff alone?
However, such a confrontation would be futile because I truly believe he would tell me there was no other woman and tell me he remains a bachelor to this day. It would not matter if some people I know sent me his wedding photos – photos I did not WANT to see — but, that is another matter entirely. He married the other woman and they have children. People email me from time to time to tell me about it.
(By the way, I would actually never confront him because I do not want to talk to him let alone experience more gaslighting.)
I do not fault him for falling in love with someone else or marrying the other woman.
I fault him for how terribly he handled the situation, considering that he knew me so well. He knew I would have been very sad, but he knew all I would have asked was for him to move out, take all the jewelry back, let me buy him out, and I would have asked for him to leave peacefully.  That's it. No drama.
I have never been a yeller and have never touched anyone in anger. He knew that too. He knew the worst thing that would have happened was I would cry, look for a roommate, and try to salvage my investment.
I would not have told coworkers because he had already told them himself.
In fact, he told everyone but me.
The other woman liked to brag about her epic "take down" of me even though I had no idea there was a competitor. I had never even met her—not even among our circle of acquaintances.
One cannot compete if they do not even know they are competing.
My friends at the time would have told me to try to win him back, but I would have broken up with him. I do not do cheating and always broke up with boyfriends who had cheated in the past.
In the past, my friends told me to fight for a random boyfriend, but I would always walk away. When I dated and a man was trying to set up a situation where I would compete against another woman, I would walk away. In my mind, all I had lost was time and I refused to lose any more time over a man who needed more than one woman.
That was when I was single. My ex knew that. He knew that I would have handled the break-up very graciously and simply given him his part of the down-payment (which was not much) and asked him to move out. That would have been very drama-free.
To this day, I do not understand why he had to create drama. That is the big question—my ex knew I did not do drama. So why?
Why gaslight, why did he need to batter me, and why he had to lie, especially since he told everyone else the truth. I was not going to cause him trouble, so why, why, why?
I have never cheated, so I simply cannot get myself in that frame of mind.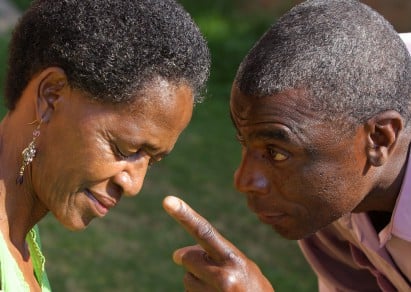 The Realtor
My ex apparently liked to find a way to turn every tragedy into lemonade. 
I was asking him via my attorney to leave (long after I had left) so that I could buy him out OR to agree to place the house on the market. I tried to get him to leave after I had to leave for my own safety.
My ex told my attorney that there would be no discussion about buy-outs or around the topic of a realtor because he had already hired the realtor.
The realtor my ex hired was married to my ex's then boss.
My ex was hoping that in hiring his boss's wife to sell the house, he would get a promotion. The boss had not talked about giving him a promotion if he did that—his boss knew that was illegal.
But, my ex assumed that if he hired his boss's wife, his boss would find a reason to give him a promotion. (Wink, wink, nudge, nudge). Note: This ploy did not get my ex a promotion—someone I knew said my ex ended up being laid off. But, my ex could not read the future and assumed that he would get a promotion from hiring his boss's wife.
I asked my attorney at the time if this was even legal and my attorney told me to let it go. In 20/20 hindsight, I probably should have let my attorney go. I am not versed in real estate law, but I find it a bit odd that hiring the wife of one's boss to sell a house (even though the other owner did not agree) is a bit suspect. But, my attorney told me to let it go. So, I let it go. And this was well before the movie Frozen came out that featured songs about letting it go.
Like any good gaslighter, my ex had called my attorney – after my attorney let my ex know that I had discovered the other woman – and the charade was over.
My ex called my attorney and spent the good part of a day convincing my attorney there was no other woman and it was a big misunderstanding.
He told my attorney break-ups are so difficult and it must have been so difficult for me to know he was moving on—and how he had such compassion for me.
Note: This was the same man (my ex) who physically battered me  (and did some other things) and then sped off in his car, so that it would have been impossible for the police to find him (on the off-chance I had called the police.) Instead, I was in too much shock to think clearly.
Here is an important point:  Gaslighters are invested in fooling their victim's support system so that the victim has no one to speak with who validates their reality.
This is why my ex was trying to fool my attorney. Luckily, many people had already met the other woman and were coming to me constantly to remind me of reality.
So, I let my ex put the house on the market with his boss's wife, the realtor. I knew the boss's wife since I had had dinner with her several times. She was likable, but obviously, he had gotten to her first.
The house was not selling and I told my attorney to tell the realtor and my ex that they needed to have an open house.
One of my friends was going through a horrific divorce at this time. He had been married to a cheating gaslighter.  His wife kept a detailed journal of her exploits with the handyman, the dry wall guy, the pool guy, the lawn care guy, and any other random guy that worked on their house remodel.
My friend took the journal, made photocopies of it, put the photocopies in various safe-deposit boxes, and then returned the journal to his cheating wife's drawer. He was clear-headed through his divorce, whereas I was barely treading water. (And yes, this is all open information.)
He had 'the proof' from the cheater herself in the form of her journal and so he knew the facts. Knowing the facts kept him sane.
At the time, my friend was a real estate investor and was always looking for properties in the area. He offered to go to the open house to see if my ex and the OW were trashing the house or if they were actually taking care of it.
What actually happened when my friend went to the open house surprised him.
He was the only one there at the open house. He started asking the realtor standard questions about the property itself but not about how it came on the market.
But, once the realtor started talking, she spilled the entire saga of the other woman and her takedown of me to my friend. I knew this realtor was a very chatty person and my ex had not counted on that—he was thinking about promotions. So, his realtor spilled the beans to my friend.
My friend got to see the OW's clothes in my closet, the photos of the two of them, the OW's stuff and my ex's stuff. My ex and the OW were certainly living together.
The realtor told my friend why she felt the house could be gotten for a bargain – because of the bad break-up – and how he should make a low-ball offer. My friend said the realtor talked about the idea that sometimes people fall in love when they are engaged to others and they should not be blamed… it's just how life works.
But, the thing that stood out was that the realtor who was supposed to sell the house told a stranger to make a lowball offer due to the dramatic break-up. (Realtors who have their client's interests in mind don't do any of those things.)
Once again, there was another person I knew who heard the entire saga of the other woman. What the realtor told my friend matched what many others had told me.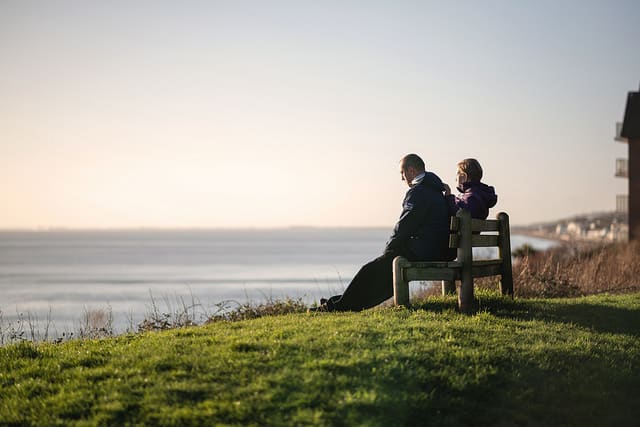 I had my friend talk to my attorney—just man to man.
Why did I do that?
Who knows.
Maybe it was because I was trying to keep my sanity and if my attorney thought my ex was a swell guy and kept repeating it to me, he probably would not have been invested in doing his job correctly.
My friend was happy to talk to my attorney. That got my attorney back on my side and my attorney kept repeating that he could not believe such a "nice guy" could do that. My attorney was not used to being 'conned' since he assumed people who acted nice were nice.
However, my ex was very invested in turning my own attorney against me and it had worked for a short time. My attorney kept saying out loud that he could not understand how such a rational guy could do such a thing.
My ex was attempting to gaslight everyone who was helping protect me, so that he and the OW could seize my assets and live happily-ever-after.
If I had it to do over again, I would have hired the meanest attorney in the state. I would have done many things differently like not getting involved with him. Ever. 
But, life sadly does not allow those do-overs and that is very unfair.
Since then, I have learned an excellent attorney is almost EVERYTHING— specifically in my state. The rules change from state to state and from situation to situation, so that might work for me may not work for others.
Betrayed spouses must be aware that gaslighters hope to infiltrate the realities of their victim's friends and family members. A wayward spouse who is cheating might plant the seed in his or her spouse's family that the betrayed spouse has been imagining things, has been misplacing things, has been forgetting things, or perhaps the betrayed spouse is depressed.
Note: Gaslighters will misplace their spouse's keys intentionally and then tell their spouse they are forgetful. It's a signature move. Gaslighters will also tell their spouse things and then claim these things were never said. Then a gaslighter will go and tell their spouse's friends that their spouse is forgetful.
That way if the wayward spouse is caught by the betrayed spouse, the wayward spouse will have paved the way for the betrayed spouse's support system to question the betrayed spouse.
People who are not gaslighters cannot imagine why someone would do this. It took me years to find a word for what my ex had been doing. I noticed my ex had been attempting to alter reality and it was intensely cruel, but I had no name for it.
After Dr. Robin Stern wrote The Gaslight Effect, the phenomenon had a name and thankfully the word gaslighting was filtering into self-help articles everywhere. I knew the experience was intensely painful, but had no name for it.
Trying to describe what was happening at the hands of my ex to other sane individuals was also difficult because none of us understood why anyone would do that.
I do not understand why anyone would do that either. I have come to intellectually understand that gaslighters want to do all kinds of wrong things to people they allegedly love.
But, I still cannot understand why. I cannot understand the motive.
Why would anyone want to victimize someone they love? Why would anyone want to victimize someone – like a betrayed spouse – who did nothing wrong?  Why torture someone?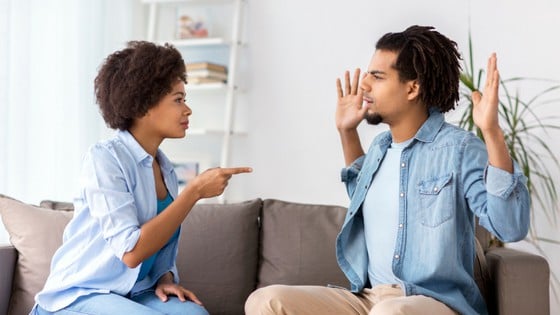 Why is Gaslighting So Dangerous?
Gaslighting is dangerous because it is meant to destroy the sanity of the target. If the gaslighter is a cheating spouse and the person being gaslit is a betrayed spouse, it is essential that the betrayed spouse has a group of people to serve as reality checkers for the betrayed spouse.
A cheating spouse gaslights with the hope of destroying any energy the betrayed spouse has to fight the situation.
Or, a gaslighter hopes to have the betrayed spouse believe the gaslighter's reality and thus believe there is no "other person." Just like the Loch Ness Monster and Bigfoot, the gaslighter wants you (the betrayed) to believe the other person is a mere figment of the collective imagination.
Also, if the cheating spouse can destroy the entire reality of a betrayed spouse, the gaslighter is sometimes okay with that. It puts the gaslighter in a position where he or she can control the betrayed spouse.
Some people do not have remorse and if a gaslighter is someone who cannot feel remorse at all, he or she will have no remorse if his target's entire reality is destroyed.
Setting out to destroy a person's sanity is a very cruel thing to do. It is such a cruel and powerful thing to do that this is a tactic used in situations with prisoners of war.
If you are someone who likes to read any kind of military history or if you read prisoner of war stories, you will recall that the goal of an enemy is to break the resolve of the POW to get information.
Often, breaking resolve goes along with breaking a prisoner's reality. Gaslighting tactics have been used on almost all prisoners of war, even if these tactics were not called gaslighting at the time.
Today, I was reading stories that occurred in the infamous Hanoi Hilton during the Vietnam War. American POWs were physically tortured so that they would provide information.
However, some POWs were also thankfully aware that they could not believe what their captors said or did. Many POWs realized that the captors were aware of how to use mental techniques to break the POWs.
Captors sought to create intentionally misleading situations to break a POW's reality, which often broke their resolve. With no resolve left, where is reality? What was someone fighting for and why? Often that is when many people give up.
In reading these stories from Vietnam, I realized that people can often withstand physical torture if they keep a positive state of mind or find ways to have hope.
However, it is the psychological traumas, the baits and the switches, the moving the goal posts, the smoke and mirrors, and other manipulation tactics that can break people.
I have noticed that wayward spouses at one point or another, will intentionally use gaslighting tactics. (Sometimes a wayward spouse will admit fault immediately, tell the truth, and this is wonderful when it happens.) However, most wayward spouses use gaslighting tactics at some point.
Unfortunately, some people have been in marriages where they have always been gaslit, well before an affair starts. Gaslighting is also a tactic all abusers use at one point or another.
Sometimes betrayed spouses are unaware they have been in an emotionally abusive marriage for their entire married lives. Some betrayed spouses become aware after they start reading about affair recovery.
Gaslighting is serious business and has serious consequences.
Here is an addended article about gaslighting from an author named Alex Myles:
"One of the main reasons we may not recognise it is that many of us will fail to believe those we trust and love are capable of manipulating us (it is this denial that keeps the dynamic going.) Also, the gaslighter will most likely be highly skilled at covering their tracks, keeping things subtle and being a skilled master or mistress of deception.
Gaslighting is one of the most extreme, dangerous and effective forms of emotional and psychological abuse and is mostly carried out intentionally. Gaslighting is a game of mind control and intimidation that is often used by narcissists and sociopaths as a way of controlling, confusing and debilitating someone.
The whole intention of gaslighting is to decrease someone's self-esteem and self-confidence so they are unable to function in an independent manner. The person being gaslighted will eventually become so insecure that they will fail to trust their own judgment, their intuition and find themselves unable to make decisions.
Eventually the victim will become so unsure of what reality looks like that they become completely dependent on their abuser. The abuser will appear to the victim to be the only one to have a clear grip of their mind and also of what is going on around them.
The abuser will systematically and frequently withhold information and then deliberately alter facts to disorientate their victim.
They may also remove things from certain places and then deny doing so to destabilize and confuse the other person.
The abuser will refrain from mentioning specific details and then convince the other person that they had told them, so the victim thinks they are losing their memory or their mind.
They may say things to make their victim feel insecure and jealous, for example, deliberately mentioning a certain person in a way that makes it sound as though there is more going on behind the scenes. When the victim questions this, the abuser will accuse the victim of having trust issues and this will falsely further confirm in the victim's mind that they have serious insecurities and also, that they are extremely paranoid.
The abuser will make up very convincing lies to deliberately upset the other person and then call them names, mock them and put them down for getting upset and for overreacting. The abuser will also make light of anything that the victim feels is important to make the victim's opinions, life-choices and thoughts seem juvenile or that they are inferior to their own. It is likely that the abuser will laugh at or sneer at their victim, but when questioned, convince their victim that they were imagining it.
The victim will have no idea what to do to please or satisfy their abuser, and will often try anything to win over their abuser to regain the affection that was shown in the beginning stages. By now though, it is far too late. Any little amount of respect that the abuser had for their victim will have been completely depleted and it is very unlikely that the dynamic will change again.
The abuser will often walk away from their victim leaving them with a deep sense of frustration, shame, guilt, anger and often riddled with anxiety and depression. The victim is usually left in a vortex that they will struggle to climb out of."(1)
This author did a great job of articulating the details of gaslighting and why it is so harmful to the recipient. I believe that anyone going through an affair needs to be aware of these tactics so that they can stay clear-headed.
Do you have any gaslighting experiences where you were the recipeint?
Sources:
Alex Myles. Gaslighting: The Mind Game Everyone Should Know About. From https://www.elephantjournal.com/2015/08/gaslighting-the-mind-game-everyone-should-know-about/