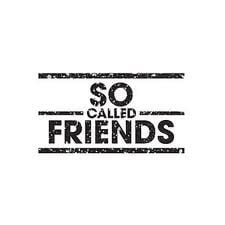 The other day we received the following email from a reader…
"I haven't seen anything on what friends are safe for the cheater.  I believe some of my wife's friends knew of her affair, may have been supportive, facilitating even enabling meetings.  She refuses to talk, says her friends are none of my business and calls me controlling for asking.  I tell her it's her choice, but if they facilitated the affair they are not a friend of the marriage and should be distanced. It might be helpful to write about this as many probably have the same question."
---
Most of our blogs to date that have dealt with the issue of friends have been geared more towards utilizing friends as a means of support for the betrayed.  Even then, they must be carefully chosen and must indeed be friends of the marriage.
What about when friends are actually enemies of your marriage?
Through our various discussions with people over the years we have heard of friends helping the cheater in three primary ways:
They were actually responsible for the introduction of the affair partners with the intent on them "hooking up."  The typical situation here is that for one reason or another, the friend doesn't like their friend's spouse.  We have also seen this scenario play out where the "friend" is actually a relative.
Simply knowing about the affair and being party to its cover up.  Many times the friend covers things up willingly, but we've also seen where the friend is put in this situation against their will and are now in a really bad position.
Letting their friend use their home to carry on the affair. 
I'm sure there are many other stories out there that could be added to this, but that is what we have heard – and can remember.  Please share any additional scenarios if you have them.
Regardless of how the friend helped the cheater out, they are not a friend of the marriage.  In my opinion, if a person is not a friend of the marriage – and a couple is trying to reconcile – then that "friendship" needs to end.  If there is no desire or effort for reconciliation it's probably a moot point.
To respond to the reader's wife and her stance that her friends are none of his business…I say BULL$#!+!
I feel that the she is still not ready to do everything to save the marriage.  She is still setting conditions that are not in the best interest of the marriage.  The cheater needs to understand that their actions have put them in a different situation then they have previously experienced, especially during their affair. 
They are no longer in the driver's seat and if associating with the cheater upsets the spouse they should do everything possible to listen to their wishes and begin to build trust within their marriage again. 
Cheaters do not realize how their actions have broken the trust in their marriages and they need to be aware that even though they may think that certain activities are trivial or silly, they can be major triggers for the BS. 
If these actions continue it hinders the recovery of the marriage.    There comes a point when the cheater has to think less about themselves and their "freedom" and more about whether they want to save their marriage and what they need to do to make this happen. 
Her stance more or less tells me that she is not serious about transparency and honesty and reconciliation.  To me, it's like being a cocaine addict and choosing to hang out with your dealer.  Nothing good can come of it.
About the nicest thing she should do is let her friend know that she is trying to rebuild her marriage and it is best that they no longer have contact with one another.  Heck, if she is a coward she can say that her husband is demanding it.  Hopefully, she will one day understand that this friend is really not a friend at all.
Another thing to consider if the friendship continues is that not only will it serve as a trigger for the BS, I feel that it will also serve to be a major trigger for the cheater (assuming the affair has ended).  That is to say, each time these friends get together or communicate, it would have to bring back memories and feelings of the affair and the affair partner.  It could possibly then be a catalyst for reestablishing contact with the affair partner, or at the very least cause issues with the cheater emotionally reconnecting with her spouse.
OK, I'm curious to hear your thoughts on this issue.  What if you were put in the situation where you knew of a friend's affair and his/her spouse was also a friend?  Would you help cover it up?  What would you do?