"Your life does not get better by chance, it gets better by change."  – Jim Rohn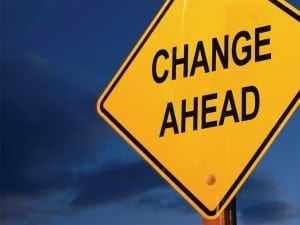 There is a common mindset that both parties involved have to change in order to survive an affair and fix the marriage.  While that is true, it is also true that you cannot change someone else.  You can only change yourself.  When you do so, quite often your spouse will follow suit and work at making his or her own changes.
Why would your spouse resist positive change in your marriage and what should you do about it?
There's a deep-seeded belief in our culture that people resist change, no matter what. But is this true? Do people really want things to remain status quo? Do we really not want things to change? If you look closely at human nature, it's not change itself we resist; it's change that's imposed upon us.
Think about it. We have no problem with change that we initiate ourselves. But when we feel forced or manipulated to change, then we resist with all our might.
Mort Fertel of Marriage Fitness suggests that your spouse may not be willing to change for the sake of your marriage right now, but that's not because your spouse doesn't want a great marriage. Everyone wants a great marriage. It's because if they're going to change, they want the change to be their idea. 
A complete stranger is more likely to get through to your spouse than you are. A chance experience or encounter is more likely to shake up your spouse than anything YOU could do.
Instead, try to let your spouse be himself for awhile allowing him space to make his own choices. Your effort to change your spouse is probably counterproductive. The chances are good that you're "in the way." You need to get out of the way and create the space for your spouse to choose to change. That's the only way it'll ever happen.
Often, a spouse will say that their husband/wife changed for a few days, but then returned to their old ways. That's because they never really decided to change. They were pressured. They were manipulated. And so it didn't stick.
If you tell your spouse what to do; it's a challenge. If THEY decide to do it; it's a great idea. You have to let it come from them. That's the only way it'll make a difference long term in your marriage.
Now you're probably thinking, "Makes sense, but isn't there anything I can do to encourage my spouse's choice?" YES, there is! You can be an inspiring example and let your spouse see how the choices you're making impact how YOU feel about yourself and your marriage.
Resist the urge to believe that your marriage won't change until your spouse "gets with the program." The love YOU feel is much more a result of what you do for your marriage than what your spouse does for it.
We tend to think that the love in our marriage is in our spouse's hands. But it's not. Love is a verb. And if we do it – if we love – then we feel love. The choice is yours.
Consider the love you feel for your children. Is it because of everything they do for you? Is it because they're such angels? Of course not. The love you feel for your children is a result of what you do for them. The love you feel in your marriage is a result of what YOU do too.
Furthermore, there's no better way to inspire your spouse to make the choice to change than to make that choice yourself.
Right now you may be thinking…"OK…Great stuff, good advice, but how do I make changes in myself?"
Now is the Time to Create Change in Your Life
Anytime is a good time to decide to make beneficial changes, but since we're about to move into a new year, what better time to start a program of change.  After all most of us tend to take some time every December or early January to reflect upon the year that has past, analyze events and occurrences during the year, make resolutions in areas that we feel we need to and try to create a plan to change ourselves for the better.
We promise to exercise daily and eat healthy.  We swear that we will never smoke again.  We cut up our credit cards in the hopes of never getting into debt again.  We want to be more productive at work.  These are all admirable goals but most of the time we fail at ever achieving them.  The biggest reason is that we simply stop performing the actions required to achieve these goals.  They never become habit.
We find an excuse to skip going to the gym for a day.  That day turns into a second day and before we know it, snowballs into completely blowing off exercise all together.  The problem then is two-fold…we don't benefit from all the great stuff that exercise and being healthy provides us, and we end up beating ourselves up about it, which can further erode our self esteem.
That seems obvious: if you don't keep doing a habit, it won't really become a habit. So what's the solution to this obvious problem? Find a way to keep doing it.
When you look at it this way, the key to forming a habit is not how much you do of the habit each day (exercise for 30 minutes, etc.), but whether you do it at all. So the key is just getting started.
Let me emphasize that: the key to forming a habit is starting each day.
What do I mean by starting? If you want to form the habit of meditation, for instance, just get your butt on the cushion each day. If you want to form the habit of running, just lace up your shoes and get out the door. If you want to form the habit of writing, just sit down, close everything else on your computer, and start typing.
Form the habit of starting, and you'll get good at forming habits.  We want to let the crisis created by the infidelity serve as a catalyst for positive change, but like me you have to take action.  This process will work whether you want to make physical changes or behavioral changes.
How to Start When You Face Resistance
Form the habit of starting — easier said than done, right? What happens when you wake up and don't feel like doing yoga or your beach body exercise DVD?
Let's first take a look at why you don't feel like starting. It's usually for one or both of these reasons:
You are comfortable with what you're doing, and the habit is less comfortable (it's too hard). We cling to the comfortable.
It's too difficult to get started — to do the habit, you have to get a bunch of equipment out of your garage, or drive 20 minutes to the gym, or go get a bunch of ingredients, etc.
Those are the main two reasons, and really they're the same thing.
So the solution is to make it easier and more comfortable to do the habit, and easier to get started. Leo Babauta from Zen Habits offers some ways to do that:
Focus on the smallest thing — just getting started. You don't have to do even 5 minutes — just start. That's so easy it's hard to say no.
Prepare everything you need to get started earlier. So if you need some exercise equipment, get it ready well before you have to start, like the evening before, or in the morning if you have to do it in the afternoon, or at least an hour before. Then when it's time to start, there is no barrier.
Make the habit something you can do where you are, instead of having to drive there.
If you have to drive or walk somewhere, have someone meet you there. Then you're less likely to stay home (or at work), and more likely to go — and going there is the same thing as getting started. This works because you're making it less comfortable to not start — the idea of leaving a friend waiting for you at the gym or park is not a comfortable one.
Tell people you're going to do the habit of starting your habit every day for 30 days. Having this kind of accountability motivates you to get started, and makes it less comfortable not to start.
Start with the easiest version of the habit, so that it's easy to start. For example, if you want to form the habit of reading, don't start with Joyce, but with Grisham or Stephen King or whoever you find fun and easy to read. If you want to start yoga, don't start with a really challenging routine, but an easy series of sun salutations.
Both Linda and I have taken this advice to heart.  When we got back from our vacation in early August, we made the decision to get back into shape.  Getting into shape to us means more than just losing a few pounds.  It also includes increasing our strength and endurance.
Since it had been awhile since we had done any strength training of any significance, we knew that we couldn't just jump right in and start pumping iron for an hour a day.  By doing that, we'd be so sore that we would stop right there and then.  Instead, we started slowly and simply got into the fitness habit.  We walked, hiked or biked at first.  Moderate distances and pace. Nothing too difficult.  The result was that we formed the fitness habit which has lasted and has escalated into more strenuous workouts over time.
Make it as easy as possible to start, and hard to not start. Tell yourself that all you have to do is lace up your shoes and get out the door, and you'll have a hard time saying no. Once you've started, you'll feel good and probably want to continue (though that's not a necessity).
The start is a sunrise: a moment of brilliance that signals something joyful has arrived. Learn to love that moment of brilliance, and your habit troubles fade like the night.
"Someone was hurt before you, wronged before you, hungry before you, frightened before you, beaten before you, humiliated before you, raped before you… yet, someone survived… You can do anything you choose to do." – Maya Angelou
 [wlsp_signup]
LINESPACE