My old journals were so vitally important to my getting through this whole mess.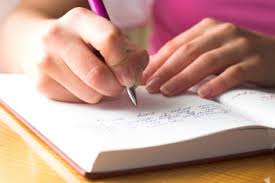 By Linda
Our kitchen remodeling project is in a little bit of a holding pattern as we await the delivery of our countertops. So, since our house is a complete mess as a result of the construction, this past Sunday Doug and I worked to clean it up a bit.
One of the things I asked him to do while we were at it was to go through some of his things in his office and throw away anything he didn't absolutely need. He tends to print off reports and articles and stuff and never throws them away and they start to pile up.
Well, as he was going through his bookshelf he stumbled upon my old journals that I kept from just after D-day and for several months after.
Even though pretty much everything I've written in those journals are on the pages of this blog, I'm not sure why, but I grabbed them from him and quickly stuffed them into a drawer in another part of the basement. I guess I feel like they are my own personal diary and don't want anyone to read them. Even Doug.
Reading my old journal entries
After a bit I started to look through them, and I must say that it was kind of strange and eerie in a way to read some of the stuff that I wrote back then. I was amazed at the ups and downs of my emotions and thoughts from one day to the next.
After looking at a dozen of so entries I think I saw all of the following words that described how I was feeling at various moments:
Anxious
Frustrated
Angry
Sad
Elated
Hopeful
Empty
Confused
Unsure
Insecure
Coping mode
Happy
Loving
Feeling disconnected
This really demonstrates the roller coaster of emotions that I experienced.  I'm sure many of you are experiencing this now or have so in the past.
I also saw a comparison chart where I listed the faults of the OW and then next to that I would note how I was better than her. For instance: She was controlling.   I was more laid back. She was manipulative and deceitful. I was honest and caring.
On one particular entry I had a list of questions that I had in mind to discuss later that night with Doug. I think there were no less than 2o questions. Here are a few:
"When you said that something came up so you had to call her, can you explain that. What came up?"
"Other than what you have told me, what are the problems in our marriage that you discussed with her? What were you unhappy about?"
"About how many days a week did you actually see her in the office?"
"Did you call her while on baseball trips or on trips not related with business?"
And on and on.  Like I said, there must have been 20 questions in all and that was just for one evening.  It was like I was an FBI agent or something – a skilled interrogator.
What was apparent was that those early days were dark ones for sure and I was acting like a complete nutcase at times. But you know what else is apparent? What I did was normal and I did what I had to and what I thought was best. That's all any of us who are going through this can do.
As I continued to read on, I also found an entry that I had typed up and printed out.  It had "A Year Later – A Long hard Journey" in bold. Perhaps this was an old post, I don't remember, but I wanted to share some of it with you as it is evidence of the transformation that occurred after a year and that can occur with you as well.
Here are the main bullets from the entry:
– In some ways the affair was the best thing and the worst thing that ever could have happened to me.
– I know that our relationship is so much better than it was a year ago and because of that I am truly grateful.
– As far as our relationship goes, we have learned a lot this year. We both have taken ownership for our behaviors that were not conducive to a good relationship. We committed to spending more time together. We are having fun, communicating, being friends as well as lovers.
– In all honesty right now, we have a wonderful relationship. I look at him and think how much I love him, respect him and admire him, which I know is very hard to believe after everything I've gone through. I guess I know how guilty he felt and he shows us everyday how much he loves us and cares for us by his actions. For that I admire him.
– I feel so much stronger and empowered since this has happened.  I know that if I can survive this, I can survive anything.
– I know our relationship is in a far better place than it was just a few months ago and we are so much closer, so for that I am very hopeful.
Now, don't get me wrong, after one year we still had a lot of work to do from that point on, but it was so evident that we were in a much more positive place.
Do yourself a favor and start a journal
My journals are nothing pretty to look at. They are not organized. In fact, they are kind of messy, as I would write in them while I was supposed to be doing my job. Or at the very least I was writing in a hurry during my lunch break or planning period.  Some are in pencil, some in ink and some in magic marker, for crying out loud!
There are also loose copies of emails that Doug and I wrote back and forth to each other that made the journals even less organized.
But you know what? That doesn't matter.  They were so vitally important to my getting through this whole mess.
If you haven't started a journal yet. Do so now!
Hopefully, when you go back and read them years later, you will realize how strong you really are.