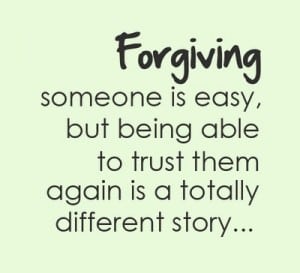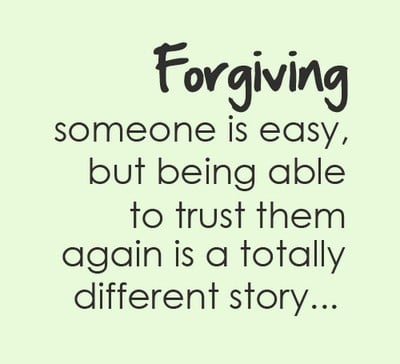 The other day, we posted a real quick survey on what you would ask a therapist, author or expert about affair recovery and healing if given the chance. 
We had a really great response (Thank you!) and as we suspected, there were two main topics that popped up more than any other – trust and forgiveness.
Here's an excerpt from "Journey to Trust:  Rebuilding Trust After an Affair":
"One question that comes up a lot is whether or not forgiveness is a necessary predecessor to trust. Do you have to have forgiveness before you can trust?

That's one of those which came first, the chicken or the egg things.  Because both of them often go hand in hand.

I firmly believe that you've got to go ahead and start rebuilding the trust before the forgiveness. The reason for that, even though you are taking a leap of faith and starting to trust them, many times you're not even sure what you are going to forgive them for until after you have talked over the issues and you know what matters.

I know that sounds tough, but so many times the spouses want to go ahead and give a blanket pardon, or a blanket forgiveness to cover everything and then resentments build up. That becomes destructive to getting close to one another.

I would rather see you go ahead and start taking the steps to trusting each other, even if it's just in small ways, and then when you are ready, to go ahead and deal with making the commitment in the form of forgiveness or whatever other type of commitment you're looking for.

This might be a little counterintuitive to many people since forgiveness is often cited as a barrier to trust, but I think you have got to start with the trust and then get into the forgiveness.

Early on, it's small ways, because you want to make sure you can trust the person with – for lack of a better term – objects and tangible things.

Can you trust them with the cell phones? Can you trust them with the bank account? Can you trust them to not take off in the night and go over to the lover's house? Once those things start getting settled, then it feels safe enough to start taking the steps to trust them with your emotions. It's at that point that you can go ahead and start dealing with the forgiveness.

I think you're asking for a lot of heartache if you try to deal with the emotional issues before some of those other ones – the tangible ones – get settled.

I know that this may not make sense for all couples, but if you can't trust, your husband or your wife to have a spare 20 dollars, because you know what they are going to do with it, then you know what I am talking about.

It takes the small steps for the spouse to gain trust with their emotions. A betrayed spouse has a shield over them until they let them self go freely and trust that their spouse isn't going to reject them.  It takes a lot of time for this to happen and to be completely honest with yourself about your feelings.  

At the same time, it can be hard for the person going through this to just differentiate between trusting and forgiving. Are you trusting, or are you forgiving?

I think it's just a feeling that you have, the more security you feel when you're with the person, your heart isn't racing. It's just something that happens. You can't really label it as trust or forgiveness, but it just feels better.

Taking a look at the other side of the coin, one of our favorite authors, Dave Carder, who wrote "Torn Asunder" and "Close Calls," takes the stance that you must begin the process of forgiveness first. 

He feels that to the extent that you can forgive, you gain respect, and to the extent that you have respect, you gain trust.

It's hard to argue with this opinion as well, so you really need to look within and try to determine what suits you best and go from there."
Well, that's a pretty long preface to our discussion this week…
What do you feel needs to happen first…trust or forgiveness? 
Does it matter?
Can you have one without the other?
Why are both so difficult?
Please tell us about your own experiences and reply to one another in the comment section below.
Thanks!
Linda & Doug
 [wlsp_signup]
LINESPACE