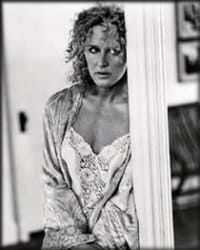 Hello everyone!
This week we're going to talk about the scorned lover – actually something probably far more threatening – the "bunny boiler."
I know from reading past comments that some of you have had the misfortune of not only having to deal with the various relationship consequences of your or your spouse's affair, but also with the actions of the ex-affair partner.
In case you aren't familiar with the term "bunny-boiler," it's derived from the movie Fatal Attraction and its use in general refers to someone unable to remain rational at the end of a romantic relationship.
The plot of the movie centers around the character played by Glenn Close, who was the other woman in an affair with Michael Douglas' character and who pursued him obsessively after the relationship ended abruptly. 
The phrase "bunny boiler" comes as the culmination of stalking and harassment due to Close's character's  frenzied jealousy and her inability to accept that Douglas ended the affair. She throws acid onto his car, calls him on the phone obsessively and hangs up, stalks him at his office. Eventually when nothing else is working, she boils his daughter's beloved pet rabbit.
Perhaps you or your family has endured a similar type of situation.  Hopefully not as psycho, but crazy enough just the same.
Perhaps you received numerous calls to your house.  Maybe the OP tried to call or email your spouse, family members or friends to make threats or spread lies about you or your spouse.  Perhaps there were veiled threats of physical violence or other type of threats.  Maybe the OP showed up at your place of work of stalked you at home or in public places. 
I think you get the idea of what we're talking about here.
So, our discussion this week…

Have you or your spouse experienced an ex-affair partner's irrational and bunny-boiler-type crazy acts after the affair ended? 

If so, please describe the craziness and how you handled it and what the result was.
Please be sure to respond to one another in the comment section below.
Thanks!
Linda & Doug