Not too long ago we posted the results from our latest survey and one of the questions was…
Why do you think the Affair happened?
Here were your answers…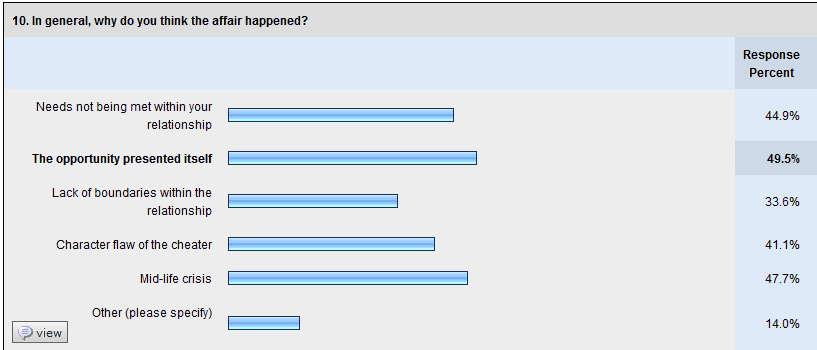 *This question allowed for multiple answers and it would appear that many of you think there were multiple reasons for the affair – or you just don't know for sure.
Some of the "other" reasons mentioned were:
Spouse rekindled a past flame
Husband is a control freak
Cheating spouse suffered from depression
Our relationship was really bad –  lots of arguing and poor communication
ADHD
Lack of intimacy
Job issues
Infertility
Grown apart in marriage
Revenge
Triggered from sudden tragic death of a parent, combine with Internet availability, setting off addictive activities.
Spouse is passive aggressive and thus he feels that no one appreciates him…and she [OW] did!
Spouse has PTSD
Perfect storm of life events
Poor communication and lack of affection
Stress and not being happy with self
Narcissism
Stupidity
Spouse's anxiety/depression disorder
Poor communication
Mental Health Issues
Don't know for sure
From more of a professional point of view, Richard P. Fitzgibbons M.D., director of the Institute for Marital Healing outside Philadelphia, has worked with several thousand couples over the past 34 years and has come up with his take on the causes of infidelity:
Origins of Marital Infidelity
The following marital conflicts contribute to a vulnerability to marital infidelity.
Loneliness and sadness
An emotionally distant spouse
Selfishness/materialism
Lack of a moral code
Lack of confidence
Controlling and disrespectful behaviors by spouse
Compulsive use of pornography
Lack of balance in married life with failure to attend to romantic aspect of marriage, the marital friendship and sexual intimacy/betrothed love
Seriously disordered priorities with the placement of work, others, sports, children, etc. before one's spouse
Strong resentment and anger with a desire to punish
Attempt to escape from responsibilities and pressures
Strong mistrust and anxiety
Weak faith with a failure to engage in the struggle against temptations
Modeling after an unfaithful parent
Failure to address marital stresses
Close friendships with others who have been unfaithful
Lack of understanding of the sacrament of marriage
Unresolved family of origin sadness, mistrust or anger
Failure to find fulfillment in fatherhood or motherhood and as a protector of one's spouse and children
Previous infidelity
Failure to communicate the Church's teaching about marriage and sexual morality.
Susan Krauss Whitbourne, Ph.D., a Professor of Psychology at the University of Massachusetts Amherst sites a survey conducted by Loras College psychologist Julia Omarzu and colleagues where the participants were obtained from a non-random source, namely a website directed toward adults who engage in marital infidelity. The study participants mentioned the following as causes of infidelity in their marriages:
Lack of sexual satisfaction in primary relationship
Desire for additional sexual encounters
Lack of emotional satisfaction in the primary relationship
Wanting emotional validation from someone else
Falling out of love with partner. (This was a very insignificant cause according to the study.)
Falling in love with someone new.  (Very few people indicated that they had fallen head over heels for the person with whom they had the affair.)
Wanting to seek revenge. In a relationship that is already suffering, the desire to hurt a partner who is (or is perceived as) cheating.
Curiosity and desire for new experiences.
(Click here to read the full article)
Our Discussion…
So…all of these supposed causes of infidelity that we have presented to you leads us to our topic for discussion this week.
Here are some questions to consider…
What do you feel was the cause or origin of your – or your spouse's – affair?

In hindsight, what were some of the things that "got in the way" of your marriage or "distractions" if you will, that ultimately left your relationship vulnerable to an affair?

What are some of the things that you have changed (or trying to change) that caused any disconnect and how have you managed to do so specifically?

What advice would you give to other couples who are heading down that same road towards and emotional or physical affair?

Please respond to one another in the comment sections below.
Thanks so much for your input and comments!
Linda & Doug
 [wlsp_signup]
LINESPACE