By Sarah P.
They say that a picture (or even a drawn image) is worth a thousand words.  Here is an image I will let you contemplate… because this short cartoon panel is worth an entire book.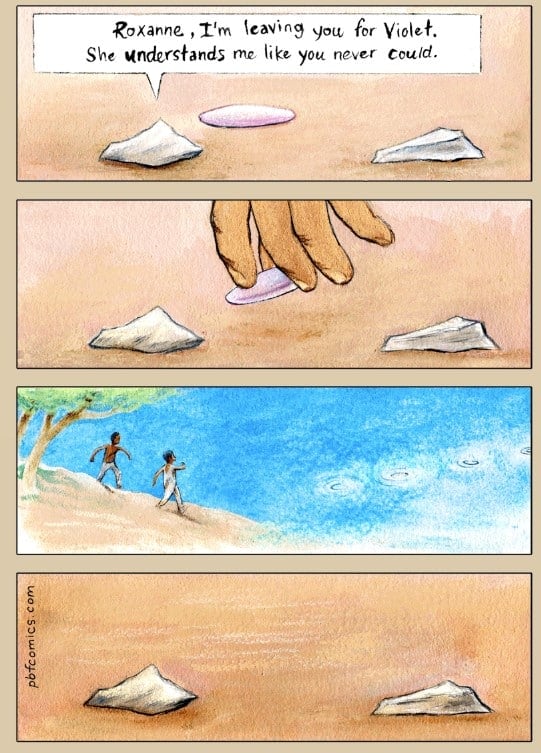 Source: http://pbfcomics.com/comics/roxanne/
Well, what can I say… just those four panels perfectly capture the absolute delusion of people who have affairs… especially the delusion that someone a spouse just met 2 hours ago understands your spouse better than you do—you who has stuck by your spouse's side for twenty plus years through thick and thin.
The Wisdom of this Short Cartoon
In the first panel, we have two rocks that are almost identical in nature. Since they are so similar, they would metaphorically most certainly understand one another the best because they are nearly the same size, shape, and color.
But, wait!
One of the rocks, Mr. Rock, is absolutely certain that a smooth and violet colored object that is NOTHING like him understands him better than the rock that is nearly identical to him.
Apparently, in Mr. Rock's eyes, Roxanne the rock cannot understand him like a violet-colored object that has appeared in his line of sight.
Of course, rocks don't have eyes and cannot speak, but here they do.
Roxanne the rock is just like the male rock, his rock soul mate that completes him, but Mr. Rock's wife cannot possibly understand him. (Typical "cheater think.") 
Instead, Mr. Rock is stuck in "cheater think." And in cheater think, irrational things appear to be completely rational.
So, it would follow that an object of a different shape and color, named Violet, understands Mr. Rock in ways that Roxanne the rock cannot, even though Violet is an object and probably not a rock at all.
Rocks symbolize foundations.
Objects do not.
If you're the unfaithful, get it, read it and carefully consider the advice. If you're the betrayed, give it to your unfaithful spouse.
Luckily, two playful humans came along and picked up the violet object and threw her in the water to see if she could "skip."
And Violet could skip! Bye bye, Violet!
Well, that certainly stopped Mrs. Roxanne Rock and Mr. (Delusional) Rock from splitting their 401k's and figuring out who would move to the other side of the beach, but it did not stop the delusions of Mr. Rock.
Mr. Rock will have to grieve an illusion.
His poor fake soulmate object was in one devastating act ripped away from him by callous humans who do not understand soulmates. Even though Mr. Rock's soulmate was always Roxanne.
If these two rocks were humans, we would have just witnessed what most people call a both a devastating and devastatingly awkward situation.
Violet the soulmate object is now off to sea to find new adventures, just as Mr. Rock was planning to leave Roxanne.
Thankfully, a couple of humans came along and prevented Mr. Rock from making the stupidest mistake of his life…
But Mr. Rock will still remain stupid and delusional since Violet was stolen away by stranger. He will forever see Violet as the soulmate that was cast off to sea.
And what Mr. Rock said to Roxanne cannot be taken back…and Roxanne is speechless. It's all about timing, right?
That's where the panel ends. There is no closure for Roxanne or Mr. Rock, just the speechless limbo created by Mr. Rock's delusions over a violet-colored object and his assertion:
"Roxanne, I am leaving you for Violet. She understands me like you never could."
Those words can never be taken back.
What Was Violet?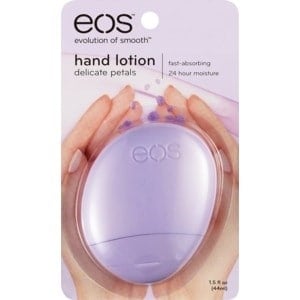 Well, Violet appears to have been a violet-colored bottle of EOS hand lotion.
Violet was never a rock at all.
In fact, Violet was completely made of plastic and her name was not even Violet.  Her name was "Delicate Petals" and she was a plastic container with goo on the inside.
That sounds about right…
If these were humans, Delicate Petals would be a stripper with silicone implants in all parts of her body and her brain would be goo. There would be nothing stable there.
Who Is Your Violet?
Do you have a "Violet" aka Delicate Petals (or perhaps a Navy Blue) in your life who is a complete fraud and who has fooled you or your spouse?
If you do, tell us all about it.
To start the conversation, I will tell you about me and my ex. A former colleague sent me an email a couple of weeks ago and told me to check out my ex's Facebook page. He has a public version and a private version.
I would hate to see what is in the private version, because the public version was appalling. For those of you who do not know my story, my ex who was probably a psychopath hooked up with a psychopath. Together they did terrible things and as a result, I got a nasty disease.
Well, there was no way I was going to play the pick-me-dance after that. There were times he did try, but failed. He married the other woman. And boy, by the likes of his public Facebook page, his life looks like a real hoot. (Sarcasm).
I have noticed that in a relationship, the emotionally stronger person often sets the tone. My ex was someone where I had to set the tone of the relationship. And when I did, I brought him up in the world. (I also set the tone in my marriage).
Well, my ex married someone who also set the tone. And apparently, from those who have met her, she has an extremely volatile temper and no one knows what will set her off and when she will start throwing plates. As a result, my ex perpetually walks on eggshells.
After I saw the Facebook page… I realized I had a longitudinal study on my hands. It's an N of one but it supports that anytime people marry when they met as affair partners, life with the other person is NOT nearly as great as they thought it would be.
After all, when you trade DOWN, your life will not be a good one. You trade down anytime you cheat on your loyal spouse and leave them for your affair partner. It takes a certain type of person to have an affair with a married person. If a person is willing to do that, you have all the information you need to know: they would make a HORRIBLE life partner.
Why?
Because someone who would cheat with a person they know is married and attempt to break up the marriage is someone who:
Is selfish
Lacks empathy
Is ruthless
Unstable
And who will turn on YOU
Yes, they will eventually turn on you. They have no boundaries, no sense of loyalty, no sense of proprietary, and no sense of ethics or ethical obligations.  If you, a cheater, divorces and married the other person, your life will not be peachy.
I have warned you.
But, do me a favor… don't break it off with your affair partner because I have told you that you will have a REALLY crummy life. Break it off with your affair partner because you realize your current spouse is the one you want.
In Summary
This article was short and self-explanatory. So, I wanted to share a story that I just read about Warren Buffett. Warren Buffet talked about how success is greatly linked to the people you surround yourself with.
Warren Buffett said that he would have made money if he had not met and married his wife, Suzy, but he would not have been happy. He said as a young man he was greatly socially-impaired and adrift as a person. Warren believes his wife, Suzy, is his greatest hero because she brought him up to her level. Suzy is the person who made Warren Buffett who he is.
Why?
Because Suzy had the maturity, intelligence, social grace, patience, and ethical boundaries that made Warren Buffett soar. Warren said he would have been wealthy, but never happy or fulfilled unless he had met Suzy. Being married to his wife and staying married to her has been Warren Buffett's greatest asset. And if you don't believe me, go read articles where Warren discusses his marriage.
Readers: What is going on in your life this week? Let us know in the comment section below.
If you're the unfaithful, get it, read it and carefully consider the advice. If you're the betrayed, give it to your unfaithful spouse.