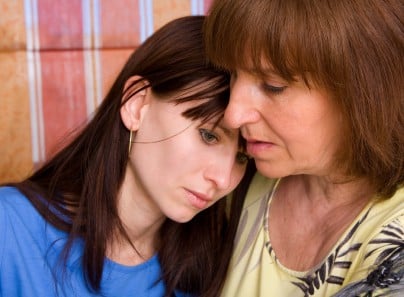 This is a guest post from Mary C. on the topic of finding a supportive person to help you in dealing with betrayal.
When we are dealing with betrayal and pain, most of us instinctively need a shoulder to cry on, but whose shoulder should it be?
I think our first response is friends and family. They are the ones that will listen and be the most sympathetic. Do you think their advice is the best advice? I found out, not so much in my case.
Why? They care about you and are going to be upset that you have been hurt. They will be on your side no matter what. That sounds like it would be a good thing, and it is; however, in most cases, they're not going to care about anything regarding your partner.
All they know is he or she hurt you; therefore, anything concerning reconciliation would most likely be looked upon harshly. That's only natural. You probably felt the same way in the beginning.
You are going to have a huge decision to make, which will be extremely hard as it is. At that time, any kind of action your loved ones suggest is probably not going to be geared toward saving the marriage. Of course, that's not always the case, but I think most loved ones would react that way.  
There is another reason they may not give the best advice. If and when you decide to rebuild the marriage, they'll be thinking about how badly you were treated when they encounter your spouse.
For instance, get togethers with family or friends could be a tense situation. Has that happened to you? With time, they might forgive your spouse if he or she honestly tries to amend their ways, but it would most likely be difficult and uncomfortable for a while.
So, what's your alternative?
We probably need to talk to someone who is more objective. Of course, seeking counseling is always the best thing to do. Unfortunately, that's not always financially feasible or if it is, you can't go as frequently as you would like.
I know that when I went to counseling, I would feel so much better when I walked out of the office. I always wished I could go at least two or three days a week, but that wasn't possible for me. However, it helped me so much and I went as much as I could.
Coming here is very therapeutic. You can come here every day and talk to hundreds of people going through the same thing. It helps us realize we're not the only ones going through this heartache. I know that's how I felt sometimes. During my time, there were not only no sites like this one, there were no home computers. Yes, I'm old.
So how would you avoid talking about your problem with friends and family?
You probably wouldn't be able to. You could tell them you are having problems and you're trying to work through them yourself; however, that's probably not realistic. You can try not to say any more about the situation than absolutely necessary in order to head off negative feelings should you have reconciliation.
You can attempt to remember that their advice is not necessarily the best way to go. That being said, it all sounds good on paper, but it's not how human nature normally works. In the long run, I wound up talking and crying and talking and crying. My friends knew every single tidbit of information.
In the long run, I became totally confused. Luckily, in my case, I had one great friend that told me to knock it off and stop listening to everybody. With some coaxing from her, I thanked my loved ones for all their help and support, but told them I needed to have some time to myself to figure it all out. Low and behold, they understood.
I'm curious about how you let your friends and family know what was going on. Did they know about everything? If so, how did they react to the affair? In addition, I wonder about the person having the affair as well. How did your family and your spouse's family react to your affair? 
 [wlsp_signup]
LINESPACE