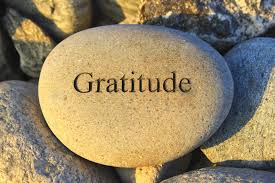 On Tuesday we posted an article about how gratitude can help you on your journey to acceptance after an affair. The author's mention of the practice of gratitude intrigued us and motivated us to do a little bit more research on the subject.
Today we wanted to delve a little bit more into this whole gratitude thing; the why's and the how's so that perhaps it can make a difference for you moving forward.

Like us, you may be skeptical that you can muster any shred of gratitude out of the ashes of an affair, but as you read this, perhaps keep an open mind and maybe give it a try and see if it is beneficial for you. It can't hurt and you may be surprised.

We're not here to say it's the answer to all of life's problems and pains, but simply want to provide you with additional possibilities for healing and happiness.
What is gratitude?
One of the definitions we found was quite simple: Gratitude is the quality of being thankful; readiness to show appreciation for and to return kindness.
Sounds easy and like something most of us do virtually every day without notice or thinking about it. In fact, it is such an essential part of our life that it is often dismissed as being so simple, obvious and not worthy of our attention.
However, that has recently started to change as scientists have begun to research gratitude and the circumstances in which it thrives or weakens.
These researchers are finding that people who practice gratitude consistently report a host of benefits:
Physical
• Stronger immune systems
• Less bothered by aches and pains
• Lower blood pressure
• Exercise more and take better care of their health
• Sleep longer and feel more refreshed upon waking
Psychological
• Higher levels of positive emotions
• More alert, alive, and awake
• More joy and pleasure
• More optimism and happiness
Social
• More helpful, generous, and compassionate
• More forgiving
• More outgoing
• Feel less lonely and isolated.
What good is gratitude?
The leading expert on gratitude appears to be Robert A. Emmons, Ph.D. He is a professor of psychology at the University of California, Davis, and the founding editor-in-chief of The Journal of Positive Psychology.
Emmons highlights four main reasons why gratitude might have these transformative effects on people's lives.  He writes:
1.  Gratitude allows us to celebrate the present. It magnifies positive emotions. Research on emotion shows that positive emotions wear off quickly. Our emotional systems like newness. They like novelty. They like change. We adapt to positive life circumstances so that before too long, the new car, the new spouse, the new house—they don't feel so new and exciting anymore.
But gratitude makes us appreciate the value of something, and when we appreciate the value of something, we extract more benefits from it; we're less likely to take it for granted.
In effect, I think gratitude allows us to participate more in life. We notice the positives more, and that magnifies the pleasures you get from life. Instead of adapting to goodness, we celebrate goodness. We spend so much time watching things—movies, computer screens, sports—but with gratitude we become greater participants in our lives as opposed to spectators.
2.  Gratitude blocks toxic, negative emotions, such as envy, resentment, regret—emotions that can destroy our happiness. There's even recent evidence, including a 2008 study by psychologist Alex Wood in the Journal of Research in Personality, showing that gratitude can reduce the frequency and duration of episodes of depression.
This makes sense: You cannot feel envious and grateful at the same time. They're incompatible feelings. If you're grateful, you can't resent someone for having something that you don't. Those are very different ways of relating to the world, and sure enough, research I've done with colleagues Michael McCullough and Jo-Ann Tsang has suggested that people who have high levels of gratitude have low levels of resentment and envy.
3.  Grateful people are more stress resistant. There's a number of studies showing that in the face of serious trauma, adversity, and suffering, if people have a grateful disposition, they'll recover more quickly. I believe gratitude gives people a perspective from which they can interpret negative life events and help them guard against post-traumatic stress and lasting anxiety.
4.  Grateful people have a higher sense of self-worth. I think that's because when you're grateful, you have the sense that someone else is looking out for you—someone else has provided for your well-being, or you notice a network of relationships, past and present, of people who are responsible for helping you get to where you are right now.
Once you start to recognize the contributions that other people have made to your life—once you realize that other people have seen the value in you—you can transform the way you see yourself.
So how in the world can we do this?
Some of you may be thinking… "OK, that's all well and good, but my life has been decimated by betrayal. How is this going to help and how the heck can I be grateful at all?"
At a time such as this it's hard to see positive forces when pain and other obstacles are blaring and our fears are welling up inside. When this happens we feel stuck.
The folks at Unstuck.com say that this is a precisely when it's a good time to be grateful. Not grateful for what has us stuck, but appreciating what doesn't.
Gratitude helps us see our situation in a way that can lessen panic, and could open up our thinking to new solutions.
Dr. Emmons in fact believes that when a crisis strikes, not only will a grateful attitude help – it is essential –  and is when we have the most to gain by a grateful perspective on life.
Emmons says, "In the face of demoralization, gratitude has the power to energize. In the face of brokenness, gratitude has the power to heal. In the face of despair, gratitude has the power to bring hope. In other words, gratitude can help us cope with hard times."
In these instances gratitude will not necessarily come easy, nor naturally, and Emmons believes that it is vital to make a distinction between feeling grateful and being grateful.
"We don't have total control over our emotions. We cannot easily will ourselves to feel grateful, less depressed, or happy. Feelings follow from the way we look at the world, thoughts we have about the way things are, the way things should be, and the distance between these two points.
But being grateful is a choice, a prevailing attitude that endures and is relatively immune to the gains and losses that flow in and out of our lives. When disaster strikes, gratitude provides a perspective from which we can view life in its entirety and not be overwhelmed by temporary circumstances. Yes, this perspective is hard to achieve—but my research says it is worth the effort."
Remember the bad
Gratitude may be helpful for those who have experienced infidelity as research indicates that gratitude can help us cope with crisis.
Dr. Emmons says that "Consciously cultivating an attitude of gratitude builds up a sort of psychological immune system that can cushion us when we fall. There is scientific evidence that grateful people are more resilient to stress, whether minor everyday hassles or major personal upheavals. The contrast between suffering and redemption serves as the basis for one of my tips for practicing gratitude: remember the bad.
It works this way: Think of the worst times in your life, your sorrows, your losses, your sadness—and then remember that here you are, able to remember them, that you made it through the worst times of your life, you got through the trauma, you got through the trial, you endured the temptation, you survived the bad relationship, you're making your way out of the dark.
Remember the bad things, then look to see where you are now.
Remembering the bad can help us to appreciate the good. As the German theologian and Lutheran pastor Dietrich Bonhoeffer once said, "Gratitude changes the pangs of memory into a tranquil joy."
We know that gratitude enhances happiness, but why? Gratitude maximizes happiness in multiple ways, and one reason is that it helps us reframe memories of unpleasant events in a way that decreases their unpleasant emotional impact. This implies that grateful coping entails looking for positive consequences of negative events. For example, grateful coping might involve seeing how a stressful event has shaped who we are today and has prompted us to reevaluate what is really important in life."
Reframing disaster
To say that gratitude is a helpful strategy to handle hurt feelings does not mean that we should try to ignore or deny suffering and pain.
To deny that life has its share of disappointments, frustrations, losses, hurts, setbacks, and sadness would be unrealistic and untenable. Life is suffering. No amount of positive thinking exercises will change this truth.
So telling people simply to buck up, count their blessings, and remember how much they still have to be grateful for can certainly do much harm. Processing a life experience through a grateful lens does not mean denying negativity. It is not a form of superficial happiology. Instead, it means realizing the power you have to transform an obstacle into an opportunity. It means reframing a loss into a potential gain, recasting negativity into positive channels for gratitude.
If you are troubled by an open memory or a past unpleasant experience, you might consider trying to reframe how you think about it using the language of thankfulness. The unpleasant experiences in our lives don't have to be of the traumatic variety in order for us to gratefully benefit from them. Whether it is a large or small event, here are some additional questions to ask yourself:
What lessons did the experience teach me?
Can I find ways to be thankful for what happened to me now even though I was not at the time it happened?
What ability did the experience draw out of me that surprised me?
How am I now more the person I want to be because of it? Have my negative feelings about the experience limited or prevented my ability to feel gratitude in the time since it occurred?
Has the experience removed a personal obstacle that previously prevented me from feeling grateful?
Remember, your goal is not to relive the experience but rather to get a new perspective on it. Simply rehearsing an upsetting event makes us feel worse about it. That is why catharsis has rarely been effective. Emotional venting without accompanying insight does not produce change. No amount of writing about the event will help unless you are able to take a fresh, redemptive perspective on it. This is an advantage that grateful people have—and it is a skill that anyone can learn.
Cultivating an Attitude of Gratitude
Like any skill worth having, gratitude requires practice. Unstuck.com offers these 9 ways you can cultivate an attitude of gratitude:
Notice your day-to-day world from a point of gratitude and be amazed at all the goodness we take for granted.
Keep a gratitude journal. All it requires is noting one or more things you are grateful for on a daily basis. No fancy notebook, no computer program required.
If you identify something or someone with a negative trait (the cold conference room), switch it in your mind to a positive trait (the conference room with
a great view).
Gratitude requires humility, which the dictionary defines as "modest and respectful." Explore where it fits in your life. The article"Humility: A Quiet, Underappreciated Strength"is a good start.
Give at least one compliment daily. It can be to a person or it can be asking someone to share your appreciation of something else ("I love how quiet it is in the morning, don't you?").
When you find yourself in a bad situation ask: What can I learn? When I look back on this, without emotion, what will I be grateful for?
Vow to not complain, criticize, or gossip for 10 days. If you slip, rally your willpower and keep going. Notice the amount of energy you were spending on negative thoughts and actions.
Sound genuinely happy to hear from the people who call you on the phone. Whether the caller responds with surprise or delight, he'll know you value speaking with him.
Become involved in a cause that is important to you. Donate money or time or talent. By joining in, you'll gain greater appreciation for the organization, and it will appreciate you more, too.
Additionally, here is a video by Dr. Emmons where he talks about how to cultivate an attitude of gratitude.
More resources