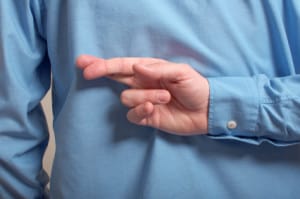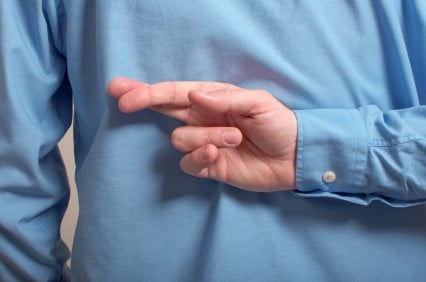 By Sarah P.
I have found that many men's favorite straw-man argument that validates infidelity is the argument that men have evolved to have a sole purpose in life: to spread their seed. This spurious argument, which has been brought forth by evolutionary psychologists, allows men less accountability for non-monogamous behavior. I will hand it to evolutionary psychologists – it's a great excuse.
But, let's take a look at evolutionary psychology and why you can neither trust it nor use its theories as the latest "the devil made me do it" argument.
The field of evolutionary psychology was born out of some researchers needs to explain human interaction. Only, instead of relying on psychodynamics or cultural explanations, they look to biological evolution to explain behaviors. A favorite thing of evolutionary psychologists is to take a bad behavior and then to make up a story around why the behavior evolved. Instead of calling out a bad behavior and seeing it for what it is, they make up an elaborate story about its useful evolutionary purpose. 
While there are some behaviors that can be explained through evolutionary psychology, the idea of a man being wired to spread his seed is absolutely ridiculous. This theory has been so damaging to marriages. Even if married, it lurks in the back of many men's mind that they are wired to spread their seed with as many women as possible. So, if he slips up a few times, it's not a big deal. 
After all, a man reasons, at least he only spread his seed with two or three other women, instead of 100 other women. And so he congratulates himself for being so conservative in terms of spreading his seed. After all, he proudly reasons, he only created two other baby mamas (besides his wife) instead of 100 other baby mamas. 
Then, there are the men who make no pretense and at least outwardly state that they will not be monogamous. They use the same evolutionary psychology arguments. In fact, to these men, it is literally their birthright to spread as much seed as possible, or so they see it. They go forward through life, carrying out their own Manifest Destiny to sew as much seed as possible. Go west, young man, evolutionary psychology tells them – and so they do. 
But, we could also use evolutionary psychology to make a completely different point. We could use it to say that because children are best raised in a family with parents who are monogamous, then we have evolved to choose monogamous pair bonding and we are "wired to be monogamous and to pair off".
Then we could take it further, and say that people who do not pair off and prefer to spread their seed are a type of genetic aberration. My point is, people can use evolutionary psychology to explain almost any position on the matter. I believe that when using evolutionary psychology, there's really no way to prove that either stance is correct. Evolutionary psychology is based on a story and rarely on fact.
So, let's go to neuroscience and see if the inner workings of the brain can shed any light on monogamy. Our technology has advanced so much that we are able to study all aspects of the brain and the hormones as well as the neurochemicals that either cause behavior or reinforce behavior. It would appear that we have a neurological system in place that favors pair bonding and we also have a hormonal system in place that reinforces pair bonding and monogamy through chemicals like oxytocin. I believe that we have been made to be monogamous because we can find an explanation in hard science. We can also look to studies over the past 40 years and see that children benefit from stable, two-parent homes where both parents are equally dedicated to the family and their marriage.
So why do cheaters cheat? 
There are as many reasons as there are cheaters in this world. But, I believe the crux of it is that people cheat because they are trying to fill an internal deficit and they are looking to someone else to meet it. Or, people cheat because they want a variety of partners. Finally, many people cheat because there is opportunity and they choose to dive right in. But, this doesn't mean that men or women are wired to cheat. 
I am going to use another framework to explain infidelity. It has to do with impulse control. Have you noticed that behaviors that are not in our best interest have consequences? Yet, here is the paradox: things that are not in anyone's best interest still have allure. 
Let's take the example of a giant chocolate cake. While most people can eat one slice of cake and still be healthy, eating an entire cake, day in and day out, is going to cause that same person to be obese and to develop many health problems. Still, many people seem to have a natural proclivity to wanting to eat the whole cake and then sit around for the rest of the day on the computer or watching TV.  Eating the whole cake feels so good – and therefore we must be wired for gluttony! Not so.
Then there is the flip side: what is good for us. Being disciplined with what we eat and exercising each day is good for us. But, there is a problem. It takes effort. Most people will not naturally have a predisposition to eating sensibly and exercising. 
It's just too easy to eat the whole cake or eat the whole bag of chips. (Remember the slogan "Lays: you can't eat just one). Well, if you were to eat only one Lays potato chip, it would not make any impact on your health. But, if you give in to the temptation and that feel good in the moment, you are going to eat the entire bag. And you are going to suffer health consequences as a result.
Affairs are the same way. Some people can't have just one woman just like they can't have one Lays potato chip. They have to have many "lays" both literally and figuratively. But, when they give to those urges that are not good for them, there are always consequences. Binging is called gluttony and it's also one of the seven deadly sins. Stepping outside of your marriage is also a sin and there is a reason it is one of the Ten Commandments. 
Back to food. Even if people seem to have a strong pull toward eating the wrong foods and/or overeating, it's an urge. Urges are different than being 'wired' or 'evolved' to do something. Urges usually are not good for you and urges are something that you choose or do not choose. The fact is, you have the power to choose. This is very different than being wired a certain way.
Whether or not to have an affair has to do with base urges. It is not part of one's wiring.
Each day, many of us will meet people who are attractive to us. The urge to get to know them in a sexual way might appear. But, it's a temptation – it's an urge – and each time we must make the choice not to give in to it. In fact, it's not in your best interest to ever give into the temptation of an affair. There are devastating consequences – always. 
Finally, let's pretend like you are wired to spread your seed and see how it pans out. So, if you are wired to spread your seed, the consequences of doing so are devastating to your life, women's lives, children's lives, and even to society as a whole.
Many years of research have proved that children do best in a two-parent home and they thrive when their parents have a good marriage, which is monogamous. It is impossible to have a good marriage and a peaceful home if you are cheating on your wife.
So, humans evolve because a behavior serves the species. Non-monogamy does not serve the species – it is very harmful to the survival of the species because of the utter instability of it. Therefore, the idea that a man is wired to spread his seed is ridiculous. 
Don't be caught using such a lame excuse. Realize that monogamy is the only way.
Finally, if you want to repair your marriage, you must get all ideas out of your mind that would tell you that you are not wired for monogamy. You are wired for monogamy and you gave into an urge. You made a choice. Do your wife a favor, and from now on, live mindfully knowing that you have a choice – and when you meet someone attractive… Just Say No.
The ability to know right from wrong and to follow the right path despite temptation is what makes you a real man. You are a man and more powerful than temptation or participating in behaviors that harm others.
---
We'd like to thank Sarah for once again contributing to our blog. Sarah is a busy writer and mom and has two Master's degrees – one in English and another in clinical psychology.