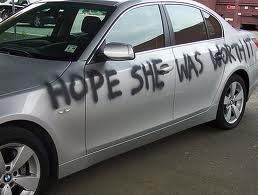 The other night we were talking about one of our mentoring clients and the extent to which her husband went to in order to not get caught.  We won't get into the details but let's just say he went to a lot of trouble. Eventually though, he slipped up. Most cheaters do.
In this case, he had purchased some airline tickets for a romantic getaway with his mistress and the airline sent them to his home, where his wife found them.  He thought he had them sent to his place of business.  Whoops!
Ways cheaters keep their affairs a secret
The affair dating site, Ashley Madison recently polled 110,000 of its members and asked them to divulge the details on how they've managed to keep their affairs a secret. According to Ashley Madison, cheaters also do the following seven things to avoid getting caught:
Stay tight-lipped. Eleven percent of Ashley Madison users polled said they kept the personal details of their lives – their home address, their spouse's place of employment – under wraps before and following the affair, lest their affair partner blow their cover.
Go the distance. Nine percent of respondents said they've traveled miles from their home to meet with their lover so they wouldn't be spotted by anyone they knew.
Hide the evidence. Lipstick on your collar or stray boxers in the backseat won't fly if you want to stay married. Seven percent of those polled said they made an effort to hide any evidence of their indiscretions.
Foolproof your phone . Six percent of cheaters said they scooped up a second phone or an app like Blackbook so they could chat with their affair partners without being caught.
Maintain the status quo. Five percent of respondents said they avoided making any drastic changes to their appearance when they were cheating.
Use a condom. Only five percent of those polled said using protection to avoid bringing home an STD or getting pregnant was key to keeping their affairs on the down-low.
Don't leave a paper trail. Two percent of cheaters said they paid for hotels and fancy dinners for two with cash, to avoid getting caught by way of an incriminating credit card statement. (Source: The Huffington Post)
We thought this topic might make for a good discussion, so with that in mind…
To what extent did you or your spouse go to in order to hide or otherwise keep the affair a secret? How did you (or your spouse) cover your trail?
How did you or your spouse eventually get caught?
Please share your experiences and reply to one another in the comment section below.
Thanks!
Linda & Doug