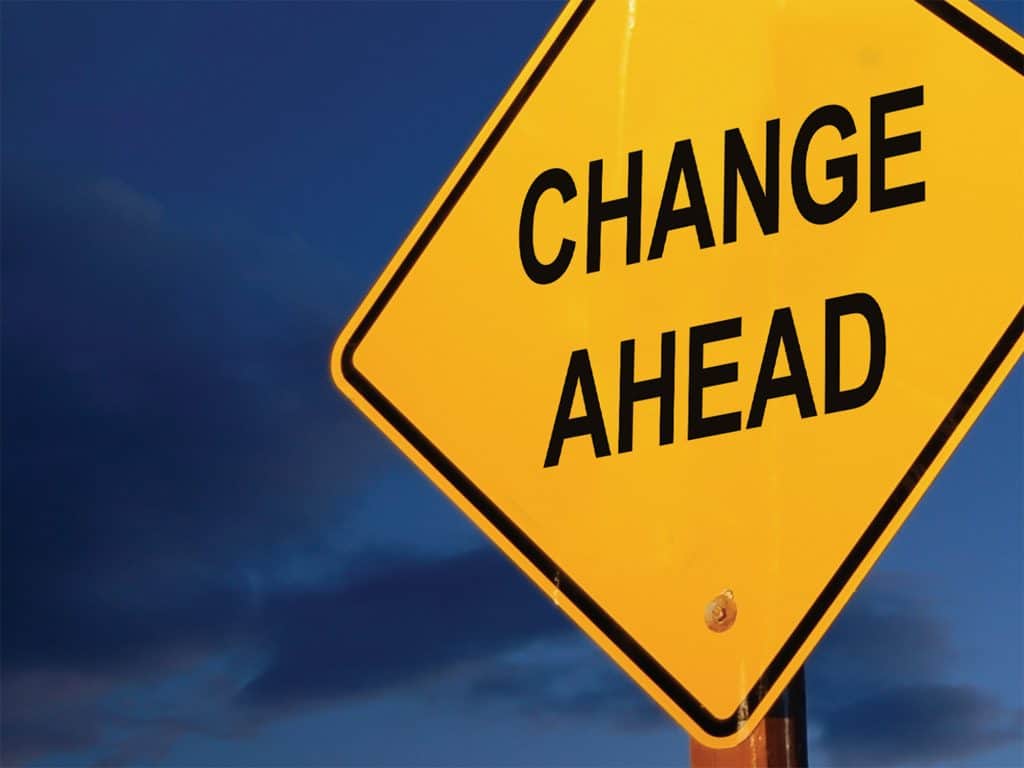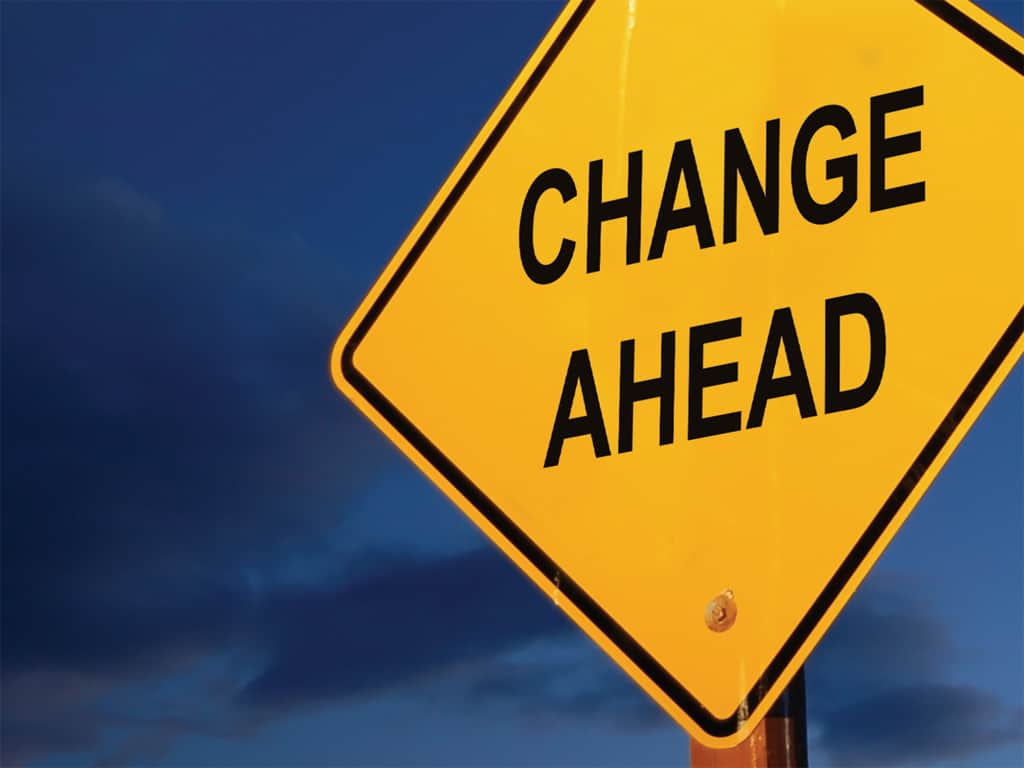 By Sarah P.
In my last blog we discussed how to stay empowered through the holidays and beyond. The key point of that article was the idea that our thoughts can influence our lives. Because thoughts can influence our lives, these thoughts can cause us to act in ways that create outcomes.
In empowered thinking, we also know that the only person we can change is ourselves. But, we also know that we can choose our reactions to situations. We can choose reactions that lead us to better health and happiness. We can also say no to situations or actions of others that no longer for us.
Louise Hay once wisely said:
I do not fix problems. I fix my thinking. Then problems fix themselves. I change my life when I change my thinking. And it is time for me to acknowledge that I create my own reality with my thoughts. If I want to change my reality, then it is time for me to change my mind."
Louise Hay is the founder of Hay House publishing, the largest self-help publisher in the world. One might think that Louise Hay is a naturally advanced soul to have started such an empire. This could not have been further from the truth.
Louise Hay had grown up in a poor home with a violent stepfather and had been sexually assaulted by a neighbor twice during her teens. As a young woman, Louise found temporary happiness with her husband. But, her husband abandoned her fourteen years later for another woman.
At some point, Louise got very ill because she had cervical cancer. She came to the conclusion that if she wanted to be healthy, she needed to drop the tremendous resentment and anguish that she had been carrying around for years. She decided to let go of all of her anger, resentment, and trauma and heal herself from the inside out by starting with her thinking.
Louise penned her ideas down and eventually wrote a book called You Can Heal Your Life. This was the book that led to Louise starting Hay House in 1984. Louise would have been in her late 50's at the time. Today, Louise is a healthy and happy 90-year-old who still helps run Hay House. Hay House publishes Dr. Wayne Dyer, Anita Moorjani, and Gabrielle Bernstein, among many other self-help authors.
Louise's story has always stood out in my mind because of what she accomplished. This accomplishment was born out of a crisis that caused her to hit rock bottom. At some point she realized that something had to change or she might meet an early death. Louise intuitively knew that carrying around so much negativity inside was influencing her health.
Two Categories of Events That We Face Everyday:
Oftentimes, we are resentful because we cannot control what happens to us. We believe that events that happen to us dictate our lives.
There are two categories of events that we face everyday:
Things that happen to us over which we have no control
Things that happen to us as a result of our thoughts (and choices.)
It may appear that we have no control over the first category. But, the first category and second category are one in the same when it comes to the emotional fallout.
The origin of the event does not matter as much as the fact that we can control our reaction to it. Whether or not we control our reaction to the event will dictate how we feel about it.
We can let an event haunt us or not and feel victimized or not. We can own our power or we can give it away to the event.
Someone might be able to make you feel a certain way in the first instance, but you can choose whether you feel that way the next time you think about the hurtful event.
The battle is always internal.
However, the battle can still be initiated by external circumstances OR by your thinking.
I think this concept is clear when we think about extramarital affairs. Being the victim of an extramarital affair falls into the first category. Like being rear-ended by a drunk driver, you did nothing to cause the situation. You are the victim of someone else's careless action. Feeling extremely victimized when you find out about an affair is normal. Finding out about the affair is the first instance of the event and a person will always feel victimized.
But, the second instance of the affair happens in your mind. Oftentimes, you will relive d-day over and over again in your head. This makes you feel like you are constantly being victimized and creates a fight or flight reaction. Your mind does not know the difference between something happening in front of you or something happening in your mind. It does not know the difference between walking in on your spouse in the act of an affair or the replaying in your mind the day you caught your spouse. To the mind, watching something and ruminating about something is the same thing.
Here is where you have the choice.
Let me state up front that changing your mindset is not easy. It is an on-going process and takes time. There are large victories to be had even if you take small steps.
Your mind is like a vinyl record and it contains a lifetime of habits, ways of perceiving the world, and memories. After an affair occurs, it writes a traumatic song onto that metaphorical vinyl record. Sometimes the needle on the record player gets stuck on that same traumatic song. When this happens, it can create feelings of PTSD because you re-live the trauma over and over again.
At some point, that trauma song needs to be changed and that needle on the record player needs to get un-stuck. But, this takes time and it takes conscious awareness. It requires active thinking on your part to get rid of the traumatic messages and to create messages that contribute toward your emotional wellbeing.
There is always a caveat though. If you have developed PTSD from your spouse's infidelity, then getting over it will be more work. Having PTSD makes the situation more urgent because PTSD slowly steals a person's joy and wellbeing.

Flashbacks & Panic
When my ex first broke up with me, I started having panic attacks for the first time in my life. A friend suggested I see a therapist. Since I had never seen a therapist before, I was not sure that they could help. My friends who had seen them had mixed results.
I found a lovely female therapist, Karen, who had been practicing for almost thirty years. She was wonderful and she treated me as if I were her daughter. Karen recognized that and said she did it (countertransference) because she said I reminded her of her daughter who lived on the other side of the country and whom she missed terribly.
Karen was a wonderful and caring therapist. But, one day she told me that I met the criteria for a diagnosis of PTSD. Honestly, I did not believe her because I (falsely) believed that PTSD was only for soldiers returning from war. I believed that if I had PTSD, I was somehow making light of those men and women who so bravely fought for our country. I did not believe someone could develop PTSD as a result of a relationship.
She and I continued therapy for about 6 sessions. I was feeling better by then and no longer having panic attacks. Problem solved, right?
WRONG.
Fast forward to 15 years later…the night of December 20th, 2016. My husband and I had taken our kids to a vacation home we were renting in the mountains for a week. Everything was going well, maybe too well.
I was having trouble falling asleep. You see, everything fell apart with my ex in the holiday season, only I had to find out in retrospect. My ex never came clean with anything. So, my mind wandered toward the last Thanksgiving and Christmas we spent together. We had spent those holiday's at my ex's parents house.
I thought about the awkward Thanksgiving and how my ex sent me off on a snowboarding trip right after a morning Thanksgiving meal. He told me he would catch up with me that night because he was having some old friends of his come to a separate Thanksgiving with his parents.
I found out after the break up that he sent me off in the morning from his parent's house so that he could have his parents meet the other woman during the afternoon. He did this so that his mom could compare us side by side. Ouch.
Then I thought back to the Christmas at his parent's house and how his entire extended family was acting strangely. Since I had no idea that there was another woman, I chalked it up to family stress. On Christmas Eve, he gave me a second ring that he referred to as another engagement ring. His mom got up and left the room. And he looked at me with cold eyes and said, "I hope you are happy."
I found out in retrospect that his mom had liked the other woman better, but that his dad, who was a retired psychology professor, liked me better. My ex was still undecided and so he surprised me with a second ring that he had custom made for me. I would like to make it clear that I never asked for jewelry or expensive gifts. For me, a good relationship is the most valuable thing in the world and all I wanted was to get married and to have children.
I thanked him for the beautiful ring and asked him what was wrong. He claimed nothing was wrong. I spent the rest of the Christmas holiday walking on egg shells, not knowing what was going on. He, the other woman, and his mom were playing a game that I did not even know existed. I hardly knew I was a mere pawn on an invisible chessboard until he decided whom he would choose.
So, last week when I was falling asleep, all of these events rose up in my mind and I burst into tears. A panic attack was close behind. I was thinking that if I could be fooled and abandoned once, that I could be fooled and abandoned twice. I thought that my husband could do the very same thing and I could not stop crying. I was immediately whisked back to the break up with my ex and was reliving the painful emotions as if they had just occurred. My mind and body did not know the difference between a memory versus reality.
That is PTSD: Intrusive images that cause a panic attack years after an event has happened. My mind believed I was there in the painful moment. Suddenly I could not breathe, my body was convulsing, and my heart was racing.
Fortunately, my husband woke up and talked me through it. He listened to me until I was calm. Then, we talked about his painful divorce all of those years ago. My husband's first wife had left him without warning. One day he came home and found that all of the furniture had been removed from their apartment and that all of the money (including his student loan money) was gone from the bank account. Ouch.
We both reprocessed what had happened to us and talked it through. My husband is fortunate because he did not develop PTSD from his divorce. There had been no affair involved in his divorce and he said that in the back of his mind he knew his wife would leave one day. Her parents and his parents had gotten into a feud before their wedding. He felt their marriage was doomed from the beginning. In the end, he had not been betrayed and had known in the back of his mind one of them would eventually leave. He just did not expect his ex-wife to stoop so low and take all of the furniture and money.
My husband is lucky to have never been in a relationship where there was infidelity. He has said several times that one of the many reasons he married me is because he could tell I would never have an affair, no matter what the circumstances. He said that being cheated on is his worst fear. He intuitively knows how bad it hurts, even if he has never been the recipient. On the other hand, I often wonder if it is in my best interest to be the reliable girl. Some seem to take reliability for granted, whether they are men or women. Reliable people are also emotionally safe people.
So, last week I discovered that I still have very real trauma for what happened years ago. I am going through a time where I am very resentful towards my ex. I realize that a part of me has been stolen and I do not think it will ever return. I think that my ex should have to pay the price for that which was stolen. But, those thoughts are irrational. He may never have to pay the price for what he stole. And I will have to be okay with that.
As a result, I have finally realized that I went from being a securely attached person to being a fearful/avoidant person after my ex broke up. As one of my prior articles said, people can change attachment patterns in adulthood. But usually, people are supposed to go from a harmful attachment style to a secure one. I went from a secure attachment to a harmful one. Now, I have realized that the fearful/avoidant style I have developed is mild. It is something that I struggle with inside my mind, but I generally do not allow it to influence my actions. It only influences my actions in moments where I am being flooded with images of the past.
PTSD
I am sure some of you have also developed PTSD as a result of your spouse's affair. It is not fair, but it is an unfortunate side effect. Now I acknowledge that people can absolutely have PTSD and possibly even severe forms of it after a spouse's affair. It was not that I did not believe this possible when I was younger, I had just assumed that I was minimizing the experience of war veterans if I believed relationships could cause PTSD. At the time, I did not want to dishonor war veterans.
Now I realize that any kind of severe trauma can cause PTSD. Now I know that it is not dishonoring or minimizing the experience of our veterans if I recognize PTSD is a much larger trauma. The brain handles trauma in very specific ways and the brain is not capable of saying: I can be traumatized by going through the Gulf wars, but I can't be traumatized by going through bad relationships. The brain does not rationally differentiate between types of trauma and all kinds of situations cause PTSD.
In time, you can heal from PTSD, but the brain is not capable of sifting through trauma in the moment and choosing not to be traumatized. No, trauma leaves its mark. Any situation that tears away your sense of security can cause trauma. There are many situations that fit this criteria: fighting in a war, almost losing your life in a car accident, having your home broken into, and realizing your spouse has been having an affair. All of these experiences rip away any sense of security you had before and all of these experiences will leave their mark in one way or another.
Here is a helpful visual aid that defines PTSD and also shows Cognitive Behavioral Therapy can help with PTSD.  (Click the graphic to view a larger version)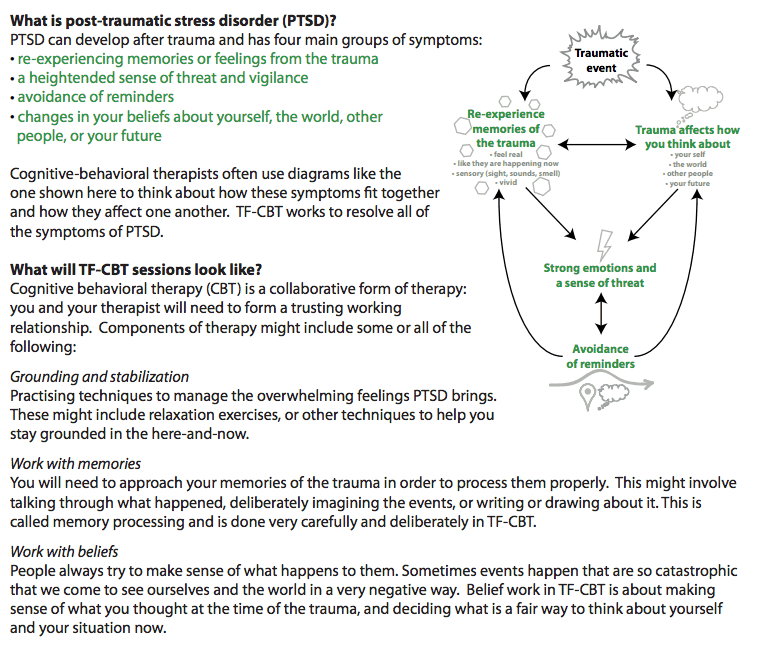 Your Mind is the Battlefield
PTSD is a real condition that affects every aspect of an individual's life. Fortunately, there are ways to work with it. Now I am going to discuss more about the inner workings of the mind, automatic thoughts, schema, and Cognitive Behavioral Therapy.
Earlier, we looked at different types of events: the kind that happens to you and the kind that you can create as a result of your actions or thinking. I talked about how the first event is not something you caused or created in your life. Affairs fall into this category.
Then, there is the situation where your thoughts or your actions can contribute to the situation. An example of this would be a wayward spouse who decided to have an affair. He or she should not be surprised if a spouse leaves the marriage. The spouse's action – the infidelity– caused him to be abandoned by his betrayed spouse. He created this situation—it did not just happen to him out of the blue. The betrayed spouse has experienced the first kind of event—the one that happened to her. The wayward spouse experienced the second kind of event—the one that he caused.
But, here is the thing—whether or not an event happened to someone who was innocent or an event was caused by the person himself, there is still a battle to be fought in the mind.
Your mind is the battlefield and your mind can destroy pieces of you (or not.) Your mind will remember the event, but from there, you have a choice on how you are affected.
In the 1960's, a prominent psychiatrist named Dr. Aaron Beck invented a system to help people overcome problematic thinking and even traumatic stressors. The system that he developed is called Cognitive Behavioral Therapy and it has helped millions of people overcome thinking patterns that no longer serve a purpose in their lives.
In Cognitive Behavioral Therapy, the battle is specifically against automatic thoughts. If a disorder such as anxiety can be visualized as a tree, automatic thoughts can be visualized as the roots of the tree. Anxiety is often born out of automatic thoughts.
These are the first thoughts that pop into our heads in any given situation. If they are not stopped in their tracks, they can cause all kinds of mischief.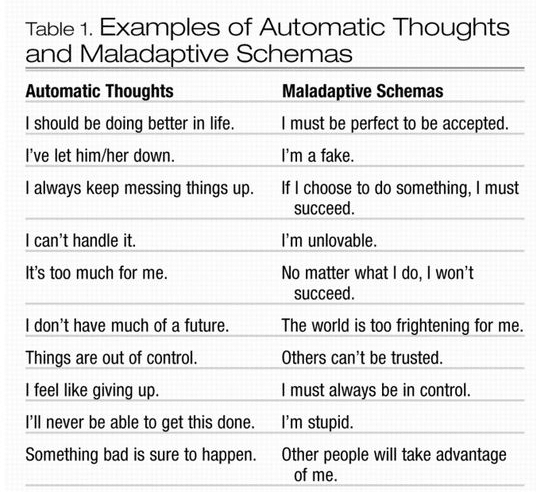 Here is an example scenario of automatic thinking using characters named Anna and Josh:
Anna's husband Josh is thirty minutes late for dinner. Anna and Josh are in affair recovery because of Josh's affair. But, for the past six months, Anna and Josh have been making progress and Josh has not seen the other woman.
Since Josh isn't answering his phone and he is a half an hour late for dinner, Anna automatically thinks: "I knew it. Josh is seeing the other woman again."
If Anna does not stop this automatic thought in its tracks, it will cause a whole army of thoughts that tear down Anna's trust and sense of emotional safety. One thought then becomes:
"I knew I never should have trusted him. Of course, he is a liar and I am so stupid to be taken in by his lies. I cannot believe I fell for this again! I am such a fool!"
This causes Anna to stomp around the kitchen while she calls Josh ten times in a row. Josh still isn't answering.
Anna thinks, "This is the last straw. I am going to call a divorce attorney. I knew this would never work out. I cannot believe I have wasted so many years with him!"
Anna gets ahold of a divorce attorney and leaves a message with their answering service. She stops making dinner and paces the floor. She is growing angrier and more panicky by the second.
By the time Josh walks through the door and hour later, he finds all of his clothes out on the porch. Josh walks in and says, "What's going on?"
Anna says, "We are through. Get the heck out of my house and don't contact me again. We are done and I want a divorce."
Depending on how Josh responds, they both might be filing divorce paperwork the next day. Josh could be reactive in the moment and turn around and leave.
But, let's say Josh is intuitive enough to understand why Anna is so upset. He says, "Anna, please hear me out—just for a minute. I ran out of gas on that stretch of rural road five miles away. My battery from my cell phone is dead. Look outside, I have no car—I had to walk home and couldn't even contact you or anyone else because my cell phone is dead! I am so sorry!"
If Anna listens and looks outside, she will realize that her thoughts have gotten the best of her. Anna will feel very badly for thinking poorly of her husband.
Some call this process Schema Activation. Schemas are beliefs that have developed based on earlier experiences in life. Even if we have a schema based on giving people the benefit of the doubt and seeing the glass half full, our schema can be affected after we find out about our spouse's affair.
Therefore, events that involve our spouse no longer are filtered through a mindset that gives him or her the benefit of the doubt. Now, events that involve our spouse are filtered through a distrustful and cautious mindset. There is no problem with the negative filter—in fact, it can be a survival mechanism after betrayal.
The issue with a negative mindset or schema is that sometimes it can take over your life and create all kinds of automatic thoughts that trigger uncomfortable and untrue perceptions and emotions. These negative perceptions can often be self-reinforcing. Often, they cause us to behave in ways that shape the behavior of others around us through negative reinforcement.
Example #2
Let's use another example with Anna and Josh. One day when Josh is home, he keeps escaping several times a day to the bathroom and stays 20 minutes each time. Anna wonders if he is off texting the other woman, but she doesn't want to confront him.
Anna becomes very closed off, silent, and irritable. Josh doesn't know why Anna is acting this way and so he too becomes irritable and closed off. Later that day, Anna blows up at Josh as they are doing to dishes. She accuses him of all kinds of behavior with the other woman.
Josh gets so angry that she won't trust him and that he leaves the house and takes a long drive. Of course, this only reinforces what Anna believes—that he is going to talk to the other woman. The assumption that Josh is texting the other woman caused her to perceive him to be untrustworthy.
Only later does Anna find out that Josh was too embarrassed to talk about the consequences of eating a convenience store hot dog on the way home. (The consequences were lots of stomach issues that caused Josh to spend all day in the bathroom.)
Here is an illustration of how a negative schema impacts an individual's perceptions and thinking about situations. (Click on the graphic to open a larger version)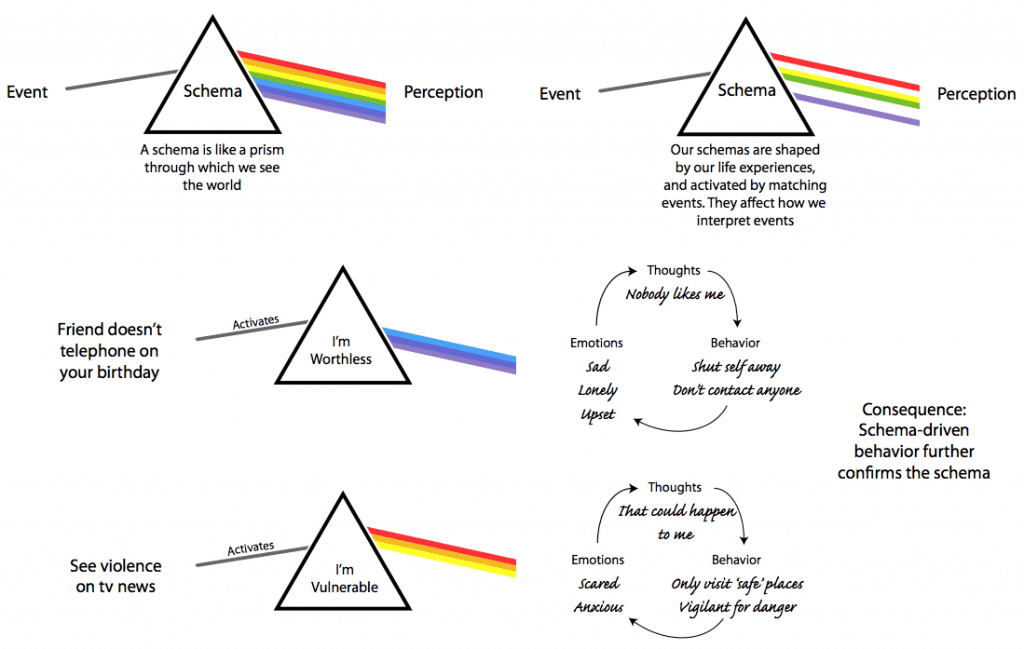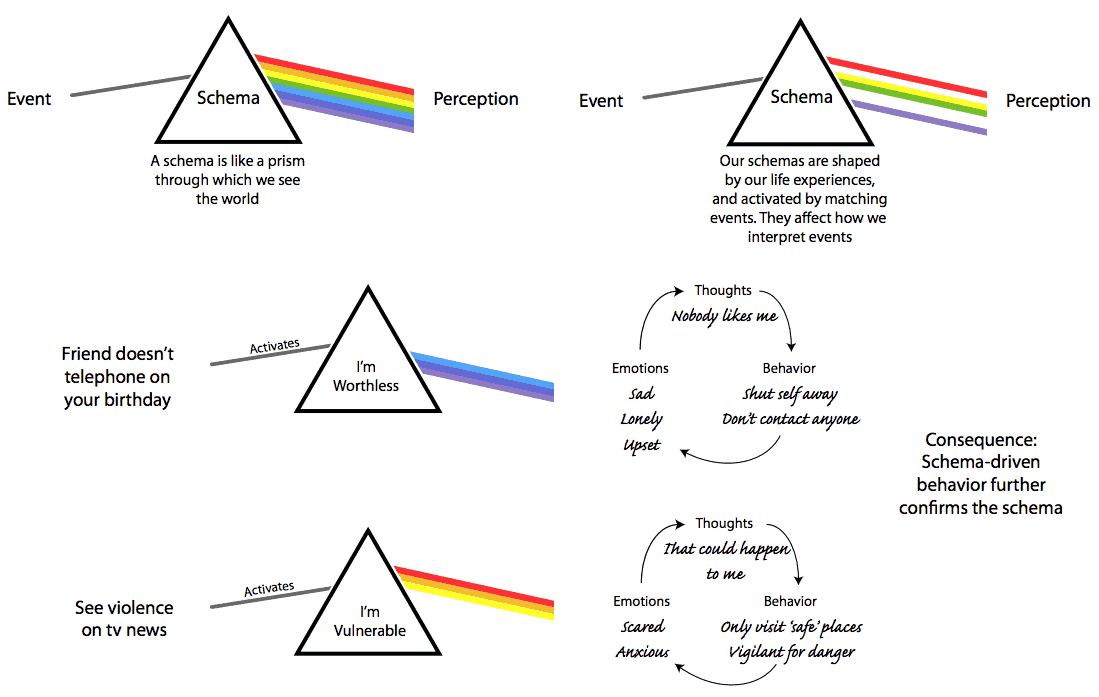 Now, lets back up to the original automatic thoughts that started it all. They were: "I knew it. Josh is seeing the other woman again" and "Josh is off texting the other woman again." These thoughts from the two different scenarios were the root cause of feelings and communication that could lead to possible divorce. The automatic thoughts were the problem and the battle was solely in Anna's head.
Now, let's imagine a different scenario that involves a therapist. Anna has been seeing a separate therapist and he has been teaching her about Cognitive Behavioral Therapy (CBT). Anna will realize that she is dealing with an automatic thought. She will stop in her tracks and she will use the CBT techniques that she has learned to examine the thoughts.
She will ask herself if there is any truth in the idea that Josh has gone back to the other woman. She will review all of the explanations for Josh's behavior that give him the benefit of the doubt. She will remember that Josh's old cellphone frequently loses its charge. She will consider whether or not Josh was called into a late meeting and couldn't leave on time. She will wonder if he got into a fender bender and has not been able to call. Then, she will be concerned about him, rather than angry at him.
Then, she will remember the progress that she and Josh have made in the past six months. She will recall the genuine remorse in his eyes and remember all of the times he has apologized for being so stupid. She will remember that Josh is not a serial adulterer—that he was an easy target for a woman from work after he became depressed and was struggling with a mid-life crisis.
Then, she will take out a CBT homework sheet that her therapist gave to her. She will work on it until Josh comes home.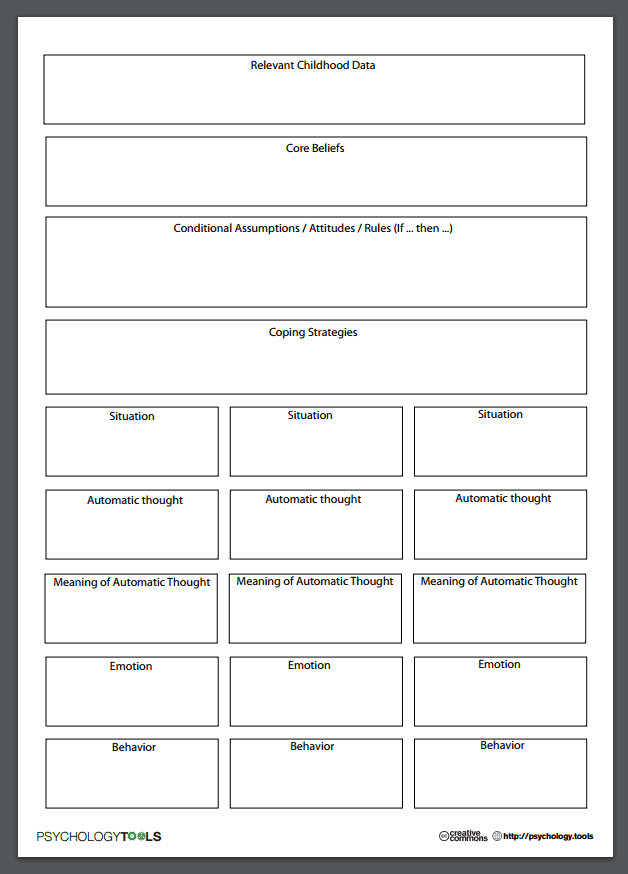 The above worksheet is an example of a CBT homework worksheet by therapist Judith Beck. I would encourage you to print out a few copies and keep them for the next time you feel as if automatic thoughts are going to ruin your day. Taking time to do the worksheet is important because it provides you with structure and prompts to answer.  (You can download and print the worksheet here.)
Back to Anna and Josh.
The two scenarios I provided only work because Josh is no longer cheating. I have created a scenario where Josh is no longer cheating and they are on the way to becoming a strong couple again.
If Josh were cheating, then trying to give Josh the benefit of the doubt would not be advised at all. Giving a cheater the benefit of the doubt would be unwise because it will take you onto a path full of denial. When reality eventually makes itself known, you will be worse off than ever.
Thus, I am asking you to remain in a state of awareness. When a thought comes to you, I would like for you to stop and ask yourself whether you are dealing with an automatic thought or not. If you are dealing with an automatic thought that serves to sabotage you, then you can use the CBT worksheet to battle the untrue thought.
I do not want you to use CBT techniques to attempt to fool yourself. CBT is only for situations where you are trying to tackle a thought that is either unhelpful or leads to an incorrect conclusion.
So, if your husband or your wife is still having an affair, you could use CBT to tackle untrue thoughts in regard to your self-esteem, your self-worth, your future, and your trust levels.
Here's a situation of a couple where one spouse is still having an affair
In this example, Tina will be the wayward spouse and Mark will be the betrayed spouse. I will then demonstrate how Mark can use CBT to combat toxic automatic thoughts. Here is the scenario:
Mark got home a little late and Tina was still not there. She was not answering her phone either. When she came home, she was tipsy and smelled of male cologne.
Mark said, "I cannot believe that you don't even try to hide the fact that you are still sleeping with him."
Tina responds, "So? If you were man enough, maybe I wouldn't have to stray."
Mark feels that he is ready to explode and so he leaves and takes a drive. He knows exploding in front of Tina will give her ammunition to use against him.
When he is on the drive, he thinks back to her comment: you are not man enough. An automatic thought follows: "If you made more money, she wouldn't have to cheat. You aren't man enough, are you?"
Mark pulls into a local bar and asks for two double whiskeys on the rocks. He finishes both of them within two minutes and notices a man is looking at him strangely. He feels his fist tightening and says, "Who are you looking at, you jerk!"
The man stands up and walks over to him. Mark takes the first swing because he wants to prove what a man he is. Someone calls the police and Mark and the other man spend the night in jail.
If Tina wants a divorce, Mark has just unknowingly created ammunition that she could use in court.
Mark is not a bad guy and this is the first time he has ever done such a thing. His automatic thought that he wasn't man enough or rich enough started this domino effect that ended in jail.
What could have Mark done differently?
Well, he could have challenged the automatic thought. Was Tina having an affair because he was not man enough and did not make 'enough' money?
No.
He would have reasoned that since Tina was having an affair, she had to come up with a reason for her behavior. Mark knew Tina was someone who deflected blame and assigned blame to others. She did not like to take responsibility for the situations that she caused.
Mark would then realize that this was just another example of Tina blaming the victim. He realized that he is more than man enough because he was trying to work through the marriage with Tina.
He would realize that Tina was the problem. She was not trustworthy, had a tendency towards flakiness, didn't keep her promises, and was generally materialistic.
Mark would realize that he was actually casting pearls before swine and that Tina's recent action was just another example of how low she was willing to go. He would realize Tina had never really cared about him but just saw him as a pawn to meet her needs. Now that she found someone who she believes will better meet her needs, she no longer has any use for Mark.
Mark will not go to the bar. Instead, he will pull into the office of the nearest divorce attorney.
In the end, Mark will realize that he no longer wants to be married to Tina and that he is the one who deserves someone better.
In this case, techniques from Cognitive Behavioral Therapy will have helped Mark see the truth and move on with his life.
Of course, these are just scenarios and do not mirror the complexity of real life. Real life is much more complex and recovery is often like a winding river rather than a straight line. Like a river, it can wind several miles south and then just as quickly turn and wind back north for several miles. But, eventually the river reaches a tributary and drains into the ocean. But, it may have taken many seemingly unnecessary miles to reach its goal. The examples I provide are more like a straight line from A to B, whereas real life takes many turns on the way from A to B.  

Practical Mental Steps
There may be times when you are not able to take time out of your day to fill out the CBT worksheet. And I do not blame you. Most people are not able to drop whatever they are doing at any time of the day. Therefore, there needs to be a more practical way to stop automatic thoughts.
As I have said before, these techniques are worthwhile even if your partner is still having an affair. In this case, the automatic thoughts you need to get rid of are ones that serve to tear down your self-worth. Deepak Chopra once said, "You alone are the judge of your worth and your goal is to discover infinite worth in yourself, no matter what anyone else thinks."
Rejecting and Replacing
So here is a short cut for the times when you cannot take the time to fill out the CBT worksheet. You simply need to do the two R's – reject and replace – when dealing with unhelpful automatic thoughts.
Rejecting unhelpful automatic thoughts and replacing them with the truth of the matter is a short cut to CBT. It is a short cut that I use, but I am not aware of other people who use this as a short cut. So, take it with a grain of salt.
Rejecting and replacing is as simple as it sounds and it can be a powerful method to chip away at unhelpful (automatic) thinking when you are triggered. Here is an example:
Automatic thought: "My spouse will abandon me for the other person."
Rejecting: "That is nonsense since my spouse and I have made great strides in the past year.
Replacing: "My spouse and I will work out our issues together and grow stronger as a result."
Once again, rejecting and replacing should not be used as a mechanism for denial. It should be used in the case where you know that an automatic thought is not true, but when that automatic thought keeps triggering you. Here is another example:
Automatic thought: "I am worthless without my husband and don't know how I can continue without him."
Rejecting: "My worth is not determined by what my husband does or doesn't do."
Replacing: "I possess inherent worth that doesn't not depend upon external circumstances or the opinions of others."
How do you use rejecting and replacing? Here are the key elements:
It is used to get rid of automatic thoughts that are untrue and it is used for thoughts that are unhelpful and serve to ruin your day.
In rejecting, you counter the lie with the word "not."
In replacing, you create a statement in the positive.
Rejecting and replacing is a short cut to doing a CBT worksheet. But, it is not a replacement for Cognitive Behavioral Therapy.
Rejecting and replacing is a way to stop automatic thoughts that are quickly getting out of hand. Rejecting and replacing can help you bring yourself into the now, which is always helpful during affair recovery. Truly, the only moment any of us have is the now. We are not existing in the past or in the future—we only exist in the now. We need to cultivate a quiet mind that helps us exist in the here and now. Rejecting and replacing can assist with that. Rejecting and replacing should be used anytime automatic thoughts try to take your down a path that is not true and that does not serve your higher healing.
On the other hand, there are times when rejecting and replacing can be harmful. So, this technique really is narrow in scope. Rejecting and replacing should not be used in the following cases:
Do not use it to reinforce codependence. Codependence can ruin your life because it does not help you stand on your own two feet in life. You can be an independent person and still be married to the wayward spouse. Codependence also crushes your self-worth.
Do not use it to assist you with general denial. Denial is never helpful.
Do not use it to make excuses for your spouse's bad behavior.
Do not use it to try to create a mindset that has no basis in reality.
Exposure Therapy
Some find exposure therapy to assist with PTSD and the distress surrounding the memories.
"In exposure therapy your goal is to have less fear about your memories. It is based on the idea that people learn to fear thoughts, feelings, and situations that remind them of a past traumatic event. By talking about your trauma repeatedly with a therapist, you'll learn to get control of your thoughts and feelings about the trauma. It might seem strange to think about stressful things on purpose. But, over time, you'll feel less overwhelmed. With the help of your therapist, you can change how you react to the stressful memories. Talking in a place where you feel secure makes this easier.
You may focus on memories that are less upsetting before talking about worse ones. This is called "desensitization," and it allows you to deal with bad memories a little bit at a time." (1)
I believe that exposure therapy might help some people, but may not help others. Admittedly, it seems counterintuitive to re-live feelings that cause so much pain. Surely, this is a type of therapy that needs to be done with an extremely skilled therapist. This type of therapy would have to be handled very carefully in the case of trying to heal from infidelity. Have you tried exposure therapy? If so, how did it go?

Developing a Higher Consciousness
So, what is the goal of all of these challenges in life?
I have always been of the mind that we must use the most difficult lessons to develop a higher consciousness. Instead of allowing these lessons to grind us down, we must learn how to love in the face of despair. In one of Dr. Wayne Dyer's last blog posts he said:
"Think of the people you know who give love in response to negative energy that's directed their way. There aren't many people who respond lovingly in that situation. The ones who do are able to because they have love to give away. They know that it's impossible to give away what they don't have, and they've gone that extra mile to acquire what it is that they want to both attract and give away. If love and joy are what you want to give and receive, then begin by taking stock. What have you got to give away? What are you giving out to the universe, and thus, what are you attracting? Remember that you can't give away what you don't have, but you can change your life by changing what's going on inside.
Low energy attracts low energy. Low energy thoughts, such as anger, hate, shame, guilt, and fear, weaken you. And they attract more of the same. By changing your inner thoughts to the higher frequencies of love, harmony, kindness, peace, and joy, you'll attract more of the same, and you'll have those higher energies to give away.
To begin to change what's inside you, become more loving toward yourself. In your thoughts, cultivate an inner voice and attitude that's 100 percent on your team. Imagine an inner self that only supports and loves you." (2)
Your love toward yourself manifests in your thoughts, you actions, and the boundaries that you set with others. But, there will be many situations when you will be punished for making your needs known, practicing kindness toward yourself, and for maintaining your boundaries.
After an affair, you have tasks besides recovery. Those tasks are using the pain to grow toward wholeness and using the pain to develop more love and empathy. But, most of all, you must take stock of what you can control and realize that in choosing your responses, you take back your control. You must treat others how to treat you by setting boundaries that are born out of honoring yourself.
Summary
Recovery is never easy and I would never pretend it is easy. I believe that it challenges every aspect of an individual and taxes internal reserves. I take my hat off to those who are able to repair their marriage. The tremendous love, unselfishness, and maturity this takes is not for the weak willed.
Infidelity can cause PTSD and leave the best of us with PTSD. There are ways that we can combat PTSD and I believe the most effective way to combat PTSD from adultery is through Cognitive Behavioral Therapy techniques and loving ourselves so much that we set appropriate boundaries.
No matter what happens to you, your power is in your response. You can control your life through responding in ways that are self-honoring. Someone can only mistreat you if you decide to go along with mistreatment for a prolonged period of time. Otherwise, you can say enough is enough by refusing to tolerate bad behavior from your spouse.
You do not have to leave your marriage to do so. You only have to ask yourself the question: "is what my spouse asks of me in my best interest or does it cause further victimization?" If it causes further victimization, you can make the choice to simply refuse to participate in that activity. Once again, your power is in your choice and your power will always be within your choice.  This is not to say it will be easy—it is only to say that you have rights and can say no.
In the new year, never forget that you have the power of choice, no matter what life brings you. I offer you best wishes and many blessings in the New Year.
Sources:
National Center for PTSD. Treatment for PTSD. From http://www.ptsd.va.gov/public/treatment/therapy-med/treatment-ptsd.asp
Dr. Wayne Dyer. The Love Equation. From http://www.drwaynedyer.com/blog/the-love-equation/