Break Free from the Affair was a life saver to me after I discovered Doug's affair.
Since you have found this review I must assume that you are faced with infidelity in some form or fashion and are looking for a review of Dr. Robert Huizenga's book, "Break Free From the Affair." Perhaps you have even read some of the other sites that offer reviews of this book.
My review might be a little different from most in that I am not just some person who is trying to sell you a copy of Dr. Huizenga's book and earn a commission without having even read the book, or for that matter having ever suffered from infidelity.  Yes, we do receive a commission, but as a betrayed spouse I've actually put to work the strategies that are suggested in this book.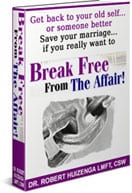 You see, I actually lived through, and continue to heal from my husband's infidelity that occurred almost 3 years ago.  Dr. Huizenga's book was a life saver for me and was the first e-book about infidelity that I ever purchased.
It's safe to say that without having knowledge of the information that is contained within this book, I would have not known about the various types of affairs much less how to proceed with surviving the affair and what to do to save my marriage. In our case, the type of affair was an emotional one which Dr. Huizenga refers to as the "I Fell out of Love…and just love being in love" type of affair.
The type of affair that you are faced with may be quite different and thus would require significantly different strategies for overcoming it.
Affairs are exceedingly complex.
The major purpose of this book is to get you started in the right direction and to begin acting now on significant, well-thought-out, time-tested strategies.  Certainly, Dr, Huizenga delivers in this area.
In working with hundreds of couples and thousands of individuals Dr. Huizenga has been able to identify patterns and themes that run through marriages, relationships and affairs.
Knowing a pattern is exceedingly helpful. It helps you get to the core of the issue or issues. And, when you are at the core, you achieve a high degree of clarity about what you need to do to make something happen.
Once you identify a pattern (or the nature of the affair facing you) you have a head start on moving through the affair with more knowledge and power.
Most studies indicate it takes two to four years to move completely through an affair, healing the feelings and reconstructing your relationships.
If you study the different types of affairs, focus on the areas that apply to you and implement some of the strategies, you will cut down on that time frame significantly.
"Break Free From the Affair" defines the seven types of affairs which are:
1.  My Marriage Made Me Do It
2.  I Can't Say No
3.  I Don't Want to Say NO
4.  I Fell Out of Love (and just love being in love)
5.  I Want to Get Back at Him/Her
6.  I Need to Prove My Desirability
7.  I Want to Be Close to Someone (which means I can't stand intimacy)
In addition, the book provides you with more helpful information in the appendices:
7 Powerful Tactics to Break Free From the Affair and Stop it NOW
12 Unattractive, Ugly, Typical Tactics Most People Use to Prolong the Affair and Guarantee Their Own Misery
When you purchase "Break Free From the Affair" you also receive some bonus materials:
"How To Get Over It For Good! The Cure for Every Upset"  In this 48 page e-book, Paul and Layne Cutright teach you how to transform your experience of arguments and upsets in your relationships. Rather than avoiding confrontation and "walking on eggshells", you will be able to safely and constructively talk about things that are hard to talk about.
"The Cheating Spouse Guide"  This guide, written by someone who has been-there-done-that, includes effective ways to find out if your mate is cheating.
The Break Free Newsletter. This monthly newsletter presents innovative, thought provoking and exceedingly helpful articles and tools that become tomorrow's best selling e-books and resources.

Keep Your Marriage:  What to do when your spouse says, "I don't love you anymore."  This is a specially adapted abridged E-book version written for you by Nancy J. Wasson, Ph.D. and Lee Hefner offering you guidance on saving your marriage and improving your relationship.

Recorded coaching session with past clients.  Dr. Huizenga shares several live and powerful coaching sessions with those probably similar to you. You will begin to tap into his wisdom and experience.
Free 15-minute phone consultation (limited time).  God, what I would have done for that back when this all started!
Dr. Huizenga also offers a full 60-day money back guarantee.
This book will help you to break free from the affair and chart a new course for your life and relationship.
I know from experience that this is a most difficult journey. The affair most likely will, or is, shaking you to your very core. It stirs up profound feelings such as betrayal, rage, hurt, sadness or confusion, to name a few, that often control your every waking thought and often disturb you virtually every minute of each day.
So, your journey is intense and to be honest, quite complex.
Use Dr. Huizenga's two decades plus of experience, study and research as a therapist to provide a wealth of in-depth and solid information to help you break free from the affair.
Your life will never be the same but it can be better, and you can find the life and love relationship you really want.
This book will point you in the right direction. It did for me!
An Added Bonus!
I really do want to see you recover from infidelity to live a life a health and happiness, so to give you an extra incentive, if you purchase "Break Free From the Affair" from this link (or any other link on this page), we will give you a copy of our book, "Journey to Trust: Rebuilding Trust After an Affair" and all of the bonuses that are included – absolutely free. (You can read more about our book by clicking here)
Just contact us with your receipt number that you get after you purchase Dr. Huizenga's book, and we will promptly send you the download information for our book and all of the bonus information.
Best of luck to you! I wish you nothing but success in your healing and recovery from infidelity.
Linda