Boundaries after betrayal are meant to keep the hurt spouse safe.  They are to establish what's OK- and what's not OK.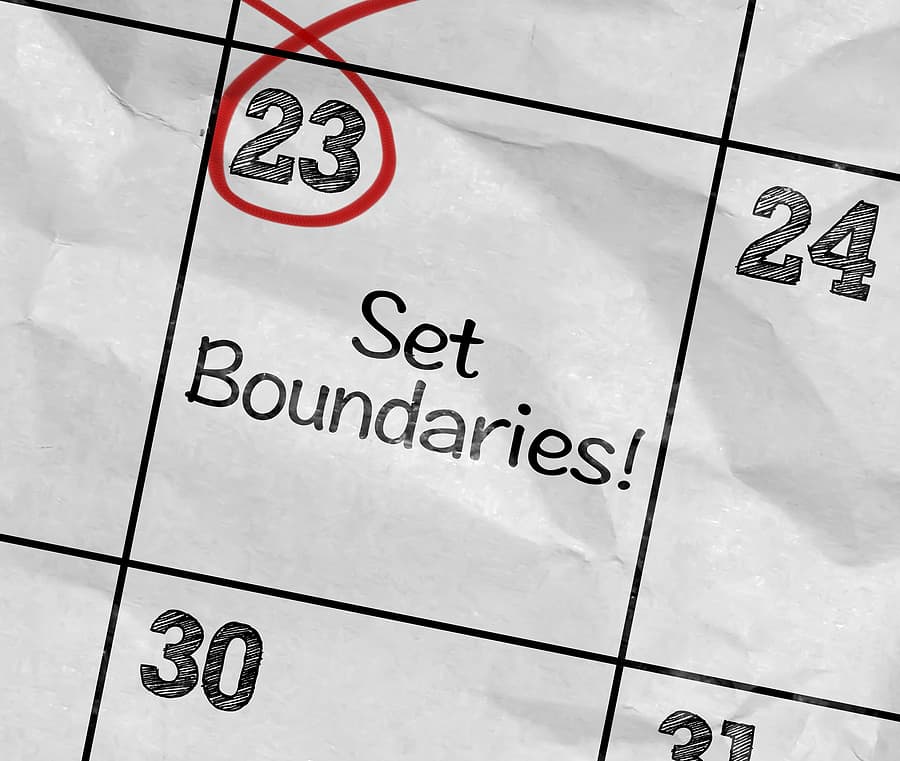 By Linda & Doug
Often in our mentoring sessions with betrayed spouses the topic of setting and enforcing boundaries comes up.
There is almost always a bit of confusion as to what healthy boundaries after betrayal are – and certainly how best to enforce them.
One of Linda's favorite authors, Brené Brown calls boundaries an act of compassion for yourself. They're about what a person needs to feel safe. They're what's OK – and what's not OK.
Boundaries are not about controlling others. 
We hear often from folks whose unfaithful partners have become angry or resentful because they feel they are being "controlled" by these post-affair boundaries.  And we can understand that to a point.  Yes, it sucks to have your every action scrutinized hyper-vigilantly.  But the way we see it, not only have we made our beds – so now we must lie in it, but it's also about supporting our spouse or partner who has been deeply hurt – perhaps traumatized – and whose boundaries take priority right now. (Go to PTSD Information Guide here)
Another important thing is that a healthy boundary – and we can't emphasize this enough –  is not an ultimatum, although it may seem that way.
A healthy boundary is something that defines how two people are going to interact. It defines what is acceptable between two people and what is not.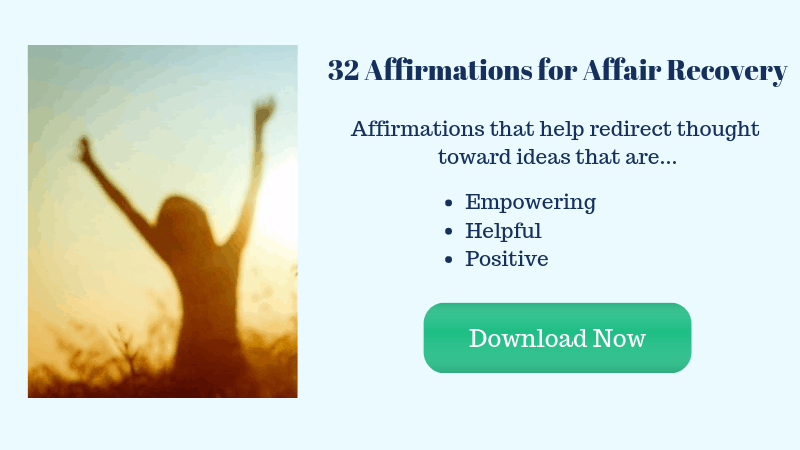 We used to think that setting a boundary with another person was a bad thing or a negative thing because if we're setting up a boundary, we must be disgusted with that person or we might be angry with that person, or what have you. But we changed our perspective on that, and we feel now that boundaries are established for positive reasons because they're good.  They define what is acceptable and what is not in a relationship.
Boundaries after betrayal are especially important for the betrayed spouse so as to establish what she or he needs in order to move forward.
It's then up to the unfaithful husband or wife as to what he/she wants to do with it. The unfaithful person has complete control over what he or she does or doesn't do. The betrayed spouse is simply saying, "This is what I need."
Psychotherapist, David Feder says, "When we set a healthy boundary, we are not saying that the other person must comply.  That's because the other person still gets to decide whether to live with the boundary we establish.
So, there's still very much free choice. That's why we draw the distinction between boundaries and ultimatums. They're very different.
For example, if a betrayed person tells their spouse that their boundary is no contact with the affair partner, the unfaithful spouse still makes his or her own decision whether to have contact with the affair partner and whether to take the chance of what their spouse is going to do or how they are going to react. If he or she contacts the affair partner and their spouse finds out and the betrayed person exercises the consequence of ending the marriage, that is the consequence and not an ultimatum."
Here's a quick video with Brene Brown on boundaries:
The Importance of Self Esteem in Setting Boundaries after Betrayal
For anybody who has been through or found out that their spouse had been unfaithful, self-esteem almost always takes a very, very hard hit.
When we're talking about boundary setting, the common belief is that in order to be able to set a boundary, the person needs to have a relatively good sense of their own self-esteem.
So before setting a boundary, a person who is suffering from a low self-esteem may need to do some work to improve that in order to be able to establish effective boundaries. Because if the person isn't feeling worthy or deserving of being treated well, then that person is going to have a harder time establishing boundaries.
So, anybody who is suffering from a low self-esteem may want to do some work. There are plenty of self-help books on the market, but even better to do some work with the support of somebody who can help with that.
Different Types of Boundaries
There are a few different types of boundaries.
Non-negotiable boundaries, such as a person's need for their partner's affair to be over and/or no further contact with the affair partner. These are examples of non-negotiable boundaries for the betrayed partner.
And if those are not agreed to by the unfaithful partner, then the betrayed partner needs to make a decision.
Physical and sexual boundaries, such as, whether or not to stay in the same home or sleep in the same bed or be intimate with one another.  Or when does intimacy begin after a betrayal, as well as, do I need you and me to have tests for sexually transmitted diseases? These would be examples of physical boundaries and/or sexual boundaries.
Emotional boundaries. If the unfaithful partner is in treatment to try to figure things out and improve themselves as a person and to improve the relationship, an example of an emotional boundary might be if there's a change in the unfaithful partner's treatment plan, to make sure that they tell the betrayed partner what those changes are, just so that the they are on the same page and know what's going on.
If there's going to be further disclosure, let's say if something was forgotten or something was withheld in the disclosure process about the betrayal, how is the disclosure going to be shared?
Some people are going to feel comfortable and say, "Just tell me." Other betrayed partners are going to say, "I'd like to do that in the context of therapy. When we go see our marriage therapist, I'd like to talk about it there." Just because it's hard to hear it and they may want more support.
The Ultimatum After an Affair – Should You Or Shouldn't You?
But I'm Afraid to Set Boundaries
I can tell you that fear is the most prevalent reason why betrayed partners struggle with setting boundaries. They fear that their spouse is going to be pushed further away and/or have a relapse if they set and enforce boundaries.
Now, this is a bit of a delicate issue, but we're going to go there.
The reason the unfaithful partner may continue with the affair partner and/or relapse is not because of the boundary. It's because they choose to continue the affair.
So, it's not like saying if I set a boundary, then I'm going to push my unfaithful husband or wife back to the affair partner. It's not the boundary that is making them go back to the affair partner. It's their choice to go back to the affair partner – which they would have probably made whether you have a boundary or not.
People are often living in fear and focusing on the wrong thing.
The boundary is to protect a person. The boundary is to keep a person from being re-traumatized over and over again. If the unfaithful partner is going to go back to their affair partner, then the betrayed partner needs to decide what are they really doing there.
And the unfaithful partner needs to understand that there will be consequences for their actions. And make the decision if they are willing to risk having to live with that consequence.
David Feder adds, "I don't think that people should compromise what they need in order to feel safe and secure after experiencing the trauma of betrayal. I don't think people should compromise that because they are afraid of how their spouse is going to react.
Really, the important thing is boundaries are there to keep you safe. A person who has been traumatized is having a very difficult time. They should focus on what they need and less on what their spouse may do in reaction to setting those boundaries.
I experience this a lot in the individuals and couples that I work with. When they go down the route of saying, "I can't do this because my spouse is going to react this way," or, "It's going to burn bridges between us," really at the end of the day, what happens is these couples just stay stuck and the hurt partner ends up continuously getting hurt."
Boundaries are part of every relationship, whether it be with our spouse who betrayed us or a sibling or a parent, your children or your coworkers. We all establish boundaries. Whether we state them or not, there are still boundaries. And there are some boundaries that are understood in relationships.
But when there's a breach of trust where a person's life has been shattered, it's particularly important for the betrayed partner to get stronger, hopefully as quickly as they can, and to get to the place of creating those healthy boundaries that protect and empower them.
Indeed, the title of this article is "Everything You Need to Know about Boundaries After Betrayal."  But if there is more you'd like to add or an experience to share, please do so in the comment section below.  Thanks!