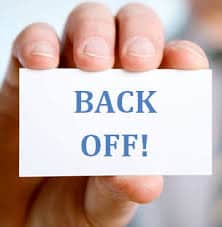 One thing that I learned after I found out about Doug's emotional infidelity was the importance of backing off.  That is, to not pressure him or continually fire questions at him at every opportunity.  
Now unfortunately, I didn't figure this out right away, but as soon as I did I discovered how powerful a tactic it can be that ultimately helped us save our marriage.
The main element of their emotional affair was the communication between the two of them which resulted in a bond formed by this so-called "helping" each other out. I determined that by pressuring him I was actually inadvertently feeding the fire of the relationship!
So I decided to stop talking about the affair. It was very difficult to do as I couldn't quite stop asking questions about their relationship completely since the curiosity was killing me.  But I certainly backed off noticeably.
If I were to do it all over again, I would have stopped asking questions about the affair all together until such a time where I felt it safe to do so.
The point is, the more you ask, the more your spouse will feel pressured. The more your spouse feels pressured, the more he/she will want to flee.
I'm sure my actions were puzzling to Doug. I asked him how he slept. I wished him a good day. I asked him how his day was when he got home. I praised him when he mentioned something good that happened, supported his business ventures, thanked him for the least little things he did and tried to put a positive spin on every interaction we had – no matter what.  In fact I still do these things today.
Now tell me, how do you think that Tanya felt when she heard how nice I was?  I'm sure that this approach helped immensely when it came to Doug finally realizing he was making a huge mistake.
At the same time that you are backing off, you still must find out as much as possible about the affair partner. No drastic investigations here, just try to determine what is so appealing about this other person. What exactly does this other person do or say to have this hold on your spouse?
The goal here is to find out what need your spouse is fulfilling by spending time with this person, so that you can do a better job fulfilling that need yourself. You need to make some changes.
Obviously, no one is perfect, including you (and your spouse's affair partner), so there are probably things you can work on and changes you can make. Your spouse may not even realize what these are.
For instance, I have worked on becoming independent, more sociable, more fun, easy going, and more in tuned with Doug's needs. I think these were all good changes for me. One thing I did not change was my devotion to my kids, but I'm sure Doug can see the value in that and how important it is to me.
So if you can find anything about the other person it can be helpful to see the differences and contrasts in you and help you figure out what changes to make or not make.
If you find yourself blowing up at your spouse and giving him/her the third degree every chance you get, give this tactic a try and see if it works for you.