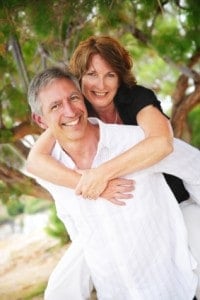 Yesterday I received some devastating news from my brother.  He told me he had fallen madly in love with someone and was leaving his marriage of 28 years.
To anyone this would be earth shattering, but to a survivor of an affair it was even more difficult to handle.  I had the opportunity to talk to him today and what we discussed has been tormenting me all day.
He told me that she was the women of his dreams.  He said they could sit for hours talking.  They both enjoy the same things and he said she is almost a female clone of him. She was outgoing, appreciative, beautiful and also madly in love with him.
He also said that for years — maybe even during his entire marriage — he had not been happy.  He said, "I love my wife, but I am not 'in love' with her."
Apparently there was always a void between them. His children filled the void, but now that their kids are grown there was nothing left between them.
He believed that he deserved this and that life was too short and he needed to think about himself. It was everything I had heard Doug say.  To hear my brother say the same thing took my breath away.
In some ways I agreed with him.  He did deserve better.  His wife had everything a woman could ever want — 2 homes, diamonds, nice cars and she never had to work.  But she never really seemed happy.  She had some addictive behaviors that definitely put a strain on their marriage and she was content with sitting home and doing nothing.
 
I know my brother wanted more out of his life and his marriage.  He was active and adventurous, whereas his wife is not. So I could really see his side of this, but I want to believe that she also wanted more from her marriage.  I keep asking myself it this fair?
 
My brother met this woman nine months ago and almost instantly moved in with her.  My brother's job is in one state while his residence is 600 miles away, which made this live-in situation very possible.  He would be with her during the week and fly home on the weekends.
Unfortunately, for many years he had been staying all week away from home or traveling extensively for work, putting his marriage in jeopardy all the while.
He convinced me that he really knows her.  They have traveled together and have been acting in every way as a real couple.  He dismissed this as being a typical affair by claiming it is different with them.
I am trying to understand that but it goes against everything I have learned about affairs.  Even though a few of his friends know about them, they are still living in a bubble to some extent.  His children live far away and the other woman has no children. All those responsibilities that plague a married couple for years are non-existent. They are living a perfect life centered only on them.
My brother tried to do the right thing.  He confessed right away when confronted. He decided to give his marriage a chance.  He left his AP for six weeks and spent all of his time with his wife. All the while he couldn't get his AP out of his mind and said he felt nothing for his wife.  He had to go back to her.
I think that if Doug would have given our marriage six weeks there probably wouldn't have been anything left there either.  It simply wouldn't have been enough time. For one, he was still coming off of the addiction from the affair and I was a nutcase.  It is unfair to think that you can gain back all the feeling you have for your spouse when you are comparing them to the feeling you have for your AP.
The tormenting part is I have never seen my brother so happy. Today he appeared as a new man — free, alive, and totally different from the brother I have known for years.
 
Of course I have to think, did Tanya make Doug feel the same way?  Was she his chance for happiness and am I depriving him of this new wonderful life?  I really think being with me is where he is meant to be, and that being with his family was everything he needs. Again I have doubts.
I also worry about what Doug is thinking about this whole situation.  Does he hear about my brother's happiness and wonder what could have been? I know at one time I was the woman of his dreams, but so much has happened between us. Is our marriage beyond repair?
This situation has definitely challenged my strength and confidence. It has stirred up feelings that I have tried to dismiss and given me insecurities and doubts.  I am trying to remember where Doug and I are at right now.  I know that we are in love and connected, and I try to hold on to what he told me yesterday — that he has never been happier.
I want to pretend that my brother's situation has nothing to do with us, but it is so difficult to do.  I just want to keep moving ahead and stop looking back.