After the betrayal of his emotional affair I had questions running through my brain…Was he planning to leave me? And the question that always haunts me… "Why did he stay?"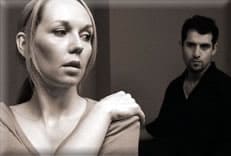 By Linda
"There were never any promises made on my end or hers. She pushed for me to leave and I think that she probably had confidence that I would at some point."
That was Doug's response last week when he replied to a question from a reader about if he had promised Tanya that he would leave his marriage for her.  And even though we have discussed this subject together many times before, seeing it in print was a major affair trigger that sent me back to a dark place.
I do not want the person who asked the question to feel bad about this, as it is a legitimate question.  And as I mentioned, it is not really new information to me, however it provides an example of why affair recovery takes so long and is so difficult…and triggers can be hell.
There are many aspects from the betrayal of his emotional affair that I have dealt with and accepted because they are no longer triggers for me.  I am able to push them aside and move on with my day.  At times though, the thought of Doug possibly leaving at one point can still be very raw in my mind.  
It has been very difficult to process and fully accept.  It can stir up a tremendous amount of pain when I think about it.  However, bringing it to the surface allows Doug and I to address it and allows me to feel the pain, which I believe is a healthy thing. I hope that eventually the pain will weaken and go away.
Many thoughts ran through my mind when I read those words and even though Doug was blindsided by my reaction to his two sentences, obviously it is something that really still hurts me.
My first reaction was questioning him as to why she was so confident that he would leave.  What did he imply or tell her that would allow her to be so confident?  When was he planning on leaving?  What were his plans if and when he did leave? And the question that always haunts me… "Why did he stay?"
I think deep down I know the answer and I believe that is why I have so much pain with this trigger.  I have not been able to accept that initially he decided to stay because of our children and finances.  I needed to know that he came back because he realized he loved me and that he didn't love her.  However he would be lying if he said that and that is what hurts more than anything.
You know I have this image in my mind that I play over and over again:  Doug leaving to be with her and then he realizes how much he loves me and how unhappy he was with her.  He comes running home and begs forgiveness and we live happily ever after. 
Things really didn't pan out that way though.  Instead, I begged him not to leave.  I told him I was sorry for everything I had done in the past – and he stayed.  Not the best way to save a marriage and maintain your self-esteem after an affair.
I know from experience and everything I have read that I need to let it go.  I know that I cannot change how he felt at the time and his motivation for staying. I need to look at why he is here now.  I know that he loves me more than anything in the world and he looks back at that time of his emotional affair with disbelief that he could have felt that way about me and our marriage.
I know that if he could, he would do anything to take that period of time back – but he can't and the scars are still there.  The insecurities of why he didn't want me, thinking there was something wrong with me, etc. come flooding back and it hurts so much and I want them to go away.
Why Save the Marriage? Why Not Just Be with the Other Person?
I don't want to feel this way anymore and I hate that every once in a while these emotions come flooding back.  Occasionally these feelings that are buried so deep within me and have been dormant for so long suddenly erupt and I can't stop them and it feels like I am reliving the emotional affair all over again.
I wonder is that's how we are meant to handle a trauma.  Is it okay to feel the pain every once in awhile to remind us of how far we have come and how much stronger we are than we were before?  Would it be healthy to forget it completely?
It is a part of me, just like every other experience in my life, and now it does define a part of who I am.  I know that I will never be the same person again, but in many ways I am smarter and more in touch with myself than I have ever been.
I know that many of you who have just begun your journey might be discouraged by my post, but take it as a learning experience.  Learn that it takes time – lots of time, and that there will be setbacks, memories and an occasional surge of emotions along the way.  Know that these setbacks are okay and that they are all just part of the healing and affair recovery process.  Use them as a way to learn more about yourself and your relationship.