After his emotional affair I began questioning every decision I made as a mother and a wife.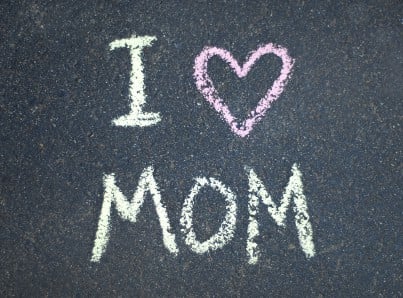 By Linda
I hope everyone had a great Mother's Day.  Mine was wonderful as usual (except during the affair year that is). My family always went the extra mile to show how much they appreciate me. Their tradition always included breakfast in bed, flowers, cards, gifts, a day of family fun and they always made me feel like I was the best mom in the world.
I guess that being a good mother has always been my goal in life. After all, I have been preparing for it since I was a little girl. I had wonderful role models growing up with my mother and grandmother. 
As a teacher I have witnessed the effects of bad parenting and learned what I shouldn't do.  I also wanted to make Doug proud of me and feel fortunate that I was the mother of his children.
I questioned if I had spent too much time with them.  Should I have started all these silly holiday traditions or had annual birthday parties for our kids?  Did all these things take time away from our marriage?  Was my attempt to be a good mother the reason why my marriage fell apart and my husband found someone else?
I felt that I was doing everything right.  That is until Doug had an affair. After his emotional affair I began questioning every decision I made as a mother and a wife.  Prior to his affair, I had wonderful memories of my kid's childhood, but now I'm filled with regrets and "should have done's."
When I found out about his emotional affair I would often question Doug as to what was so appealing about Tanya.  I remember one day he said that they see and think about things the same way.  They even have the same parenting styles – unlike her husband and me.  We were always too conservative and overprotective, while they were more laid back and easy going.
Low man on the totem pole
Doug also said that since our son had been born (19 years ago), he felt like the low man on the totem pole, as I always put the children first. I don't disagree with that. I know I did.
We had three children in four years, we both worked, money was tight and we had a lot of responsibilities.  We both put the children first.  We both were the low men on the totem pole. 
I just thought that was the way it was supposed to be when you became a parent.  I believed that the children did come first. I believed a lot of things until Doug's emotional affair made me question everything, including my parenting skills.
Until Doug's affair, I felt so proud that he and I had raised such wonderful children.  I believed that we really had the same philosophy on parenting and that we both had the same dedication and need to be with them.  I saw firsthand that our love and sacrifice was truly worth it.  We have the most remarkable, compassionate, self-disciplined children. Rarely did we ever have to raise our voices or punish them, and they loved being with us.
Was trying to be the "best mom in the world" really worth it?  Was the affair the price I paid?
I know that in my heart I don't regret the relationship I have with my children, or everything I've done to be a good mother.  I just hate that the affair has tarnished everything in my life. 
An emotional affair has the ability to make every moment in a married life appear problematic or unfulfilling for both parties involved.
I admit that I would have done some things differently. I would have spent more time alone with Doug and focused on myself more, but unfortunately I can't go back. I need to look at the present and the future, and try to find a perfect balance between being a wife, mother and woman.