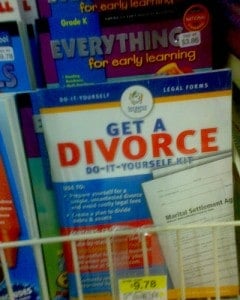 Virtually all of our posts on this blog to date have been geared towards helping couples save their marriage or relationship after an affair. 
Sometimes however, after all the soul searching, therapy, pain and emotions it becomes evident that the only conclusion that can be made is that the marriage must come to an end.  This can even be the case after you have been able to restore the trust and honesty in your marriage.
Sometimes this is a result of the couple determining that the affair was simply a symptom of a marriage that had already died.  Or it could just be that one partner has made a final decision to end the marriage regardless of the other person's feelings.
It is true that sometimes the best possible outcome after an affair is the decision to end the marriage, but it is important to try and not rush toward any decision of action. 
When you discover your partner has had an affair there is an overwhelming wave of emotions.  When a person is at their most emotional state, they are less likely to see any potential for better possibilities in the marriage.  For this reason, it is wise to refrain from taking any action until calm.
When it comes down to it, what we're talking about is quality of life.  Would your quality of life be better if you remained married?  Or would it be better if the marriage were to end? 
You might want to ask yourself "What is the best and worst thing that could happen if I stayed, and what is the best and worst thing that could happen if I left?"
The answers to the questions above may bring to light many different situations and considerations that may lead you to reconsidering ending the marriage–or to the contrary.  Some things to consider:
How would divorce affect the children?
What about the financial issues?
How would a divorce affect your emotional well-being?
How would a divorce affect your mate's emotional well-being?
How would your family respond to you getting a divorce?
Are you ready to get back into the dating scene?
Are you prepared for the possibility of living alone?
The point is to examine your options thoroughly before you make any decisions.  You have choices. 
There's no doubt that getting yourself strong and facing the future squarely and intelligently can have great results where you can imagine a future beyond your marriage and survive just fine. 
You can give the marriage everything you have after an affair, and if the decision is made to end the marriage you can feel all right about it.
[wlsp_signup]
LINESPACE