I have realized that now during our affair recovery process I need him to take care of me more than ever. I am exhausted…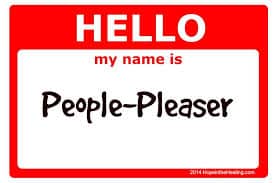 By Linda
A couple of weeks ago we had our affair recovery session on self-esteem after an affair.  Obviously this is a huge problem for the betrayed spouse and Jeffrey Murrah pointed out that it is especially difficult for someone who tends to be a "people pleaser". 
They depend on their spouse for approval and to determine their self worth.  When a betrayal takes place and the cheater conveys that it was the betrayed spouse's fault or that they were lacking in some area this information is devastating to the betrayed.
This information allowed me to look at myself and realize in many ways that I am most certainly a people pleaser.  I come from a long line of people pleasers.  Unfortunately it is in my genes. 
I have concluded that it is something that I should look at negatively rather than being a positive personality trait. I don't want to go on the rest of my life being this way and I definitely don't want to pass this trait on to my daughters.
So I decided to combat this situation the way I have with everything this past two years – acknowledge it, find as much information that I can about it, and somehow begin to change it. 
As I searched the internet for characteristics, behaviors, etc. I found a list of books that I felt would be helpful.  The first being "Too Good For Her Own Good" by Claudia Bepko and Jo-Ann Krestan.  I really liked this book because it validated many of the behaviors that I have displayed in our marriage and the implications of those behaviors.
The authors state that women live by a code labeled the Goodness Code.  They state that this code defines what it means to be a female. 
While many of us probably feel some freedom from the traditional aspects of these hidden rules that seem to impact our mothers, they still have a lingering hold on our subconscious.
We may have changed our behavior in many of these areas, but the fact that we often feel mysteriously bad in spite of these changes in a signal that the code is still in effect.
One aspect of the code is Be Attractive.  A woman is as good as she looks.  The next is Be a Lady.  A good woman stays in control.  She does not get mad or have needs, or eat, drink or be merry. The last one, Be Unselfish and of Service, means a good woman lives to give.
Regardless how crazy these codes appear, I  believe I lived by everyone of them.
The authors then go on to explain how each of us lives the code.  The one that resonated with me was "Be Competent Without Complaint." This is when a good woman does it all and never looks overwhelmed.
I always felt that I needed to be responsible, competent and able to do it all – a career, marriage, motherhood and housekeeper – without asking for help.  If I had to ask then I wasn't good enough to follow through on all of my jobs. I didn't have needs.  My job was to make sure that everyone else was happy and cared for.
Unfortunately that type of thinking made me very tired, unhappy and resentful. However, since I was following the code I rarely displayed my anger or asked for someone to take care of me.
Looking back before Doug's emotional affair, I realized how desperately I needed for Doug to take care of me.  It was the major cause of my unhappiness and my discontent in our marriage at the time.  I needed him to cover me up with a blanket and give me a pillow when I fell asleep on the couch every night and tell me it was okay.  I needed him to hug me and comfort me when I was so stressed that I would go off on one of my tangents.  I needed to feel that it was okay for someone to take care of me.  It was okay to be selfish. I would still be loved and respected.
I also have realized that now during our affair recovery process I need Doug to take care of me more than ever. There are days that I feel myself drifting away, like I am on the ocean and I don't have the strength to pull myself back to shore. I long for Doug's strong body to swim out to get me and pull me to shore and cover me up with a warm blanket.
I need him to take care of me, and help me heal from the pain I sometimes still feel.  I need for him to provide the safety and security that I am missing in my life.  I have concluded that I am exhausted from following The Code.  I don't want to be good anymore.