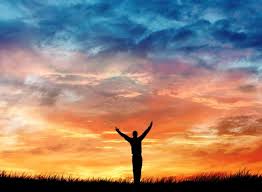 Almost four years ago, one of our readers, "blueskyabove" made a comment on a post that we thought was pretty great.  We wanted to convert it to a post back then, but forgot about it for some reason.
Luckily, we ran across it again the other day and decided to share it now.  Better late than never!
Please read on…
"All Attack is a Cry for Help"
by "blueskyabove"
I believe it is so important that we can get to the point where we see that we have been given an opportunity to change, grow and become the best we can be. Everyone of us. I'll say again, I don't believe in coincidences. To me, there is a reason why we have all come together on this site…total strangers, all joined together from around the globe to help each other. Below is what my H and I have learned.
During the initial days, weeks, and months after DDay our perspective of our marriage and our life in general becomes extremely constricted.  Our focus is narrowly confined to the affair.  It is all-consuming.
I had read several years earlier that "all attack is a cry for help".  It made sense to me at the time and I readily believed it…until I discovered my husband's affair and the subsequent verbal and emotional abuse that followed.  At that point it became impossible for me to even remember the statement let alone believe it anymore.  It has taken a long, long time to change my perspective on his affair, see it in a different light, and come full circle back to that statement.
We all know about the "fog", the distorted thinking on the part of the CS, but for some reason when the CS is spewing their venom at us we take the words they say as proof that this is the truth.  Their words hurt.  Logically, we know it doesn't make sense, but at this stage we aren't in a very good place either and we grasp at anything that we think might give us an exclamation…even if it's harmful to our self-esteem.
Unfortunately our spouses have been exposed to destructive, self-serving  ideas/advice that normally they might bounce off someone else if it wasn't so critical to keep it secret.  They can't do this while they're in a secret affair.  There isn't anyone else they can talk to about what they are doing and so their AP has a lot of control over their thinking.  Their so-called 'friend' isn't really interested in their well-being, but only in what they can get out of the relationship themselves.  
All-in-all it's a very UN-loving relationship they have.  I still believe that ANYONE WHO IS WILLING TO HAVE AN AFFAIR WITH A MARRIED PERSON DOES NOT HAVE THAT PERSON'S BEST INTEREST AT HEART!  I could be wrong, but from my current perspective, where I presently am, i.e., my level of consciousness, I'm not able to view it any other way.    I have read that "awareness merely registers what is being experienced.  There's nothing the mind believes that isn't erroneous at a higher level of consciousness."
I can now see that the anger my H used against me was a cover-up for his real feelings.   He had told himself I didn't love him anymore.  He gave up on us.  He recognizes now that he felt powerless to get my attention.  He has said that after he became involved with her he started thinking how much easier it would be to start over with someone new.  Why?  Because he had found someone who was willing to validate his thoughts, tell him his marriage was dead, and he deserved to be happy!  
Logic tells me that if he really believed, before her input, that our marriage was dead then it would be a simple matter of filing divorce papers.  (Wouldn't that be the 'right' thing to do?)  If he still believed this after receiving her validation then, again, just file for a divorce.  So, why didn't he?  According to Dr. David Lieberman all of this has to do with our ego and self-esteem.
The ego and our self-esteem are inversely related.  As we gain self-esteem our ego diminishes.  We only gain self-esteem when we do what is right over what is easy or how it appears to others.
When the ego reigns, our perspective narrows.  We make choices on what we think makes us LOOK good NOT on what IS good.  Our emotions cloud our thoughts and we seek instant gratification which leads to feelings of guilt.  We then punish ourselves with activities (have an affair?) disguised as pleasurable.  We seek out indulgences that will feed our empty selves and dull the pain.  We desperately want to love ourselves but instead we lose ourselves.  We look for a quick fix rather than look for lasting solution for the pain and hollowness we feel inside.  Overindulgence is not coping.  It's avoidance.
When reality clashes with our ability to accept it, those with low self-esteem have to make sense of their world and choices in the least painful way.  They justify their actions.  Being RIGHT becomes more important emotionally than doing the right thing.   Without the ability to maintain self-control we are unable to make better choices.  Consequently, our ego becomes inflated which automatically deflates our self-esteem.  
My H's AP did just exactly what was expected of her.  She validated everything he told her so he could be 'right'.  She stroked his ego not knowing that ultimately this would diminish  his self-esteem and lead to him ending the affair.  
My H had gotten himself into a real mess and didn't know how to get out of it.  Luckily for him my discovery of the affair gave him the impetus to end it.  We can see all of this now, but in the next few days, weeks and months it wasn't that cut and dried.  
Some of this knowledge took several years to discover.  Such as:   He was ashamed, embarrassed and scared.  What if I didn't love him?   What if I left him?  What if I truly didn't care enough about him to help him?  He couldn't put any of this into words at the time.  Had I remembered "all attack is a cry for help" our recovery might have gone smoother, but then he wouldn't have learned how to express his emotions and neither of us would have broadened our perspective.
When you can look at things differently (even a little bit) you will discover that you have more options than you might previously have thought.   I know I have a lot of growing within myself left to do simply because I have not been able to accept my H's AP as a fellow human being who is fully entitled to the best that life has to offer…yet.  On the other hand she has made me look damn good to my H and for that I can be grateful!
In  Summary:  Our ability to maintain self-control helps us make better choices.  When our self-esteem increases our ego decreases.  A smaller ego means greater perspective.  Greater perspective makes it easier to maintain self-control.    Every component depends upon the previous one to exist.  This works the same way whether we are working with positive or negative energy.  We progress or regress incrementally.
Ultimately, I believe that is what is most beneficial about this site…the opportunity to broaden your perspective so that you can see more clearly.  It's really hard to do alone.  I believe this is where Doug and Linda want to continue to take you.