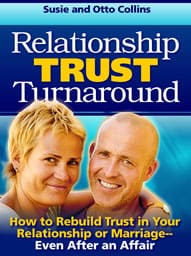 On April 28th our discussion was concerning trusting your spouse and whether or not you felt that you could rebuild trust after an affair.  The overwhelming majority of you felt that you could NOT trust your spouse again—at least not to the level that you once did prior to the affair.
There were a couple folks that stated that they would trust completely again, and that was because they felt that they HAD to in order to move forward in their relationship.  This trust comes with a caveat though, and that is the one who had betrayed them must be remorseful and their actions had to back that remorse up.
After reading the comments and responses, we decided to try and do a little more research on how to best rebuild trust after an affair.  There is not a huge volume of information out there from the standpoint of the betrayed.  Most that we found dealt with rebuilding trust from the standpoint of the one who cheated.
One source we did find though does have some good information on how to rebuild trust after an affair.  Susie and Otto Collins are the authors of "Relationship Trust Turnaround," and in their book they have put together an 8-step plan for rebuilding trust in your relationship.
Step 1: Step back and determine your situation as it is right now. Discover what is present in your life and what is inside you that is causing you not to trust.  Without knowing what you are thinking and feeling at this moment, you cannot possibly take a step toward trust.
Step 2: Understand your relationship rules, values and what trust means to you. "When it comes to your relationship, the amount of trust you give another person is largely based on what you value and your rules for living that are rooted in those values.
Step 3: Learn to Trust Yourself. You do not trust your partner, but you may not trust yourself either when it comes to the situation you are in.  "You may be thinking that it isn't okay to want what you want.  You may be searching outside yourself for answers. You may be worried about what your partner might say or do if you express what's true for you."
Step 4: Learn from what happened. It may be tempting to rehash the affair and continue to blame your partner and want him or her to pay for what they did.  Ask yourself if what you are doing is going to really help you get what you want out of your relationship.  You need to focus on creating what you want and keep your mind off what you don't want.
Step 5: Decide what you want, what your partner wants, and determine what's next. Look at what you both want and evaluate whether you are willing to commit to trusting again.  Then create boundaries and rules and stick to them.
Step 6: Make the commitment to rebuild trust and adopt the beliefs and attitudes that allow you to make the necessary shifts. If you have decided that there is enough love and desire left after the affair to create what you want in your relationship, then make a commitment to rebuild trust.  This may require you to adopt some new beliefs and attitudes, along with making different choices and taking different actions.
Step 7: Determine the specific skills and strategies you need to learn and start practicing them. For instance, you may need to work on your self-esteem or learning how to make changes that you want within yourself.  Or perhaps learning to focus on what you want instead of what you don't want.  There are many more possibilities and doing this takes some work.
Step 8: Rediscover fun, connection, love and positive expectations. You may not feel at this moment that you can ever get to this part of the process, but it is necessary.  This is where we have excelled when rebuilding the trust and love within our own relationship.  It does work.  Make your relationship a priority.
Obviously this is a summary of what you need to do to help you to rebuild trust after the affair.  For more in depth ideas, explanations and strategies, get the book. We hope that this helps, and that you can at least try to move towards creating a relationship that is what you want and deserve.  It does take some time and effort, but the outcome can be better than you expected.
For more information on rebuilding trust after an affair, check out our e-book "Journey to Trust:  Rebuilding Trust After an Affair" and learn how we were able to regain trust in our relationship.  There are also some great bonuses included where experts share some of their valuable  trust building strategies.  Click here now!