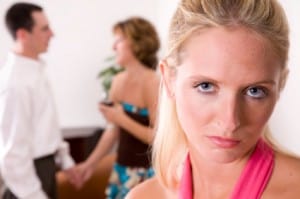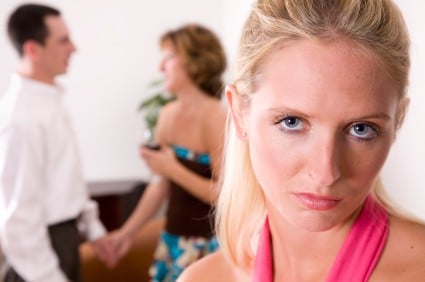 Whether you have a history of getting jealous easily or if you've never been jealous a day in your life, you might be confused right about now. The nagging doubts that run through your mind about your partner's behavior make you ask the question…
"Is this just jealousy or is my partner having an emotional affair?"
You don't want to make up stories if there's really nothing going on between your partner and another person,but you also don't want to be betrayed or to lose your love.
Knowing the difference between jealousy and the signs of an affair will help you cut through the confusion so that you can make a decision about what's next– for your own peace of mind and for the sake of your relationship too.
It's tricky, because jealousy can be present AND signs of a possible emotional affair can also be there. If you merely dismiss a suspicion as "just jealousy," you may miss out on important clues, but if you rush in and accuse your partner every time something feels "off," communication, trust and intimacy in your relationship will also suffer.
Be smart and take the time to get clear about the difference between jealousy and an emotional affair by asking yourself these 4 questions:
#1: Where are you?
This might sound like a silly question, but it's an important one. Figure out if you are thinking and feeling the way you are mostly because of something that happened in the past or because of what's going on now. Jealousy usually has strong links to the past.
While there may be recent past events that have led you to be suspicious of your partner's friendship, be sure you aren't drawing from something that happened to you long ago and maybe even in a different relationship. To avoid reacting from jealousy, re-orient yourself so that you are focused in on what's most relevant to the present situation. 
#2: Where are the facts?
Jealousy is often based on beliefs that are rooted in insecurity, low self esteem or fears of being betrayed. Be gentle and kind to yourself as you look for facts. If you have no verifiable facts to support what you believe to be true, then it's likely that jealousy is clouding your view.
If you can observe a significant change in your partner's behavior and he or she is acting secretive or is visibly pulling away from you, these might be signs of an emotional affair.
#3: Where is your partner's attention?
Noticeable and unexplainable changes in habit are calls to look more closely at the facts you have. If your partner is distracted and obviously "not present" with you, this could be due to a big project at work, health, financial or other worries or it could mean that he or she is having an emotional affair.
Pause and ask yourself if there is a plausible reason why your partner isn't looking you in the eye or paying attention to you when you speak.
#4: Who is your partner confiding in and spending time with?
This may be more difficult to know, but it's not impossible to figure out. Who does your partner share his or her deepest feelings with? It could be you, so keep an open mind. Who does he or she spend the most close and intimate time with? Consider this second question in terms of face-to-face time as well as time texting or chatting online.
Even if your partner seems to have pulled away from you, if you don't have evidence that he or she is turning to someone else, it could be jealousy you're feeling.
Always, always get facts you can rely on as you decide what's going on. Just because you see one sign of an emotional affair, it doesn't mean that your partner actually is cheating. Look at the bigger picture of your relationship. Put together the pieces of how you two interact with what your partner is saying or doing and decide.
---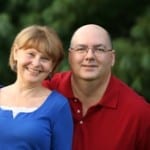 Jealousy is a destroyer of relationships and of your own well-being. Get help with Susie and Otto's free 7 Jealousy-Stopping Secrets ebook at www.nomorejealousy.com.
 [wlsp_signup]
LINESPACE